Hey there, my water loving adventure-seekers! Going on a kayaking trip can be an absolute blast, as you get to explore the water, connect with nature, and enjoy some stunning scenery. However, things can get pretty scary if you end up getting lost on the water.
That's where a trusty kayak GPS comes in handy! But with so many options out there, it can be pretty tough to know which one is the best kayaking gps for you. However, don't worry, we've got you covered. We've put together a fun and informative guide to help you find the perfect kayak GPS device, packed with all the features you need to make your next kayaking adventure a total success!
Are You in a Hurry?
Here's a Snapshot of our Top Choice for Best Kayaking GPS……..
Budget Option
Preloaded with worldwide basemap
2.2-inch monochrome display
WAAS enabled GPS with HotFix for fast positioning 
Waterproof to IPX7 standards 
Support for Paperless Geocaching
Up to 20 hours of Battery Life 
Best for Safety
Trigger SOS Calls & two-way messaging 
3-inch Sunlight-readable color display
Preloaded TOPO maps & Birdseye satellite imagery 
Cellular connectivity for active weather forecasts
Easily manage waypoints & routes 
Up to 35 hours of battery life 
Most Durable
Rugged & Reliable Handheld GPS
2.2" sunlight-readable color display 
Preloaded with Topo Active maps
Support for GPS and GLONASS satellite systems
3-axis compass and barometric altimeter
Up to 25 hours of Battery Life in GPS mode 
Why do you need a GPS for kayaking?
Whether hitting the lake for a sunny weekend getaway or embarking on a more adventurous expedition, having a reliable kayak GPS is essential to ensure your safety and help you navigate with ease. A top-notch GPS device allows you to keep track of your location and direction so that you can safely journey back, even if things look unfamiliar. Also, some devices are equipped with helpful features such as shared location tracking, depth contours, weather forecasts, and marine charts – all designed to furnish the advanced information you need to avoid potential hazards or take advantage of great wildlife-viewing opportunities. When it comes to heading out on the water in a kayak or canoe, investing in a quality GPS unit is an absolute must!
What are the benefits of having a GPS for Kayaking?
No more getting lost –GPS technology is great for kayakers as it helps you stay on course and gets you to your destination.
It keeps you safe –A GPS device can also provide certain safety features that can provide you with some additional security on the water. Some devices can send distress signals and alert others of your location should you get in trouble.
It tracks your progress –Just like a GPS fitness watch, these devices can help kayakers track their speed and distance and study this metrics when you get home.
Helps with adventure planning –A GPS can also help you find new places to explore, by enabling you to pre-plan your journeys at home and download the routes directly onto your device.
Best Kayaking GPS – Garmin GPS Map 66i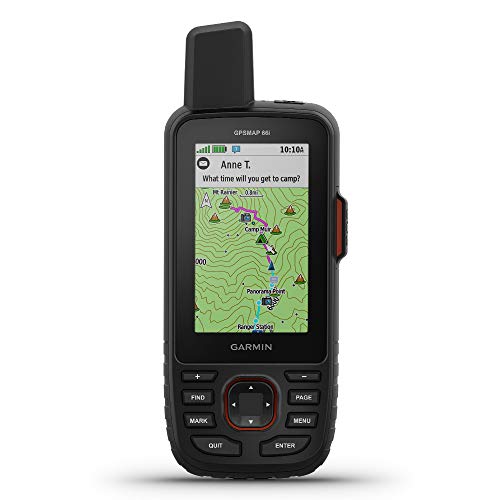 Premium GPS with 3-inch Color Display
Satellite Communicator – works everywhere
35 hour Battery Life
Preloaded Topo Maps
The Garmin GPS Map 66i is a top of the range GPS device that is also a satellite communicator. This means that should the worst happen and you get into some difficulties on the water, then you can send an SOS message via the iridium satellite network.
It's easy to use, has a fast processor, a bright 3-inch color display, and a compact, robust design. It comes with an MIL-STD 810 certificate, meaning it can withstand harsh conditions, and with its IPX7 rating, it could even be submerged in water up to 1 meter deep.
The interface may initially appear a little clunky, however, it gets easier to use once you get used to it. The performance, however, is excellent, with quick GPS fixes and some pretty great navigation capabilities.
The device can also store numerous waypoints, tracks, activities, and routes. This means you can pre-plan your paddling route well before your trip begins. It also means that you plan your stops, your picnics and your sight seeing from the comfort of your couch.
This is the device you want to accompany you if you're heading out deep into the wilderness on your kayak.
Best Budget GPS for Kayaking – Garmin eTrex 10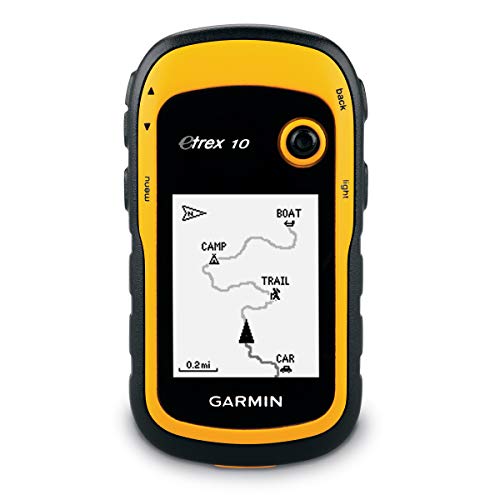 Budget Choice
2.2-inch Monochrome Display
Rugged design with Joystick Interface
Includes Worldwide Basecamp Maps
The Garmin eTrex 10 is a budget-friendly option. This handheld GPS device that offers excellent battery life and accuracy. It has a 2.2″ monochrome display with low resolution, but it is easy to read and works well even in bright sunlight.
The device is small, compact, and waterproof with a rugged design. The controls include a joystick, traditional rubber buttons, and a power button that doubles as a light adjuster.
The device has no mapping, but it comes with a Worldwide Basemap and can store up to 50 routes, 1000 waypoints, and 100 tracks. This will also enable you to pre-plan your trips and thus making your journey that little easier to enjoy.
Best Rugged GPS for Kayaking – Garmin etreX 32x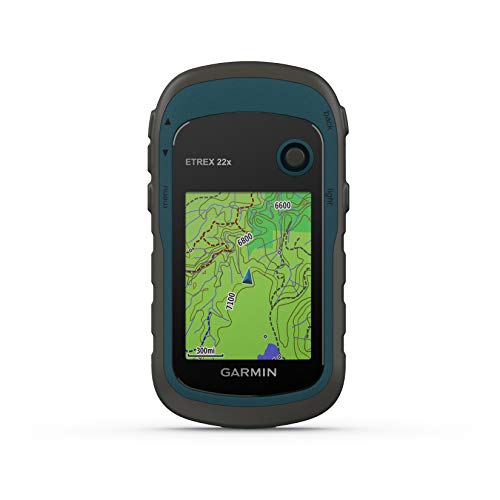 2.2-inch Color Display
Barometric Altimeter & Digital Compass
Rugged & Reliable Handheld GPS
The Garmin eTrex 32x is a handheld GPS device that is popular among geocachers and explorers. It has a 2.2 inch color display with anti-glare finish for easy readability, a small joystick for navigating options and five buttons on the side for functions such as zoom, select, back, power, and light.
It is compact, rugged, and sits comfortably in the hand. The interface has a simple and dated look, but is easy to use with the joystick, even with gloves on. This is not a wireless device, and it is a little old school as it can only be updated and maps transferred using a USB cable.
The eTrex 32x provides reliability over slickness. It does, however, have improved processing speed over the previous models in the same range.
What are the Key Features to look for in a Kayaking GPS?
When selecting a GPS for kayaking, there are several important features to consider. Here are some things we'd recommend that you consider:
Water Resistance
Without stating the blindingly obvious; if you're going onto the water, then your GPS should be waterproof. You'll notice that manufacturers have a suitable waterproof rating. How can you tell if the waterproof rating is sufficient?
How can you Measure Waterproofing?
The international standard IP (Ingress Protection) rating measures the waterproofing level of technology. This comprises two numbers that denote protection from solids (first number) and fluids (second number).
For example, an IP67 rating shows that the device is dust-proof and can handle being submerged in a one-meter deep body of water for a specified amount of time (commonly thirty minutes).
IP ratings range from 0 (no protection) to 8 (maximum protection), with some levels like 4 (splash-proof) and 7 (waterproof) in between.
Before buying a GPS for kayaking, it's a very good idea to check the IP rating of the device. You will, after all, be using it in wet conditions and therefore it needs to be water resistant.
Most manufacturers will also provide some additional details about the waterproof properties, such as the maximum time and depth for underwater activity. As with most things, it's good to read the small print in case they don't fully comply with the standard ratings.
Durability
For anyone venturing onto the water, having a device that can survive in challenging environments is a must. Most reputable GPS manufacturers will have degrees of waterproofing, from IPX ratings to the more advanced military-grade levels. Whichever you choose, make sure your GPS is built for tough conditions and regular exposure to liquid.
Anyone heading out into the wilderness also knows that their devices need to be tough enough for the job. Your gear needs to withstand a few knocks and deal with some adverse weather.
After all, there's absolutely no point in having a device that will stop working if you accidentally drop it. Save yourself the heartache and get something robust.
Battery Life
GPS devices can vary wildly in their battery life: some can provide multiple weeks of standby time with as little as two hours of use; others may require charging every few hours depending on frequency of use.
Consider how often you'll be using your GPS on a kayaking trip and choose one with adequate battery life.
We'd recommend having a device that can last at least 8 hours with full GPS capabilities turned on. And depending on the length of your trip (and for some additional peace of mind), it may be an idea to bring an additional battery pack along with you.
Display
Having a decent display type will make it easier to read your progress along your route. After all nobody wants to be squinting at your handheld GPS unnecessarily, particularly if light levels are low or perhaps you're using it in bright sunlight.
Having a larger screen size with a higher number of display pixels makes everything clearer and easier to read. As a rule of thumb, the minimum size screen you should look for would be a 2.2-inch display size.
Maps
What maps are available for your chosen device?
It's important to remember that different devices can come with different maps—from topographical or satellite maps suited for off-road use, to nautical charts suitable for sailors and mariners alike—so make sure you select one according to your needs.
A bonus would be if these maps can be stored directly on the device so that they're always readily available regardless of whether or not you're connected to the internet.
You'll want to make sure your GPS comes preloaded with topographic maps or can access them. Topographic mapping is super helpful to a kayaker for several reasons:
They provide detailed information on terrain, waterways, and other features, making it easier to navigate and avoid hazards.
Planning your routes is way simpler as you can see the best spots to launch into the water and where you can stop for a picnic etc Safety: Topographic maps can provide valuable information on hazards, such as rapids, falls, and shallow areas, helping kayakers stay safe and avoid accidents.
If you're environmentally aware, then topographic maps can show you the protected areas and various wildlife habitats. This information can help lower your impact on the environment.
Compass
Having a electronic compass feature on your kayaking GPS is important for navigation beyond landmarks and terrain features.
Many models come with specialized compasses featuring multiple gradient angles, azimuth numbers and adjustable declination levels – all designed to help you accurately track direction.
Also, we'd recommend trying to get a unit that comes with a three-axis compass as it will improve your navigation and provide you with accurate readings regardless of your orientation.
User Interface
The user interface should include key indicators like speed, course angle and current location along with other intuitive functions like zoom level, target selection etc., but this depends on which type of kayaking activity you plan to undertake.
Look for a model with clear visuals, including electronic charts and route plans combined into one neat display that won't distract, but will enable you to make quick decisions while out on the water with your paddles.
When assessing any devices' navigational capabilities, it's important to consider both its horizontal accuracy and vertical accuracy ratings. For optimal safety and reliability, aim for a rating of 2-5 meters (6-16 feet) in terms of horizontal accuracy.
It's a Wrap…….
Finding the best kayaking gps doesn't have to be difficult!
Just remember to look for devices with waterproof ratings of at least IPX7 or higher, long battery life and accurate navigation capabilities. With these features in mind, you'll be able to find the perfect kayak GPS from those listed above. These will help make your next trip on the water a memorable one and, more importantly, a safer one.
Happy paddling!
Budget Option
Preloaded with worldwide basemap
2.2-inch monochrome display
WAAS enabled GPS with HotFix for fast positioning 
Waterproof to IPX7 standards 
Support for Paperless Geocaching
Up to 20 hours of Battery Life 
Best for Safety
Trigger SOS Calls & two-way messaging 
3-inch Sunlight-readable color display
Preloaded TOPO maps & Birdseye satellite imagery 
Cellular connectivity for active weather forecasts
Easily manage waypoints & routes 
Up to 35 hours of battery life 
Most Durable
Rugged & Reliable Handheld GPS
2.2" sunlight-readable color display 
Preloaded with Topo Active maps
Support for GPS and GLONASS satellite systems
3-axis compass and barometric altimeter
Up to 25 hours of Battery Life in GPS mode