This Garmin GPSMap 66i review highlights this as a premium navigational device that stands out from its competition. Why? Well, because it's a 2-in-1 unit that combines a handheld GPS with a satellite communicator.
This device combines the navigational capabilities of a GPS with the ability to keep in touch with the world. You can send text messages and receive notifications via the Iridium satellite network. It's a robust and compact unit that can withstand extreme weather conditions and go with you to the ends of the earth. It was also the top handheld GPS device in our recent comparison. The simple question that we will be seeking to answer in this Garmin GPSMap 66i review is, should you buy one?
Garmin GPS Map 66i
Features
Premium GPS Device
Satellite Communicator
Easy to Use
Fast Processing Chipset
Bright and Clear 3 inch Color Display
Robust and Compact
Weather Updates 
Garmin GPS Map 66i Review
Design
The Garmin 66i is a small and light unit that is comparable in size to your smartphone. It measures 2.5″ x 6.4″ x 1.4″ which is pretty similar to an iPhone 8. The 66i has a protruding antenna and is a little thicker to hold, but sizewise it's remarkably similar to an iPhone. The device uses the antenna to communicate with the Iridium satellite network, and in all honesty, it makes it look like a pretty cool walkie talkie. I guess it does make sense, as you will, after all, be connecting to a satellite located up in space.
The face of the device consists of a 3″ colour screen along with eight well-spaced buttons and a circular rocker button. This rocker reminds me very much of my old Sega Megadrive joypad in its function. If you press the buttons, you will get a reassuring clunk. It also helps that there is enough space between the buttons that you can operate the GPS while wearing your winter gloves. 
The power button is located on the top of the device beside the antenna. On the side, you will find the SOS button underneath a protective rubber flap. This is great as it means there's little danger of you calling for help accidentally while the GPS is tucked away in your pocket.
This is a robust and well-designed device that has a large easy to read display that also sits comfortably in hand.
Robustness
There's no question that the Garmin 66i is a robust device. It'll survive being dropped, sat upon and probably kicked around the place. It also has an IPX7 rating which means that it can withstand being submerged in water up to a depth of 1 meter for a whole 30 minutes.
Reassuringly, it also has a MIL-STD 810 certificate which is a military-grade testing certification. This rating is the result of placing the device through several rather unconventional tests. These tests measure exactly how robustly the device performs under duress. To those of us not used to the world of equipment testing these material stresses can seem a little weird.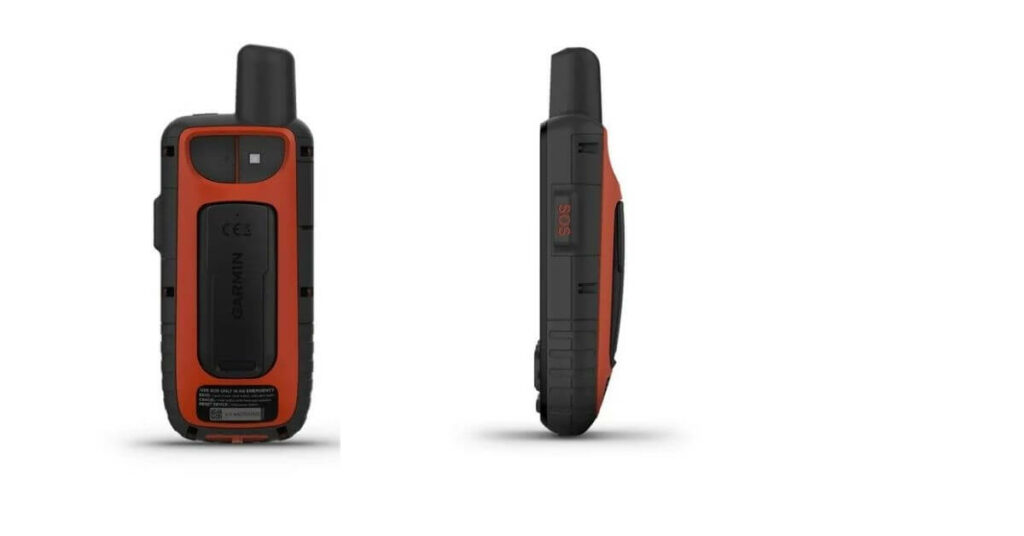 Who would have thought that being able to withstand salt fog, pyro shock, and some vibroacoustic testing would be necessary? Indeed, they take things further with some additional strange testing procedures like rail impact, fungus, gunfire shock, and extreme temperatures taken into account. If you'd like to learn more about the exact testing processes, then you can download the official guidelines here. Be prepared for a rather long read, however, as they are over 1000 pages to get through in total. 
Given all of these tests and subsequent certifications, there's no real need for us to test the toughness theory out. Yes, the plastic casing may get a few scratches if you drop it a few time, it will, however, operationally continue working just fine. 
Display
The 3″ screen is bright and easy to read. The resolution of 240 x 400 pixels isn't going to set the earth on fire, and it certainly doesn't compare to the newest smartphones. It does, however, do its job rather well. The screen is clear to read no matter what the weather is thanks to sunlight-readable technology. 
Interface
The interface is, however, more than a little clunky and, dare I say, feels somewhat dated. It reminds me of the interface on the older Nokia phones as you'd spend hours on Tetris. Younger readers may not remember Tetris, but it was undoubtedly a highly addictive game that was developed by the Russian video game designer Alexey Pajitnov.
The performance of the device is excellent. The improved processor means that you can move between the various features quickly and easily. There's little to no lag visible as you use the device. One of my absolute pet hates is standing still waiting for my GPS to find my location. With some of my devices, it can take forever before my position can be found by satellites. Thankfully, the 66i performs well in this regard and obtains a GPS fix pretty quickly.
Navigation
As a navigational handheld GPS, is where the Garmin 66i shines. It is, after all, its primary function. And guess what? It does the job of navigation exceptionally well. At its simplest, you could choose a location on the map and press GO – the device will then calculate the best route for you to get there. Alternatively, you can pre-plan your course at home and transfer the details directly to the 66i. What I like about this option is that the device will beep if you happen to wander off the pre-planned route – useful for keeping you on the right track.
The Garmin 66i can store up to 10,000 waypoints, 250 GPX tracks, 300 separate fit activities and 250 routes. You can also plot your planned routes using actual trails rather than the direct point to point system used by other devices. This makes it easier to hike the trails but also to better estimate the time it's going to take you to complete.
The Garmin 66i comes preloaded with routable topographic maps. These maps provide you with detailed information about your surrounding terrain. They give you the ability to see contours, elevations, summits and any other geographical points of interest nearby. You are also able to differentiate between natural and human-made structures (such as roads) as it can make life a lot easier on the trail or for when you have to find where you parked the car! On top of that, you also get information on thousands of points of interest that can help you find places to pitch your tent or simply to stop and have a picnic.
The Garmin 66i has a slot for an SD card that means you can also add some additional preloaded mapping to the device. Great if you want to add detailed maps for a different area or perhaps even some maritime charts.
Birdseye Imagery
Included within the package is the Birdseye Imagery that provides you with some, as the name suggests, birdseye photos of the areas you're exploring. These are useful in helping to locate those hard to find lesser-used trails that perhaps aren't clear on the maps. The quality of these images are, at times, excellent; however, they do still lag behind the detail provided by Google maps. On the flip side, however, is that these images can be downloaded directly onto the device, meaning that they can provide you with information even if you are outside of cellular coverage.
Sensors
The 66i also comes with some additional sensors that can assist you in finding your way. The digital compass works whether you are moving or standing still thanks to the tilt-compensated 3-axis function. You also have a barometric altimeter that uses the atmospheric pressure to calculate your elevation at a given location. 
Satellite Communication
The Garmin GPSMap 66i is designed for the wilderness and to being your faithful companion off-grid. This is the device that you want with you if you are heading into an area with little to no cellular coverage. Granted, we haven't been able to test out this theory thoroughly; however, we gather that it'll work anywhere in the world. 
This video provides a visual as to how the satellite network provides worldwide coverage.
If you don't have access to cellular coverage, then using this satellite communicator enables you to keep in touch. It can be essential to let your family know that you are safe and well if you are out exploring the trails. What if your trip is taking longer than expected, and you're going to be late back? Then sending a simple text message can allay the fears of loved ones. Let them know exactly how long until you'll be back for dinner! 
The Garmin 66i communication function works by utilizing the Iridium satellite network. To use the service, you will require an active inReach subscription. There are various pricing structures available. It's worth taking the time to work out how often you might expect to use the service to choose the most cost-effective option for your needs. The table below provides the current pricing plans:
The ability to send text messages to any mobile phone is an excellent feature of the Iridium network – there's no restriction on who can receive your messages. The most crucial function, however, has to be the peace of mind it provides if you do go out of range. The ability to call the rescue teams and let them know your precise location might just save your life one day. It is, however, a worthwhile exercise to study the pricing structure of the inreach subscription models above alongside calculating how often you will use the service. After all, you don't want to be paying for an inreach subscription that you won't get the full benefit from.
GPS Accuracy
The Garmin 66i utilizes the GPS, Glonass and Galileo satellite systems that mean you should get not only a faster but also a more accurate fix on your location. Many other navigational devices only use the USA's GPS and the Russian Glonass satellites. The European Galileo system is intended to provide positioning accuracy to within a 1-metre range. It will also only get more accurate as additional satellites are added to the network in the future.
Weather 
If you connect the Garmin 66i to your smartphone, then you will be able to receive regular weather updates. It can provide you with a detailed four-day forecast and live graphical weather maps. This is an excellent feature if you are out on an expedition and want to plan for the next few days. 
There is also the option of being able to receive weather updates through your inReach subscription. Wherever you are in the world, perhaps in the middle of the ocean or in a rather hard to reach location, you will still be able to request weather updates. These updates can be tailored for your current location, your expected destination or any other point of your choosing on the map. 
Battery Life
The Garmin GPS Map 66i comes with an internal rechargeable, lithium-ion battery. Most reports have confirmed that Garmin's claims of battery life are pretty accurate. If you use the device with the standard 10-minute tracking function, then you should be able to expect around 35 hours in between charging. With a few adjustments and by using the power-saving features, such as turning off Bluetooth and dimming the screen brightness; you should be able to get an impressive 200 hours of battery life.
As this is an internal battery, you won't be able to bring any spare batteries along with you on the journey. The solution, therefore, is to buy an additional solar-powered USB battery charger. These are great as they provide some extra peace of mind as you can keep your GPS and smartphones fully charged on the trail. It will take around 90 minutes to get the Garmin 66i fully charged from empty. 
Connectivity
As this is a WiFi-enabled device, it's pretty easy to keep the firmware updated. The Garmin will let you know if there's an update available and when it connects to the Wi-Fi. 
There are a few things that you will need to install and set up to get the most out of this device. 
Garmin isn't renowned for being world leaders in user experience as the whole set up process can be a little clumsy. You'll need to have your inReach subscription in place, have Garmin Express on your desktop and Garmin Connect downloaded onto your phone. Once you've gone through the process of setting everything up, you should be good to start enjoying using the device. 
Attachments
When you purchase the Garmin GPS Map 66i, you get a carabiner clip in the box. The clip should be securely attached to the rear of the GPS. As you can see in the image below, the clip (1) should fit into the slots on the mounting spine of the unit (2).
Once the clip is in place, the GPS can then be attached to your belt. However, my favorite place is to attach a GPS to the shoulder strap of my rucksack. In this way, the device is easy to access and always available.
If you prefer to carry the device in your hand, you could use a lanyard for extra security. There is a slot on the bottom of the GPS for a string. You could then place the cord around your wrist, which should prevent the device from falling accidentally out of your grip. 
Should You Buy The Garmin 66i?
The short answer is, it depends. 
It depends upon you needs and let's be honest your budget. Given its design, the sheer number of features and the fact that it also serves as a satellite communicator, it is undoubtedly one of, if not, the best GPS available. It's a premium product with a premium feature set. If you need to choose one product to bring with you on an expedition or an off-grid exploration, then this is the device that you need. It is an excellent device.
As this is a premium product, it comes with a premium price tag. And for this reason, I would caution you that it may not be the right device for you at this point. You may be able to save some money or go a different route depending on the equipment you currently have and what it is that you want to be able to achieve.  
As an example, if you are only looking to buy a GPS for geocaching, then this isn't the device for you. There are too many features that you won't need to find those caches. Depending upon your budget I would recommend trying a GPS like the Garmin Oregon 700 or the very basic Garmin eTrex 10.
If you already have another satellite communicator such as the inReach Explorer+ or the inReach Mini, then it's probably worthwhile considering a more basic and cheaper GPS.
If on the other hand you don't already have a satellite communicator and you're looking to update your current GPS then this is worthy of some serious consideration. As a GPS its an excellent device with some quality topo maps, a snappy interface and lots of navigational features. As a satellite communicator, it's a great device that uses the Iridium satellite network. Put them both together, and couple them with the fact that Garmin is releasing regular firmware updates and you have an outstanding handheld GPS device. 
Summary
If nothing else, this Garmin GPS Map 66i review should have highlighted that this is a top of the range handheld GPS. It's a device that will accompany you everywhere while also keeping you connected, no matter where on this planet you may be. It's pretty apparent why explorers, hunters and tech lovers trust the Garmin 66i. It's undoubtedly a fantastic piece of kit.
Pros:
Premium GPS
Satellite Communicator
Preloaded Topo Maps
Works Anywhere
Easy To Use
Robust & Ergonomical Device
Cons:
Expensive
Interface Could Be Smoother
Inreach subscription may be required
Check the Latest Price for the Garmin GPS Map 66i
People also ask:
Is the Garmin 66i worth it?
In this Garmin GPS Map 66i review we've covered the main features and what you can expect to get with this device. This is quite clearly a fantastic top of the range GPS unit that provides you with plenty of navigational options and also keeps you in touch with people when you're out of range.
If you're someone who enjoys exploring and going far out into the wilderness then there really is no better companion to have with you. This tough little navigator will keep you on the right track and provide you with mapping that works everywhere in the world. If this is what you need then I'd recommend you go out and buy this 66i.
If on the other hand, you're not going to be going too far off the beaten track and are only looking for a handheld GPS for some geocaching or general walks then I'd wholeheartedly recommend looking at the cheaper Garmin eTrex 32x.
Does the Garmin 66i work without subscription?
Yes the Garmin 66i will work without the need for any additional subscriptions. However, if you want to access the inReach satellite features in order to communicate with others via messaging etc then you will need to take out an additional subscription.
If you're not sure whether you need the inReach subscription then I'd recommend trying out the device first. Take it out and give it a real test drive on the trail. If you find you can manage without the additional features that come with the subscription then there really is no need to commit to any additional subscriptions.
When was the Garmin GPS 66i released?
The Garmin 66i was first announced by Garmin in the summer of 2019. Since that date the device has become a firm favourite within the explorers community.