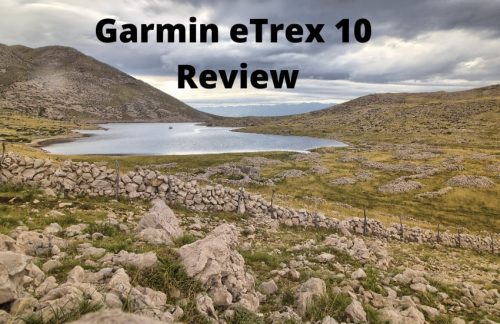 Garmin eTrex 10 Review
The Garmin eTrex 10 is, in our opinion, the best budget option if you're looking for a cheaper handheld GPS. It's a small, well-designed unit that has excellent battery life. You get a compact and straightforward monochrome display that really won't win any design prizes. Underneath the hood, however, there is an extremely accurate GPS waiting to help you out.
As you'd expect at this price point, it's not a device that comes loaded with features, but guess what? We think that it can still do an excellent job for lots of people. If on the other hand, you're looking for something a little more sophisticated for you hiking trips, then check out some comparisons here. So, without further ado, let's jump right in and take a more in-depth look at this GPS.
Features
Easy To Use
Improved Interface
Excellent Battery Life
GPS, GLONASS and GPS HotFix
Worldwide Basemap
Paperless Geocaching
| | | |
| --- | --- | --- |
| | | |
| | | |
| | | |
| | | |
| | | |
| | | |
| | | |
| | | |
| | | |
| | | |
Garmin eTrex 10 Review
Design
During this Garmin eTrex 10 review what immediately struck me is how distinctive-looking this black and yellow device is. It's a small and compact unit with measurements of 2.1″ x 4.0″ x 1.3″, which is a good bit smaller than a standard-sized smartphone. It's also light and easy to carry as it weighs only 5 oz (141.7 g) with the batteries installed. The device is surrounded by a thick plastic casing that has an ergonomically designed grip on the side. Along with its compact size, this makes it an easy machine to carry around on your hiking trips.
The eTrex 10 is a rugged and waterproof unit. It has an IPX7 rating that means it can survive being exposed to water for 30 minutes up to a depth of 1 metre. In reality, this means that it's waterproof and can be used safely in the rain.
Display
The display is a 2.2″ monochrome (black and white) screen. It has a low resolution of 128 x 160 pixels that does not provide the detail and clarity of other more expensive devices. The good news, however, is that it's easy to read and the display is transflective, which means it's entirely readable in bright sunshine.
Control Buttons
For those of you familiar with the eTrex range then you'll know that they have a joystick type button on the upper right-hand side. This joystick is what you use to scroll through the various menu options. If you haven't used one of these before then initially you might find it a little awkward. After a few days using the device, however, you should find that it becomes straightforward and dare I say, intuitive to use.
Pro Tip: If you press and hold the joystick you can mark a waypoint
On the side of the unit, you also have some additional more traditional rubber buttons. These buttons allow you to zoom in and out on the screen and return directly to the main menu. There is also a 'back' button that brings you back a step and a power button that doubles up as a switch to adjust the light functions. Pressing this button allows you to change the backlight brightness – the higher the intensity then, the quicker the battery will drain. To save battery life, you should have the screen brightness set at a lower setting. If on the other hand, you press and hold this button, then the unit will power off.
As this is a button-operated device, it performs well in all weather conditions, including the rain. You don't get the responsitivity issues that plague some touchscreen handheld GPS devices when you try to use them in the wet. You can also use this device while wearing your gloves – although the compact size can at times make it a little fiddly.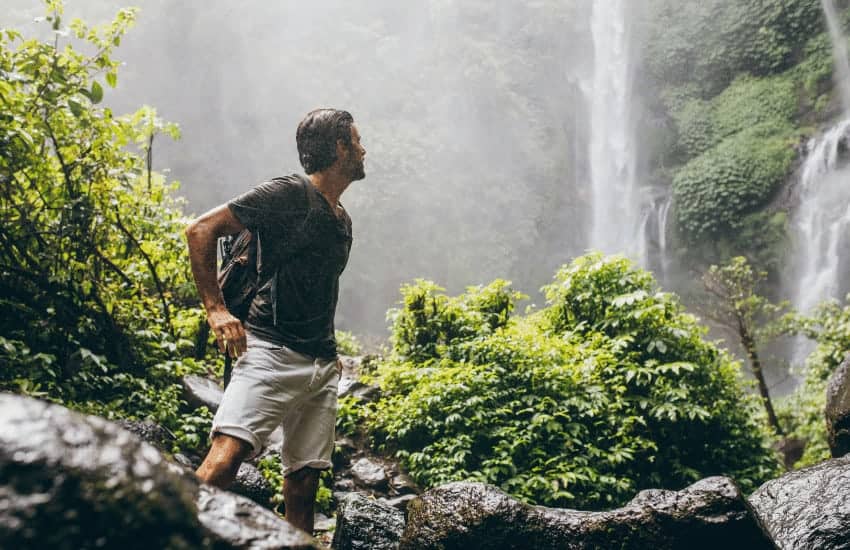 Navigation
Straight up, I have to tell you about the elephant in the room. The eTrex 10 is a handheld GPS that comes with no mapping whatsoever. Yes, you read that, right, there are no maps included with the eTrex 10. What you do get is a Worldwide Basemap.
It can be challenging to plan your routes directly on the device as you'll mostly be placing waypoints on a blank page. Not having a topographic mapping function on the device makes it advisable to pre-plan all of your routes at home. I'd recommend using the basecamp software to plan your trip. Use the Track Draw feature to both plan and estimate the difficulty of your route. Once completed with the planning, you can transfer the details to your eTrex 10 using the USB cable. You can then choose the trip from the menu and follow the waypoints of the route until you arrive at your destination.
The Garmin eTrex 10 will store up to 50 routes, 1000 waypoints and a 100 tracks. It's worth pointing out that this is all that you are going to be able to store on this device. There is only 6MB of internal memory available, and there's no internal SD slot for some additional space.
GPS and GLONASS
By using both the GPS and GLONASS satellite systems simultaneously, the eTrex10 can obtain a better lock on your position. It is also faster in finding where you are as it has more satellites available to do so.
You can find out how many and which satellites you are using, by choosing 'satellite' in the main menu. This feature will tell you if you are using the GPS or the GLONASS systems. The screen will then provide you with the details of your location, the accuracy and the signal strength along with your current elevation.
Last Amazon price update was: January 18, 2021 2:52 pm
×
Product prices and availability are accurate as of the date/time indicated and are subject to change. Any price and availability information displayed on Amazon.com (Amazon.in, Amazon.co.uk, Amazon.de, etc) at the time of purchase will apply to the purchase of this product.
GPS HotFix
The Garmin eTrex 10 is a highly sensitive device that finds your location quickly and accurately. It makes use of HotFix satellite predictions to find and obtain a satellite lock on your position faster. This method works by collecting your previous data and using this to predict your location. Using this system, you'll find that it'll take longer to obtain a fix on your location if you have moved thousands of kilometres from where you last used the device.
WAAS
The eTrex 10 also uses the Wide Area Augmentation System (WAAS) in North America, to provide better positional accuracy. The WAAS is a series of satellites and ground stations that combine to correct GPS signals. The result is that your location should be accurate to within 3 metres, over 95% of the time.
The Garmin eTrex10 does well in keeping a lock on your location when you're out and about travelling. It will keep working even in some overgrown woods or in deep valleys.
Geocaching
The eTrex10 is an excellent choice for those looking for a device to go paperless geocaching.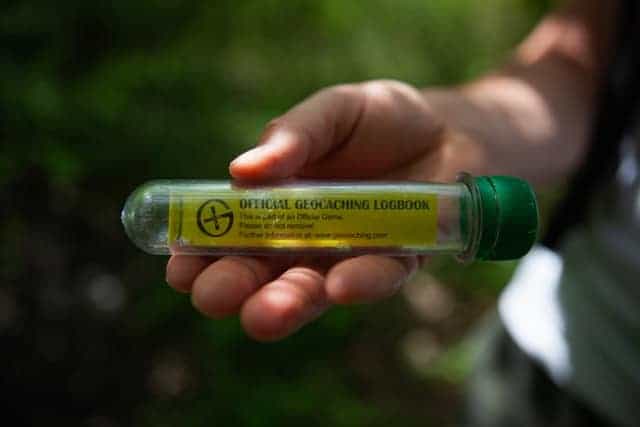 If you're wondering how to add the Geocache GPX files to your Garmin, then this video below should help you out with its easy to follow step by step guide. Note that you will need a premium geocaching account to be able to use the 'pocket query' feature for bulk GPX transfers.
You will now have the Geocache details loaded onto the device. To get going is easy, find the GPX file and press 'Go'. There is also the possibility of activating the chirp feature that means the device will give an audible alarm when you are in the proximity of the cache. This feature is excellent particularly as the eTrex 10 is so accurate in its location advice. You only have to hope that the original geocache coordinates are correct too!
Once you have found the geocache (or not, as the case may be) select 'Geocache' in the menu and choose 'log attempt'. Here you can log in your details as to whether you found the cache or not (DNF). Once you have done this, you can add a comment or send a message to the cache owner that maintenance is required.
Digital Compass
The eTrex 10 has a digital compass that makes it easy to work out what direction you are going. For the compass to be accurate, you will need to keep moving for it to calibrate. Alternatively, you could hike using the compass as your navigation tool. On the screen, you will see a pointy triangle that will continue to point in the direction you want to travel. For it to work, you turn until the triangle on the compass points to the top of the device, that then is the direction you should travel to get to your destination head in that direction.
Battery Life
Expect to get around 25 hours of battery life from a couple of AA batteries. This time is impressive from an always-on device, but I guess having a lower resolution black and white screen is a significant factor in extending the battery life.
The benefit of using AA batteries is that not only are they cheap but it's easy to carry a couple of spares with you. I would throw a couple of additional batteries into the bag for peace of mind.
Interface
As you might expect for an entry-level handheld GPS, the interface seems rather clunky and a little dated. As you fire up the device, you have a primary menu with six items. These include a map, a 'where to' feature, a compass and a trip computer. From this page, you can also mark a waypoint or delve into the settings page.
If I'm honest, despite being an easy to use device, the included documentation is somewhat lacking. The instructions don't cover all of the features of the device. The best way to resolve this is to read the online documentation here, then head outside and try out the equipment. Give yourself a couple of hours, and you will work everything out and know how to use the device properly.
Additional Features
Area Calculation
If you were wondering how large a particular field might be well, then you're in luck! With this device, you can use the area calculation feature. Press start within the function, walk the field and then when you've finished the device will calculate the area for you.
Sun and Moon
As the name suggests, this function provides you with details and timings of the sun and moon. It lets you know when sunrise and sunset will take place based on your location. It also provides you with the same information for the moon. This feature can be useful if you want to make sure that you don't get stranded out on the trail in the dark. If you're like me, I'm guessing that you'll want to get back to your car before darkness falls properly.
Hunt and Fish
This feature is probably self-explanatory. It provides you with the best dates and times for fishing and hunting in your current location.
Calendar and Alarm Clock
The calendar shows the month and the year on the top of the screen. Just like a standard calendar, you then get a monthly calendar showing the days and dates. The alarm clock feature could be useful if you are camping and need to get up early the next morning!
Calculator and Stopwatch
You'll find these functions on the fourth and last page of the main menu. The calculator provides some scientific operations along with the standard calculator functions. Honestly, I have no idea what use you'll make of a scientific calculator out on the trail, but it's there if you need it! The stopwatch can be useful if you want to record some lap times on the trail.
Summary
In this Garmin eTrex 10 review, we've seen that this is an entry-level device that also happens to be one of the cheapest handheld GPS available. You're not going to get all of the bells and whistles that come on more feature-heavy and pricier models, but you do get an excellent and reliable performer. The eTrex10 is small, light and robust enough to accompany you anywhere. You don't get any detailed mapping but, it's an accurate and easy to use device. It provides a great companion on a Geocaching hunt. In other words, it does what it does, and most importantly, it does it rather well.
Pros
Great Price
Compact and Robust Device
Excellent for Geocaching
Fast and Accurate
Easy to Use
Long Battery Life
Worldwide Basemap
Cons
No Mapping Included
Monochrome Screen
Documentation is Lacking
Only 6MB Internal Memory
NO SD Card Slot
Garmin eTrex 10 Worldwide Handheld GPS Navigator
as of January 17, 2021 9:30 pm
Rugged handheld navigator with preloaded worldwide basemap and 2.2 inch monochrome display
WAAS enabled GPS receiver with HotFix and GLONASS support for fast positioning and a reliable signal
Waterproof to IPX7 standards for protection against splashes, rain,...

User reviews

I'm a simple guy, with simple desires. One is to not get lost while out in the thick of it. Been there, done that, don't recommend it.I'm also not looking to spend a lot on helping to prevent that situation again, so I did a quick search and came up with this unit. It doesn't do a lot and I don't need it to. Mark the camp, go for a hike, peace of mind that camp is "over there". See something cool, mark that too, find that cool thing again in the future.It does other things, mimics my trail, but I haven't fully played around with everything. I only care about that one thing and it does that one thing well.

I have used this across the United States for a little over a year. First off, I would say it would be completely irresponsible to try to navigate only using this device on its own. I carry this as a supplement to a paper map. I mainly use it to for its trip computer capabilities, in that it tells me my speed and distance traveled which is valuable in predicting timing of arrival and helps with navigating via map. I use the waypoint function as a back-tracking route in case of emergency but thankfully I haven't actually had to backtrack out.I think Garmin is a company that does not support their customers after the purchase. I read a lot of reviews before purchasing and people all over the web can't seem to figure this GPS out. The user manual you receive with it, tells you how to put batteries in it but provides no in-depth description of the functions provided by the device.While this is supposed to be an entry level GPS, I think most entry level customers will find it confusing and not helpful on the trail. I will continue to carry it until it breaks, but I am not that impressed and knowing what it provides I wouldn't recommend it unless you just plan to use the trip computer and some primitive waypoint features. At its current price, I just don't see any really value in what it provides. I certainly won't be in the market for another Garmin product for a while.

Really love this for outdoor activities!How I most often use it: after the initial setup when I arrive at the trailhead/parking lot (or the bike path etc) I turn it on, clear current track, reset the trip odometer, then add a waypoint and that's it. Since I have it set to automatically record tracks there's nothing for me to do until I get to the end of the trail. At which point I then save the track and then use the backtrack feature to guide me back to the car/trail head.This comes with a *very very* basic world map with only major cities (Los Angeles, San Diego etc) as landmarks so don't expect street names or shops, banks, gas stations, restaurants etc. But great for backpacking, hiking, biking and even as a backup for wheeling/offroading (though I use a tablet based GPS for that).
Garmin eTrex 30x, Handheld GPS Navigator with 3-axis Compass, Enhanced Memory and Resolution, 2.2-inch Color Display, Water Resistant
in stock
as of January 17, 2021 9:30 pm
Features
| | |
| --- | --- |
| UPGRADED DISPLAY Features a 2.2" 65K color sunglight readable display offering increased resolution (240 x 320 pixels). Physical dimensions | 2.1" x 4.0" x 1.3" (5.4 x 10.3 x 3.3 cm) |
UPGRADED DISPLAY Features a 2.2" 65K color sunglight readable display offering increased resolution (240 x 320 pixels). Physical dimensions: 2.1" x 4.0" x 1.3" (5.4 x 10.3 x 3.3 cm)
LOAD MORE MAPS Large 3.7 GB of internal memory and microSD card slot lets you load a variety of...

User reviews

Buying a GPS was a big decision for me. Which one to get...? With it being an expensive item, buyer's remorse was not something that I wanted to deal with. Thankfully I am 99% happy with my choice. A lot of people complain that the Garmins are not "user friendly" but frankly, I have to disagree. Did I spent some time figuring it out? Sure. Did it take me hours and hours and ended with me crying in frustration? No.What I like:1. Excellent battery performance, especially if you keep your screen at the dimmest (perfectly good in daylight, not so good in the dark).2. Small and light3. Robust and although I'm sure it's not waterproof to the point where you can submerge it, I use it in rain all the time4. Alarm clock! Wow had no idea I would use this feature so much5. Pretty easy to upload/download/transfer tracks without "proper" software (just using your PC/Mac and GoogleEarth)What I don't like:1. It doesn't have a "key lock" function. So every now and then I accidentally mark waypoints when my GPS press against something in my pack2. The joystick button is sometimes a little bit unresponsive. But by 2 seconds or so. So not a biggie.3. I haven't fully wrapped my head around the BaseCamp software and I don't understand when I rename my tracks/waypoints, the default names seem set in BaseCamp and don't change.What you have to remember:1. You MUST purchase a micro SD card and you have to make sure you get one with the right specs. You actually cannot buy the fastest/best cards out there because it wouldn't work. I've read online that a 32 GB FAT32 formatted card is the maximum that you can go. But best to verify this with Garmin.2. I seriously suggest purchasing a screen protector. Once your screen is scratched... it's scratched. Don't be frugal on this.If you are in the market for an entry level GPS, this is the one to go for.

I do a lot of solo backpacking, and I love to spend my trips off-trail. I consider my GPS device to be not a nice item to have, but instead I consider it a very important safety item to have with me. I really rely on it!I owned an old Garmin GPS unit for many years, but finally had to dump it because I could no longer upload data to it. I was from the pre-USB era. I chose the eTrex 30x for the replacement.I see that some hikers want the full graphical map capabilities in their GPS units. I see them huddled on side of the trail trying to read the digital map on their units. As best I can tell, they basically want Google Maps on their GPS units, while out in the wilderness. While that idea sounds nice, I have found it to be not efficient.I plan my routes using caltopo.com. Excellent route planning tool. I then create a series of "breadcrumbs" for my hike, marking every key turning point, lake, or other significant feature. I then upload this data direct into my 30x. Easy process.When I am out on the trail I just want the device to tell me which direction and distance is a specific point that I have pre-marked. The 30x does that perfectly. I select the point I want to go to, and it gives me a compass and distance to that point. Perfect, for me. Quick and efficient. I pass up those groups trying to figure out where they are located on a graphical map on a very small screen.I love mine so much that I own two of them, one as a primary unit, one as an emergency backup, just in case. A very solid product!

I replaced my old eTrex 10 with this model and I was so excited to have extra storage, a better display and snappier feel. Unfortunately, this unit didn't replace any of those things well.There is a lot more storage but it MUST be USB 1. It literally takes hours to move some of the Garmin Topo maps to/from the unit. If you try to use Garmin's BaseCamp with the large maps on it, you'll have to wait about 45 minutes to an hour each time you open BaseCamp because it has to read the entire maps from the unit.The screen resolution is no better than my unit that is 10+ years old and the overall processing speed is exactly the same as well.
Garmin eTrex 22x, Rugged Handheld GPS Navigator
as of January 17, 2021 9:30 pm
Features
| | |
| --- | --- |
| Battery life | up to 25 hours in GPS mode with 2 AA batteries |
Explore confidently with the reliable handheld GPS
2.2" sunlight-readable color display with 240 x 320 display pixels for improved readability
Preloaded with Topo Active maps with routable roads and trails for cycling and hiking
Support for GPS and GLONASS...

User reviews

The unit itself is fine, my problem with it is false advertising, the unit says it has pre-loaded maps, and also has an extra 8GB for extra maps.The reason I purchased it was to add more maps and have the SD card slot for additional maps.Unfortunately what is not made clear is that the pre-loaded maps take up 92% of the 8GB storage leaving only the SD card slot.This is the reason I returned it.

Garmin is an abysmally disappointing company. What they have created here is a product straight out of the Blackberry era. From what I can see, they offer nothing in the handheld market that is close to a modern device.This is a poor piece of hardware coupled with poor software. I am returning it. It burns me up that I also have a Garmin in my car that is inferior as well and that I didn't return it. Never again!Here are just some of the issues I have encountered in my brief period of ownership:- The screen is tiny. I need reading glasses and hike in the desert sun. The screen is next to useless. My smartphone works just fine in the same conditions with no glasses.- It is far from intuitive - Clearly the best tech minds do not work for Garmin.- It has a joystick which protrudes - In your pocket that joystick gets bumped turning the screen on, wasting battery life.- You can't search for a location by state - Input any state and it returns ZERO results.- The method to change the order of items is different in the Main menu versus the Route Planning menu - Who designed this???- The delete tracks menu actually contains the delete all settings. WHAT???- There are no geocaches.The only reason I give this 2 stars instead of 1 is the data is solid.

I've been using an eTrex 10 with a paper map for about a year. When they announced the topoActive map with this I decided to give it a try. The additional features are great. The attached picture is a topoActive map. Putting the pointer over a street gives the street name. The distance and direction to the location are shown. Hitting select gives you data on that selected spot. This morning I made way points and a route from the map and walked it using the compass. Very accurate. T̶h̶e̶ ̶o̶n̶l̶y̶ ̶d̶e̶f̶i̶c̶i̶e̶n̶c̶y̶ ̶t̶h̶a̶t̶ ̶I̶ ̶c̶a̶n̶ ̶s̶e̶e̶ ̶i̶n̶ ̶t̶h̶e̶ ̶t̶o̶p̶o̶ ̶a̶c̶t̶i̶v̶e̶ ̶m̶a̶p̶s̶ ̶i̶s̶ ̶t̶h̶a̶t̶ ̶t̶h̶e̶y̶ ̶h̶a̶v̶e̶ ̶n̶o̶ ̶e̶l̶e̶v̶a̶t̶i̶o̶n̶ ̶c̶o̶n̶t̶o̶u̶r̶ ̶l̶i̶n̶e̶s̶ ̶s̶o̶ ̶i̶f̶ ̶y̶o̶u̶ ̶p̶l̶a̶n̶ ̶t̶o̶ ̶d̶o̶ ̶s̶o̶m̶e̶ ̶s̶e̶r̶i̶o̶u̶s̶ ̶m̶o̶u̶n̶t̶a̶i̶n̶e̶e̶r̶i̶n̶g̶ ̶w̶h̶e̶r̶e̶ ̶e̶l̶e̶v̶a̶t̶i̶o̶n̶ ̶i̶s̶ ̶p̶a̶r̶t̶ ̶o̶f̶ ̶y̶o̶u̶r̶ ̶p̶a̶t̶h̶f̶i̶n̶d̶i̶n̶g̶ ̶y̶o̶u̶ ̶m̶i̶g̶h̶t̶ ̶w̶a̶n̶t̶ ̶t̶o̶ ̶b̶u̶y̶ ̶t̶h̶e̶ ̶2̶4̶ ̶f̶u̶l̶l̶ ̶t̶o̶p̶o̶ ̶m̶a̶p̶ ̶f̶o̶r̶ ̶w̶h̶e̶r̶e̶ ̶y̶o̶u̶ ̶a̶r̶e̶ ̶g̶o̶i̶n̶g̶.̶ Correction, it does have elevation lines, see photo. At this point in my life I don't need that.I bought the North America automotive map and it works quite well with this. I used it this morning to navigate somewhere where I had a back way. The Garmin rerouted without protest. You can search for gas stations, truck stops, places to eat, hotels/motels and such with both the topo and road maps but the topo thinks you are a crow.Did I say that I really like this? I really do.