Have you ever wondered where your car has been? Or maybe you're just curious about the routes and distance you've covered on your past trips. No matter why you want to know, it's important to understand how to access the GPS history of your vehicle. In this blog post, we'll look at how you can track the various places your car has visited using different methods. We'll also provide you with some steps on how to check car GPS history.
Why Check your Car's GPS History?
It may be useful to check the location history of your vehicle for many reasons. These are some of the most common causes:
Are you worried that someone is taking your car without permission? Perhaps you suspect that the kids taking the family car without permission?
Have you recently returned from your holiday only to find that your vehicle has hundreds of additional miles on the speedometer? Or perhaps there appears to be way less fuel in the tank than you expected? There have been many reports of rogue car parking operators using customers' cars for various road trips.
You suspect that the company pooled car is being used over the weekends for personal trips.
Perhaps you suspect that your spouse or partner is having an affair? Have they been often coming home late from the office or perhaps their fuel bill has increased substantially over the past few weeks?
Regardless of your reasons, here are some methods of finding out how to check car GPS history with minimum fuss.
Using Vehicle In-built GPS Systems
To check the GPS history of your car, you'll need to access the navigation system. Depending on the make and model of your vehicle, this is done with either a physical button or by accessing the settings menu.
Once you've accessed the navigation system, you'll be able to view all the locations that were searched. This will give you an idea of where your car has been driven in recent times.
Most of the GPS installed in the dashboard of older vehicles won't save your location's history. What they will do, however, is store any location that the driver has inputted.
If you had put a certain shopping mall as your destination, then the details of all trips are in the device history.
In order to get the history, scroll to open the menu and seek your recent destinations. Any location searched for using this device will be in chronological order.
Be careful, as seeing the destination in the recent history does not mean that the vehicle made it to that point. It might be the case that the driver was only searching for information and didn't travel there!
Modern vehicles with inbuilt GPS will record your location's history. As there are so many types of vehicles, we'd recommend checking out the manual for your particular vehicle.
Many of these modern cars come equipped with a GPS system that you'd use through the car's infotainment interface. Yes, believe it or not, 'infotainment' is a proper word, albeit as a word where two words become one!
This system allows you to view past trips, the particular routes that were used, and the various distances covered and the current location.
How To Access the GPS History
In order to access the GPS history, you'll need to do:
Start the ignition and turn on the infotainment system.
Locate the navigation menu, which is on the main screen or you may find it in the settings menu.
Look for an option to view the GPS history. They may label this as "trip history" or "route history."
Select this option and you should be able to view a list of all past trips or routes recorded by the car's GPS system.
If you need more details, then you'll be able to select a specific trip for some further information. This should provide you with the exact routes, including the starting point, the end point, and the exact distance travelled.
Please remember that this level of location history and the details are likely only available on the more modern and most popular car models. These include vehicles such as the Tesla, a BMW or a Mercedes Benz car.
Yes, there are other models that will have similar functions, but it's important to remember that many older vehicles will not have this feature.
Another useful tip worthy of mention is connecting your car to your smartphone. This allows you to have various driving apps installed. Connect to Google Maps, Waze, or the vehicle manufacturer's own system; then, you'll be able to access a whole realm of locational information on your phone.
Using Dedicated GPS Trackers
Another way to track the GPS history of your car is by using a GPS tracking device. Do you have a GPS tracker installed?
If you do, then your task has just become a lot easier!
Real time GPS trackers can be installed in your car and allow you to view the car's location history through a web-based platform or a smartphone app. There are different GPS trackers available, such as hard-wired ones connected to the car's OBD-II port, which is usually located under the dashboard.
The battery powered trackers can attach under the wheel arch of the vehicle. However, these will need to have their batteries replaced or recharged periodically.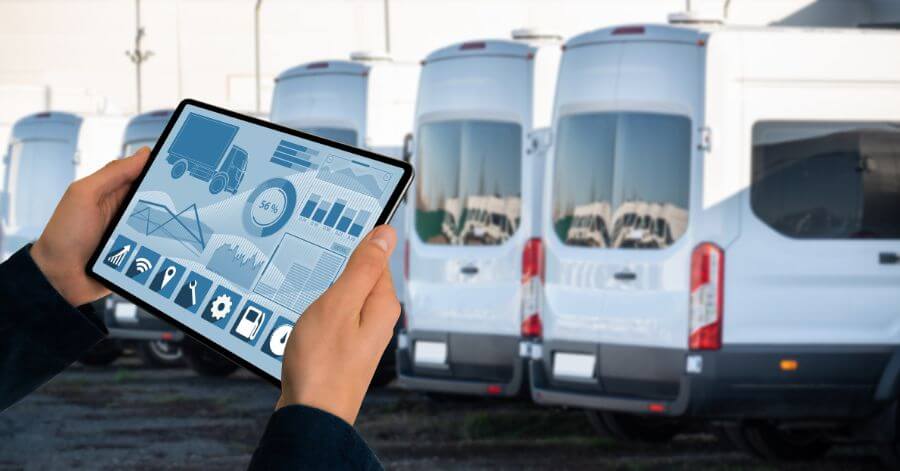 The beauty of these devices is that they can provide real-time location updates, speed notifications, and other useful information. If your job involves managing a fleet of vehicles, then I'd imagine that every car or van under your control will have a tracker installed.
A GPS tracker enables you to see exactly where all your vehicles are at any point. It will also enable you to get the details of the tracking history.
If I wanted to give an example from another realm, the system is comparable to the best GPS trackers for dogs we recently looked over. Instead of monitoring your pup's whereabouts, though, this time you'll be able to follow your car's movements! These days, it seems you can find a tracker for anything!
The first step is to locate the tracker device itself.
Depending on the type of vehicle you have, this may be in different places. For example, if you have an older model car, it may be located under the dashboard near the steering wheel. If you have a newer model car, it may be in the glove compartment, center console or in the wheel arch.
Once you've located the device, you'll need to connect it to a computer with an appropriate cable or the adapter that came with the device.
Once you're connected, use the software that accompanies your device and locate an option like "GPS History". Doing this should produce a list of all the places your car has been since its installation.
Using Detachable GPS Devices
Using a detachable GPS device such as a Garmin or TomTom is another great way to track the GPS history of your car. They designed these devices to be easy to install and easy to remove from vehicles. This makes them ideal for those who don't want to have a permanent GPS or tracking device in their car.
Once you've installed the device, it will track your car's movements and store this information in its memory. To access this data, connect the device to your computer via USB cable and open up the software that came with it.
From here, you'll be able to view all the places your car has been since you first started using the device. You can also set up alerts so that you're notified when your car enters or leaves certain areas, giving you peace of mind that your vehicle is secure at all times.
Besides viewing past locations, some devices, if paired with a smartphone app, also allow you to view real-time location updates on a map so that you can monitor where your car is at all times.
The "Where I've Been" app comes with several Garmin devices. For example, the Garmin DriveSmart 65, can show you a log of the device's trips. This feature will show your journeys on the map, along with all stops made in the last ten hours.
Using the "Where I've Been" App:
Press Apps Drawer button
Go to the Navigation option
Choose "Where I've Been,"
The right side of the screen features a box that displays a day-by-day breakdown of the travel history. Press the button to open the list and move through each day. Simply tap on the date to view a day's travel history.
Any day that is shaded out wasn't active on that day and it has logged no travel history. If this is the case, then there's no need to panic, as Garmin Basecamp enables you to view historical location data.
How to Check Car GPS History Summary
When choosing a method for tracking your car's GPS history, consider your specific needs. If you're looking for a more permanent solution, using the vehicle's in-built GPS system or a GPS tracking device may be the best option. If you need a more portable solution, a detachable GPS device may be a better choice.
In conclusion, knowing how to access the GPS history of your car can be useful for a variety of reasons. Whether you're curious about your past trips or need to track your car's whereabouts, there are different methods available to suit your needs. With the information provided in this post, you should be able to track all the places your car has visited and have a better understanding of your car's movements, and get real-time location data.