The eTrex 32x is Garmin's latest device in the eTrex range of handheld GPS. Since its initial release in June 2019, the 32x has proven to be a popular choice, particularly amongst the geocaching community. 
Just like its predecessors, this is a lightweight, dependable, and robust GPS. The real beauty of the eTrex 32X is, however, that it's an easy-to-use device that appeals to both serious explorers and hobbyist geocachers. It enables people to get out and about safely with a reliable GPS as part of their kit.
In this Garmin eTrex 32x review, we'll take a look at the main features of this GPS. This device isn't perfect, and it may not offer you everything that you need in a handheld GPS for hiking and therefore, we'll also consider some of its shortcomings.
In other words, let's delve a little deeper, look at the positives and negatives, and see if this is one handheld GPS that you should consider purchasing.
Garmin eTrex 32x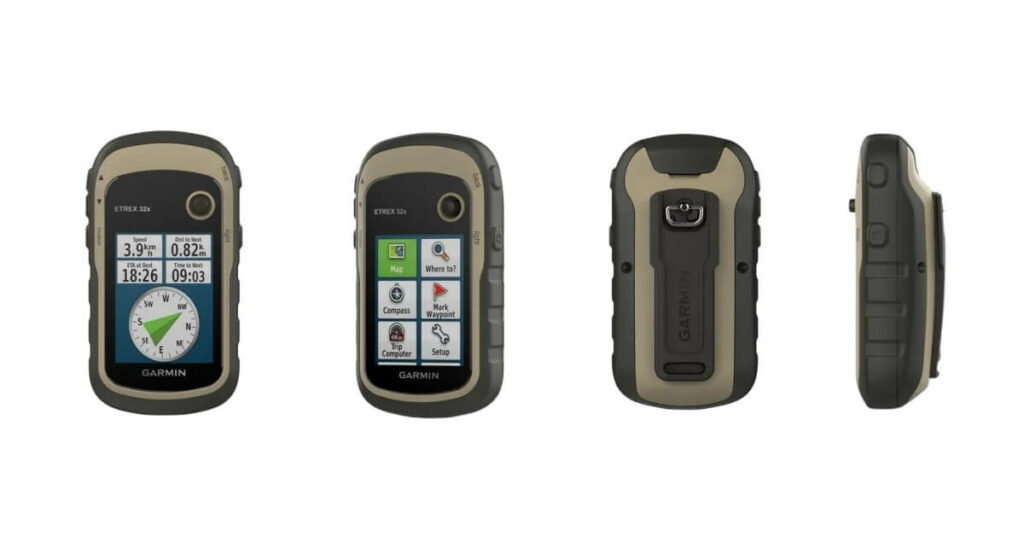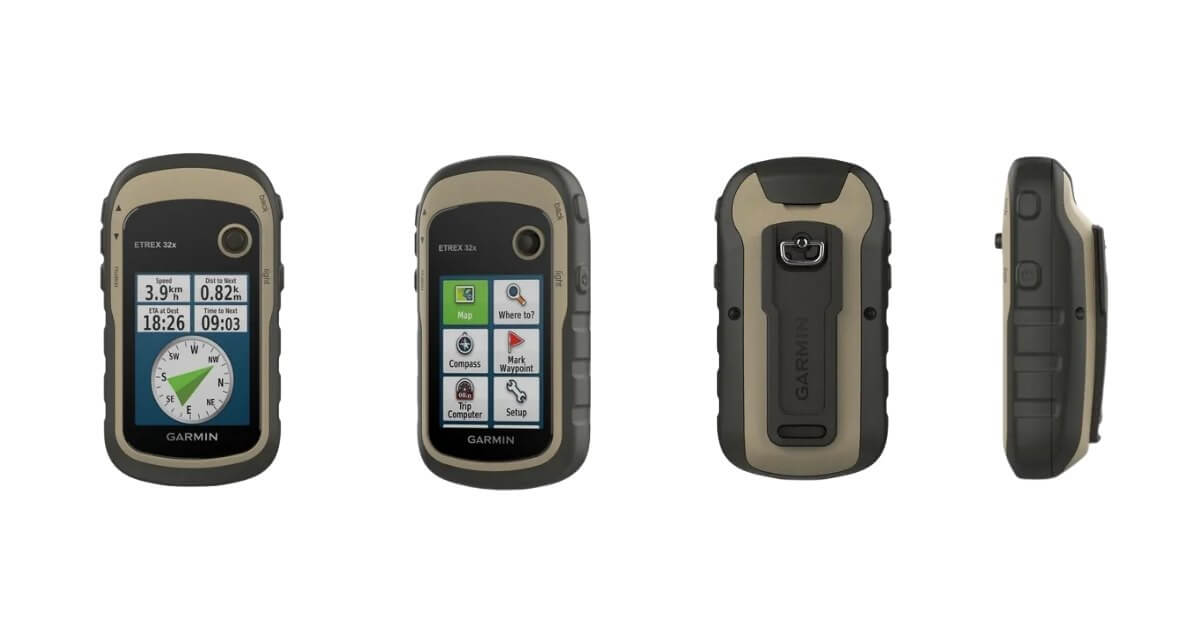 Features
2.2 inch Color Display
Geocaching Friendly
Topo Active Maps
Excellent Battery Life
Good Value
Design
The eTrex 32x provides you with a straightforward and easy to read 2.2″ screen.  The 240 x 320-pixel display along with the anti-glare finish provides the user with excellent readability even in the brightest of sunlight.
On the face of the device, on the top right-hand side of the screen is a small joystick. This is what is used to scroll through the various options and features. Pressing the joystick down is the same as the enter button on the keyboard – you use it to select a certain function. If the device has gone to sleep on you, then moving the joystick will 'wake' it up.
There are five buttons in total on the side of the unit. On the left-hand side, you have a zoom function (up and down) that enables you to move in and out on the mapping functions.
The button underneath is for selecting your function. On the right-hand side, there is a back button that will bring you back to your previous menu screen. Underneath this is the power button, which has a double function as it also lights up the screen if it's pressed lightly. A longer press will turn the device off.
This is a compact handheld GPS that sits comfortably in the palm of your hand. The tough plastic finish of the surrounding case provides robustness which means it should survive any accidental damage. The ridged details on the sides of the device make it easier to grip and therefore less likely to be dropped on the trail.
Interface
Overall, the user experience with the eTrex 32x is a good one. Switch on the device, however, and you get the feeling that you're stepping back in time. The menu system looks like something you'd find on an early Nokia mobile phone. You'll note that I said a mobile phone rather than a smartphone! Today's smartphones are much slicker to use with their high-quality touch screen displays. 
On the main menu, you get an option to choose from six different options. Each box provides you with a different feature; for example, you can choose "Navigate To" or "Mark Waypoint". You can scroll down the options using the small joystick which is located on the top right-hand side of the screen.  Initially, this joystick may seem a little fiddly as it feels very different from how you'd use a smartphone. After a few minutes of exploring the various options, however, it becomes easier and more straightforward to use.
Another positive of using the joystick to go through the various options is that it ensures that this device is glove-friendly. If it's cold outside the last thing you want to do is to remove your gloves to mark a waypoint on the device. In our experience, some touchscreen operated handheld GPS devices can be a little unresponsive at times, particularly if you're wearing gloves.
Check out the Latest Price for the Garmin eTrex 32X here.
User Experience
So, how does all of this stack up in terms of the user experience? Well, if we're being totally honest there isn't a sexy and snappy interface similar to what you have on a Samsung Galaxy smartphone or an iPhone. Instead, you get a device with what can be described as a dated user experience that works surprisingly well. In other words, it provides reliability over slickness – perhaps one day Garmin will provide us with both simultaneously! 
It's also worthy of note that the 32x has an improved processor and chipset from previous models. The speed of using the device isn't groundbreaking, but it has most certainly improved, and it works a little smoother than before.
Connections
This is not a wireless device. You won't be able to update and transfer files over a Wi-Fi connection, rather you will need to use a USB cable. For whatever reason, the eTrex 32x uses the older mini-B type USB cable and not the more modern USB cable type. I'm not entirely sure as to why Garmin has opted to continue using the older type of USB cable. It isn't a deal-breaker however as you do get this cable included in the box with the device. 
The eTrex 32x provides the option to connect other ANT+ enabled devices. This means that you can pair the unit with your heart rate monitor, your cycling cadence monitors, or some other sensor ANT+ enabled device. Once these are paired, they will be able to exchange information and provide you with more relevant data for your needs. 
TopoActive Maps
The Garmin eTrex 32x comes with preloaded TopoActive maps. This means that you can just take it out of the box, turn it on, and get going. Great stuff if you're in a hurry! The maps are routable on the device itself and therefore, you can also use it to find some interesting routes and trails without the need of returning home to hook it up to the computer.
Make sure you regularly connect the device to your computer and update the maps using your Garmin Express account. The good news is that these preloaded maps have seen a definite improvement over the years as they now provide a better level of detail. 
The TopoActive maps are based upon the community Open Street Map database which provides a whole range of information to help with your planning. Using the free Basecamp software on your home computer enables you to easily plan your various activities. Once you have your routes finalized you can transfer them directly to the device. 
Navigation
As mentioned earlier, you can plan your trips before you leave the house on your computer at home. This is probably the easiest way of planning your activity as you'll be working on a bigger screen than the 2.2″ of the GPS. Once you're happy with your proposed routes you can simply transfer them directly onto the eTrex 32x. The other option you have is to plan your route directly on the GPS. A great option if you're out and about already and perhaps want to change your route or divert your path to look at an interesting landmark. This provides you with plenty of flexibility when you're out on the trail.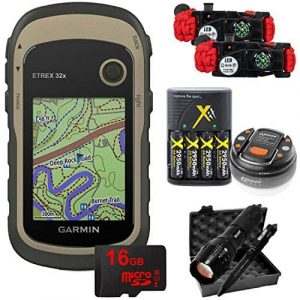 GPS Fix
The Garmin eTrex 32x provides you with GPS and GLONASS for a better GPS fix. Using more satellites in order to obtain a fix on your position should in theory provide you with better and more accurate location information. These types of GPS devices are never going to provide you with the unnerving accuracy of military-grade equipment but you should find yourself within a few feet. Do bear in mind that all GPS devices will obtain a better and stronger fix if you have a clear line of sight to the sky. That isn't to say that the GPS won't work within a forest but that a clear view overhead will provide better accuracy.
Waypoints
The 32x comes with a number of preloaded POIs (points of interest) and these can include cafés, eateries and important landmarks, etc. These preloaded POIs are also known as waypoints. You can also mark your own waypoints on the device as you travel. Simply choose the 'mark waypoint' within the main menu, and it will save the details of your location (latitude and longitude) along with your current elevation. By marking these waypoints you will be able to return to these points at any given time in the future.
Check out the Latest Price for the Garmin eTrex 32X here.
I have previously used waypoints as a means of marking where I have parked the car or pitched the tent in the woods. This enables me to always get back to a certain location quickly if required and with the minimum of fuss. Come to think of it, perhaps it might be a good idea for me to bring it with me the next time I park the car when picking someone up at the airport! I wonder if it's only me that loses the car at the airport? 😉
As you continue walking, the GPS will provide you with ongoing details of your journey. It will show you how long you've been traveling, the distance you've traveled, your current elevation, and your average pace. As well as having access to all sorts of information on your trip, you can also use the device to reverse your journey to the point at which you started. This should substantially decrease the chances of you getting lost in the bush!
Memory
The available internal memory has doubled to 8GB. This is double what was provided by earlier models. You now get an 8GB internal memory which in all honesty isn't a whole lot. Particularly as the preloaded maps take a lot of room. If however, you do require some additional space then you do have the possibility of using a MicroSD card up to an additional 32GB of memory. This is a useful option if you intend to load up on some additional maps or want to download large sets of geocaching pocket queries. 
Geocaching Friendly
This is a great handheld GPS to bring with you while geocaching. It supports paperless geocaching meaning you can download the geocaches directly onto the eTrex 32x. can make finding those caches easier than if only using your smartphone. It's accurate and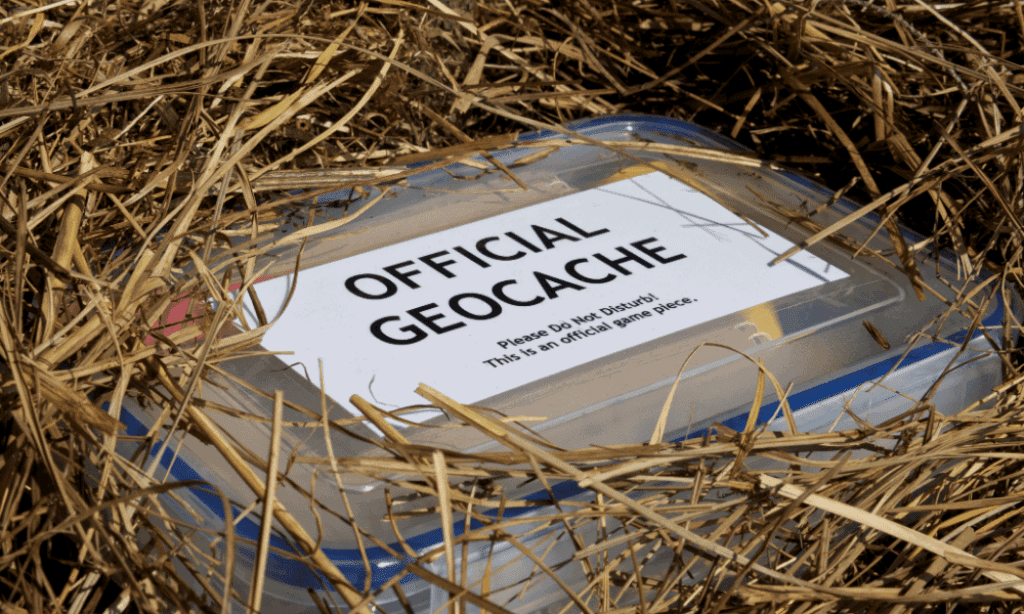 What is Geocaching?
Geocaching is an outdoor activity that involves hunting for treasures that are also known as caches. These caches have been hidden by other members of the community. The purpose of the activity is to go out there and find these caches using a number of clues and a handheld GPS. When geocaching you will need to use the GPS to find a particular location where you'll begin your search for the cache.
The great thing about geocaching is that it's an activity that can be enjoyed by families and friends. It gets you into the great outdoors exploring your surroundings. It's a super way of finding some new and exciting locations that you may not otherwise have come across. There's also a super active and super friendly worldwide community of geocachers out there that you can connect with.
Head over to the Geocaching website, sign up and begin searching the map for geocaches in your area. There are literally thousands of caches located all over the globe. You'll find them in the big cities, small villages and the countryside so it makes it easy to plan a day of geocaching.
The fantastic thing is that you'll never run out of them and therefore, it's a hobby that can be enjoyed for many years. As you might have guessed it's something that I am super passionate about!
Check out the Latest Price for the Garmin eTrex 32X here.
Compass
The 32x has the benefit of a three-axis compass. This means that it can work out your direction even if you are standing still. With other devices that only have a digital compass, you will need to be moving for your direction to be calculated correctly. The benefits of the three-axis compass are that you can view and plan your direction of travel when you've set up camp or are taking a break from the trail.
Barometric Altimeter
You may well ask what exactly does a barometric altimeter do? It's a feature that uses barometric pressure to calculate your elevation. In other words, it monitors the pressure of your surrounding atmosphere to work out how high you are located. In my experience, it provides a useful guide to your elevation but it shouldn't be solely relied upon. There are a number of factors that may impact the results provided by the altimeter. Sudden changes in the weather or moving quickly from indoors to the outdoors can have an effect on the results. It's also important to bear in mind that the barometric altimeter should be calibrated regularly in order to obtain readings that are as accurate as possible.
Difference Between the Garmin eTrex 22x and 32x?
There is very little difference between the Garmin eTrex 22x and the 32x. Both devices look and feel identical to one another. They are the same size and both have the same little joystick controller on the top right-hand side of the face. They both use the same preloaded maps and have the same menu system. The differences are that eTrex 32x provides you with some additional improvements. It includes a barometric altimeter and a three-axis compass while the 22x has a digital compass and a standard altimeter. As the 32x is a little more expensive it may be worthwhile deciding if it's worth it for you to splash the additional cash for these extra features.
Further Items To Consider
The preloaded maps on the GPS will take up most of the available 8GB internal memory. If you are going to require some additional maps or large geocaching 'pocket queries' then you will need an additional Micro SD card. It's possible to use a memory card with storage space up to an additional 32GB.
The Garmin eTrex 32x uses two AA batteries. These are straightforward to replace, and you can always carry a couple of spares with you. If you are more environmentally friendly you can use rechargeable AA batteries with the device. You will not, however, be able to charge them with the device itself. Rechargeable batteries must be charged in their own unit.
The eTrex 32x is a GPS receiver only. It does not transmit. It's therefore, not possible to make SOS calls to the emergency services with this device. If you require a device to make emergency calls then you should consider an inReach capable device such as the Garmin GPS Map 66i.
The TopoActive mapping can be updated via the computer for free. 
The eTrex 32x is a waterproof device and has a rating of IPX7.  This means it can be immersed in water up to a depth of 1 meter for a period of 30 minutes. In other words, you can safely use it outside in the rain. 
Using this device you can avail of the 'breadcrumb' feature. This means that as you walk you can drop a breadcrumb trail. If you then subsequently get lost you can reverse your journey and return to your starting point.
Check out the Latest Price for the Garmin eTrex 32X here.
Garmin eTrex 32x Review
Conclusion
Hopefully, this Garmin eTrex 32x review has shown you that it's an affordable, lightweight, and rugged handheld GPS. The interface may be a little dated in design but in its defense, it's easy to use, reliable, accurate, and comes with excellent battery life. It can be used for a whole range of activities including hiking, boating, cycling, and most importantly of all (my favorite) geocaching! With its excellent battery life and decent preloaded Topoactive maps, it's an excellent choice if you want a reasonably priced handheld GPS that does an excellent job.