Are you looking for one of the best non GPS running watch to help you train better? If so, you've come to the right place. Non GPS running watches can be a great way to track your performance and progress without having to rely on any satellite technology.
Before diving in, however, we should probably deal with the elephant in the room. Why on earth would anyone get a non GPS running watch? Well, there are several reasons that might make you consider getting a fitness watch with no GPS.
Image
Product
Features
Price

Performance pacer, hydration & nutrition alerts
100-hour chronograph, 500-laps & interval tracker 
3 daily, weekday, or weekend alarms
Water resistant to 50 meters 

Check Price

Shock Resistance
35 Time Zones & 100 Cities display
Super Illuminator LED Backlight 
Water Resistant up to 200 meters

Check Price

100-hour chronograph & 100-lap memory
Interval training timer & 24-hour countdown timer
5 different alarms & 2 time zones
Water-resistant to 100 meters

Check Price

Military-style digital shock-resistant watch
LED backlight functions 
Auto Date, Alarm & Stop Watch
Water Resistant up to 50 meters

Check Price

Easy to Use digital sport watch
Alarm, chronograph, lap, dual time, military time
3-second EL delay and fade
Water resistant to 100 m 

Check Price
Why Get one of the Best Non GPS Running Watch?
Simplicity – they are typically simpler in design and much easier to use than your usual GPS running watches. There are no complicated menus or lots of different options that have to be navigated before you can start running. It's like having a stopwatch on your wrist where you press the main button to start and again to stop your activity. 
Battery Life – GPS enabled watches are heavier on batteries as the technology requires some more power. A non GPS watch uses simpler technology and will therefore have a much longer lasting battery. The battery can last over 10 years on some wrist watches!
Price – these types of watches are an excellent choice if you're a runner on a tight budget. They are normally way cheaper than their GPS enabled counterparts. Why? Well, because they only do the basics and don't have any fancy technology.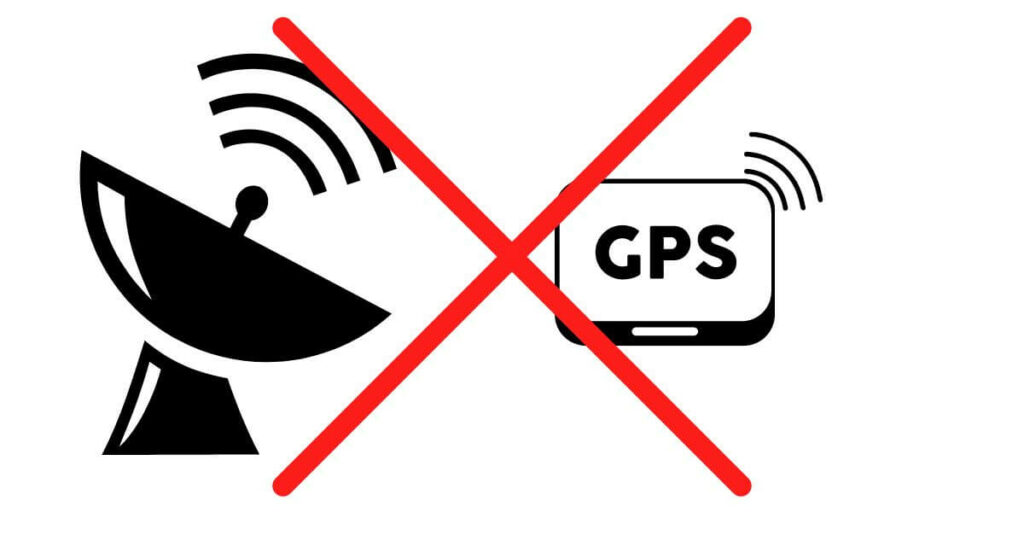 Reliability – imagine not having to stand outside your home waiting for the GPS signal to lock. When using a non GPS watch, you can begin running straightaway. No matter where you are located, the trees, the tunnels, the tall buildings or the bad weather won't impact on any signals.
Accuracy – you're going to be using these watches to measure your timings and your splits. And best of all, you'll be able to trust the accuracy of your timings.
If you're looking for an uncomplicated and easy-to-use running watch that has a long battery life and is probably way cheaper, then you should get a watch with no GPS functionality.
Here are our Top 5 picks:
Best Non-GPS Sport Watches
---
Timex Ironman T300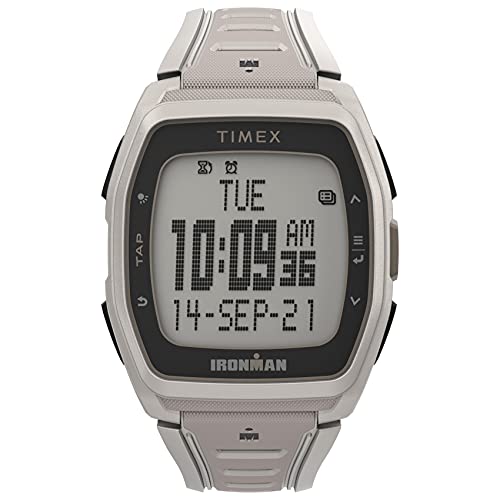 Pros
Bright & Clear Screen
Audible Performance Pacers
Interval Timers
Hydration & Nutrition Alerts
Limited Color Options
Somewhat Bulky
As the name suggests, Timex sport watches are famous within the circles of triathlon and ironman athletes.
The Timex Ironman T300 is a great non-GPS running watch for those who want to track their performance in a straightforward fashion. It features a large, easy-to-read display with a back light and an intuitive user interface. The watch also has five alarms, two interval timers, and a 100 lap memory. The T300 also includes a stopwatch and countdown timer, as well as an automatic calendar and time zone adjustment.
The Timex Ironman T300 is water resistant up to 50 meters. It's also powered by a long-lasting lithium battery that is reported last up to 10 years (depending on usage!). Normally, we'd take a claim like this with a pinch of salt, however, there are plenty of online reports from users that their watches have lasted this long.
This watch is an excellent choice for someone training for a triathlon, runners and particularly those who enjoy regular Hiit workouts. 
---
Casio G-Shock Quartz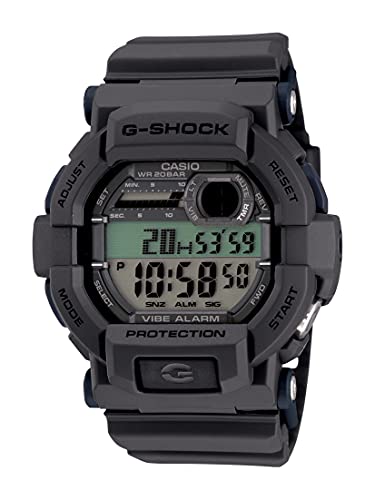 Pros
Strong Shock Resistance
20 Bar Water Resistance (up to 200m)
35 World Time Zones
Favoured by Military Personnel
Vibration Alarm is almost silent
Bulky Design
This watch is simplicity personified in a super tough casing. It does exactly what a wrist watch should do. As you'd expect, it tells you the time and the date in a manner that is easy to read from any angle. Using the watch at night is also straightforward, as the illumination is bright and clear.
We particularly like the simplicity with how you can use the timers. Just hit the button and you're good to go. There's no scrolling endlessly through various menus to find the stopwatch functions as you'd have to do on an Apple Watch.
Did you know that the "G" in G-Shock stands for gravitational? There are loads of different models available within the G-Shock range and, as the name suggests, they are all rugged and tough wrist pieces.
They have been made to withstand plenty of stress and are designed to be shockproof. They will happily shrug off any knocks, vibrations and/or shocks and just keep working.
The rubber casing is robust and scratch proof and protects the display. It's therefore little wonder that this is a favourite of both the military and law enforcement personnel.
---
Timex Ironman Classic 100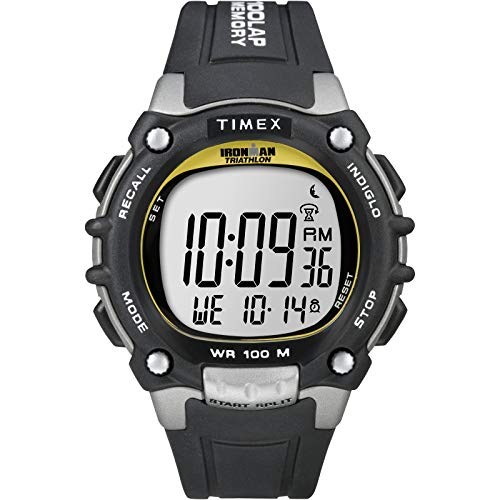 Pros
Lightweight & Durable
Interval Trainer & Alarm Functions
100 Lap Chronograph & Timers
10 Year Battery Life
Watch chimes are hard to hear
Month & dates are inverted for US
This watch screams triathlete if it's on your wrist. Perhaps having the Ironman logo in a rather prominent position (just above the display) may be somewhat of a giveaway! 
This watch is lightweight and comfortable to wear, making it perfect for long runs. The screen is bright and easy to read, no matter the weather. It also features a 100-hour chronograph with lap or split option, as well as three customizable alarms and a 24-hour countdown timer. The battery life is more than a little impressive too; up to 10 years!
The Indiglo back light is also worthy of mention as it evenly lights up everything on the display. It's also useful if you have the night mode turned on as it will stay lit for a few seconds after you have released the button – useful if you're on a nighttime run or just getting up in the middle of the night to check the time.
This is the watch to get if you're going to be training for a triathlon or going to be hitting the gym for a few Hiit workouts. The interval timers can help you make your transitions from seconds of jumping jacks to medicine balls twists on time every time.
---
CakCity Sports Watch
Pros
Simple to Use
Scratch Resistant
Water Resistant up to 50M
Plenty of Different Color Options
Wrist Strap a Weak Point
Unknown Brand Name
If you can get around the rather unusual brand name, you'll find that this is a rather excellent watch. It's simple to use, the information is easy to read, and it will not put a big hole in your pocket.
The watch design is definitely military inspired, with a large display and chunky buttons on the side. With this wrist watch, you get excellent battery life, alarm, stopwatch, and calendar functions. The watch is also water resistant up to 50M, which isn't as good as some of the other options on our list, but should be more than enough for most people.
The CakCity range of watches also stands out, as there are several color options available. The blue camouflage is a particular favorite of ours, as it's rather different from the normal military inspired watch designs.
Armitron Sports Watch
Sturdy Watch
Dual Time Zones
Excellent Battery Life
Great Value for Money
No Multiple Alarm Function
Not Scratch Proof
This watch might also be from a lesser known brand, however, this is a company that has been making watches for several years. They also have a strong and loyal following as they produce well-made watches at a more than reasonable price.
The box states that the watch is shockproof (without exactly defining what this entails). However, it's clear that this is a robust watch. It should be able to withstand a few knocks, however, the screen and casing do appear to be prone to scratching.
The watch is easy to set up and use. The alarm functions work well and the chime is easy to hear. In other words, it's loud enough to wake you from a deep slumber!
The watch strap does unfortunately have a plastic feel to it, however, at this price point we can't really complain. If you're looking for a simple to use, basic watch that does a pretty good job, then you should most certainly consider the Armitron.