Garmin's nuvi 67LM is part of their budget range of sat nav devices. It's joined by the 57LM, 58LM and the 68LM in the entry level line up. It therefore, competes with the likes of the TomTom GO 50 for you attention (and your money of course!). This device comes with a 6inch screen and the letters (LM) tell us that it comes with Lifetime Maps. In reviewing the Garmin nuvi 67LM, I'll be telling you what I liked and what I didn't like about the device. Then we can decide if it's good value or not?
Garmin Nuvi 67 LM
Product Features
As with all my other reviews let's jump straight in and see exactly what the Garmin nuvi 67LM offers us…
Pros
Value for money
Good bright 6inch screen
Dual orientation
Trip planner
Superior POIs
Good mounting system
Cons
Battery life
No Voice Recognition
No traffic updates
Lack of Bluetooth integration
No 3D maps
No pedestrian route option
Design
The design of the unit is similar to the other Garmin devices on offer. The device is simply a slim and rectangular box that looks well stuck onto the windscreen. What else would I want? There's really not much else I can add that hasn't been mentioned in previous Garmin nuvi reviews – check out nuvi 2599 for further details. In short though, it's a slickly designed device and it gets the thumbs up from me!
Screen
The 67LM like the (68LM) comes with a big 6inch screen. The display is bright, clear and easy to read whilst driving. The increase in the number of pixels to 800 x 480 provides a better-looking display than previous models in the Essential Series.
Just like your television set at home – the higher the number of pixels the greater the clarity of the images on the screen.
There is a marked improvement in the screen quality when compared next to the nuvi 57LM which only has a 480 x 272 pixel screen.
A feature of the Garmin range is that their devices are dual orientated. That is, you can attach it to your windscreen or dashboard in landscape or portrait position.
When driving I always have my devices centrally located in the landscape position within the cabin area. For some reason, I've never felt quite comfortable with the device in the 'sideways' portrait position. If however, you like to place the sat nav in between the steering wheel and the driver's door it suddenly makes sense as there is far less room in this area.
Navigation
When I switched the device on it managed to get a 'lock' on my location within 20-30 seconds! That's impressive and it could even be a record for a new device of mine. Inputting your destination is straightforward and the device will provide you with some prompts until you choose where you want to go.
Unfortunately, there is no voice recognition with this device and therefore you will have to tap everything into the screen. To be fair, as this is an entry-level device it's not an unexpected omission and in my view, it's certainly not a deal-breaker.
If however, voice commands are something you do require from a device then you will have to spend a bit more money on a different model. Check out my previous reviews on either the Garmin nuvi 2599 or the TomTom GO 5000 for some typical examples of devices with voice recognition;
The Garmin nuvi 67LM uses Foursquare to complement your 'Places of Interest' searches. If you're looking for something specific e.g. a Barber, then you get a list of all the barbershops nearby or at your destination. The list will also tell your distance from the barbershops along with their general direction – 'NE' for North Easterly or 'SW' for South Westerly.
Since adding Foursquare to their devices users now have access to more relevant POIs than previously. I have certainly found it useful when searching for a restaurant in an unfamiliar town – finding a good curry house is worth its weight in gold!
Direct Access Feature
Worth mentioning also is the addition of the 'Direct Access' feature. This feature provides you with exact location information. As an example, it will tell you that the store your searching for is located on the second floor, right-hand side. As I don't tend to visit shopping centers then I must admit to not having used this feature.
My wife, on the other hand, has used it to find a store within a large shopping center. Apparently, it worked a treat and saved her a good bit of time as she didn't have to wander around aimlessly searching for this shop. However, it doesn't quite explain why she went missing for another couple of hours in the shopping center! In fairness, I don't believe for one minute that the sat nav could be blamed for those missing hours! Do you?
In previous blogs like the Garmin nuvi 2599 I have discussed why I have reservations about Garmin Real Directions. Unfortunately, it still doesn't feel that natural when using this device. If your not aware of this feature it is designed to provide real directions – you will be told to "turn right after the church" or to "turn left after the statue" etc.
My sister is a big fan of this feature as she believes it's easier for someone who has no concept of distance – "turn left in 600 meters" means nothing to her.
My issue, however, is that it's actually not that useful if you are not familiar with your location. It leaves me looking for both the actual turning I need and the landmark/building that precedes it. In fact, I have found it to be a bit of a hindrance to my driving at times. I find myself looking at the sat nav, listening to the instructions whilst simultaneously looking for that landmark that marks the turning up ahead. Or perhaps, my brain is simply inflexible and likes the status quo when it comes to sat-nav devices providing navigational instructions!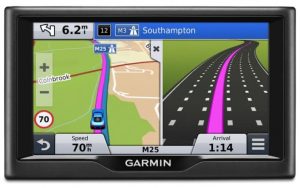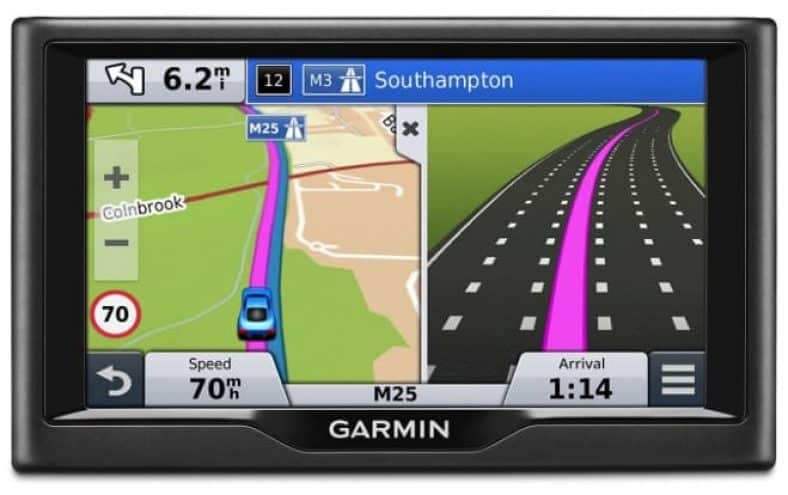 The Garmin nuvi 67LM also comes with Lane Assist with Junction view. With this feature, the screen will split into two providing further assistance when approaching a junction. You will get both the usual navigational screen along with what's best described as a computerized photo of the road layout ahead.  This is a really good feature and it worked well for me when I joining or leaving major roads. It ensured that I was in the right lane at the right time – which is exactly what it should do!
Mounting System
The Garmin nuvi 67LM uses a simple suction cup to mount it onto the dashboard or windscreen. The device then simply clicks into place onto the holder. I've had no issues with the mounting system when it's fixed onto the glass of the windscreen.
It did however have a tendency to fall off when mounted onto the dash, particularly when I took a roundabout or a sharp turn (honestly, I don't take those corners too hard!). So, to prevent rooting around on the passenger side of the car looking for a fallen sat nav, just stick the thing onto the glass!
Garmin advertises this unit as being compatible with the Back Up/Reversing Camera BC-30. This is a completely separate option that allows you to see what's behind you as you reverse. A useful feature if you struggle with backing up, but completely unnecessary if you have a built-in camera system already.
Garmin recommends that you get the camera installed by a professional as it requires a permanent power connection. This will however mean spending more money – which to be perfectly honest is why I haven't purchased one 😉 If however, it's something you think might be useful then head over to Amazon to read some other reviews of the camera.
Conclusion
This is a super little sat nav if you are looking for a cheaper device. The addition of lifetime maps (although no traffic updates) makes it worthy of consideration. Yes, it's missing voice recognition and it doesn't have Bluetooth integration, but it has a good clear screen and it will happily get you to your destination without having to rely upon cellular signals. You can plan your trip, stop off at various places and utilize Foursquare for more information. All-in-all it packs a pretty decent punch for the price.
Battery Life (hours): Up to 1 hour
Bluetooth Handsfree: No
Lane Guidance: Yes
Lifetime Map Updates: Yes
Mapping: UK, ROI & Europe OR North America
Screen Size: 6″
Screen Resolution: 800 x 480 pixels
Device Size: 16.8 x 9.4 x 2.1 cm
Traffic: No
Check out Amazon for the latest prices for the