Are you considering purchasing a new GPS device for your vehicle? If so, then you've probably realized that the market is dominated by only a few manufacturers. And if this is the case, then you've probably been considering the following question: Garmin vs TomTom, which is better?
We have used lots of devices from both of these manufacturers over the years, both as a consumer and as a reviewer, and it's still a rather difficult question to answer. Between them, Garmin and TomTom produce the best sat navs available on the market today. They both produce a number of different devices that provide the core function of getting you to where you want to go. Each of these devices , however, have different features, sizes and price points.
Our task of deciding which is better Garmin r TomTom isn't easy!
Confusing? You betcha!
How then can we decide which manufacturer is better? Garmin or TomTom?
Background
As consumers, we all take different factors into consideration when comparing products. We place different levels of importance on various items when making our purchasing decisions. Some factors will be far more important to some people than others. As an illustration, not everyone will require Bluetooth integration with their auto GPS, whilst others will find the lack of Bluetooth an absolute dealbreaker. Okay, perhaps this isn't the best example as most GPS devices today have a Bluetooth function, however, hopefully you get my point!
How, then, can we fairly compare the two manufacturers given that they both produce a number of different GPS products? Also, adding to our difficulties is that they both produce a number of different models within the same range. Garmin has the DriveSmart have produced the As no two devices are the same, perhaps the sensible approach is to concentrate on what your actual requirements are for a sat nav. Here are a few key questions that may be helpful to consider when making your decision.
However, all is not lost
better at some things than TomTom, but, the reverse is also true – TomTom is better than Garmin at other things. In all honesty, whichever brand you end up choosing you probably won't go too far wrong. Both TomTom and Garmin produce quality devices that are fairly similar in their offering.
The best sat nav should be easy to use and provide the driver with clear and easy to follow navigational instructions. This is far more important than having a top of the range GPS device.
Garmin vs TomTom
Budget
How much do you want to spend on your sat nav? Both Garmin and TomTom offer a range of devices that will suit most budgets. Let's be honest, there's not much point in looking at those top of the range devices that cost around $400 when you only have a $100 to spend.
A more sensible approach would be to decide on your budget. Then as a next step go and find a device that provides value for money and gives you the features you want. "
Decide on your budget and stick to it!
If all you want to do is type in the address and get going, then a device like TomTom GO 50 5-inch Sat Nav
should be sufficient. If, on the other hand, you are looking for a top of the range offering (with an in-built dash cam) then the Garmin nuviCam 6-inch Sat Nav With Built-in Dash Cam
 could be just up your street.
Result
DRAW – both Garmin & TomTom have a range of devices that should suit all budgets
Ease of Use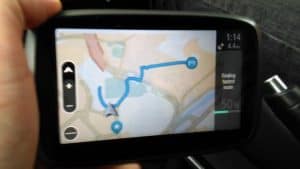 How easy is the sat nav to use? There are differences between the user interface of the Garmin and the TomTom. In both cases, you begin entering an address and the device will prompt you with potential matches. Once you have chosen your destination, the device will calculate the best route for you to take. It is possible to specify avoidance of toll roads and or motorways etc. if so required. To be honest, despite having different methods, both of their interfaces do the basics well. The searching, finding, and the calculation of your route is fairly straightforward.  
In my experience, the Garmin interface is a little more intuitive and easier to use. The graphics and onscreen icons are clear and easy to understand – exactly what is required when your driving those busy roads. The TomTom on the other hand, is not so clean a display, but it does provide more information to the driver when traveling. The route bar on the side of the screen provides information in a cyclical manner – current time, estimated time of arrival, etc
Some devices come with a huge range of options. This could make the interface a little more difficult to navigate and understand – making them perhaps not the best Christmas gift for granny!
It's also worth considering how quickly the sat nav obtains a satellite lock onto your position. It can be very annoying sitting in the car waiting for your GPS to find your location, particularly if you've just loaded the kids into the car! Any parent will sympathize with having to listen to "when are we going to get there" on a seemingly eternal loop!
The speed the GPS calculates your route is also something to bear in mind. As a rule of thumb, the older the device becomes, the longer it tends to take to calculate your route. The level of detail in modern mapping software means that more modern newer GPS units will have better processing power and better storage.
In my experience, TomTom appears to be quicker in finding my location, locking onto the satellites and calculating routes. This was particularly obvious if I had taken a wrong turn and my route required recalculating to get back on track.
On the other hand, however, I prefer the interface of the Garmin. It provides a clearer picture of what is up ahead and feels as if there's less clutter in general.
Result
GARMIN – easier to use and a more intuitive interface
Maps
Alongside the cost of the unit this is perhaps the most important consideration. Do you need maps for North America, the UK and Ireland or for mainland Europe? Thankfully today it's becoming more common to get World Maps as part of the package. There may be an additional cost for these 'extra' maps however, it will future-proof your device and enable you to drive anywhere in the world.
It is also becoming more common to receive lifetime updates to the maps on your device (typically limited to 4 times per year). This means that the maps on your device will show those new roads that are being constructed or where perhaps the roads are being closed. As more and more devices begin to offer both of these options, Worldwide Maps and Lifetime Updates become less of a distinguishing feature.
Many users have reported on various online forums that TomTom possesses better maps for European countries, whilst Garmin has more accurate maps for the US. It's difficult to ascertain the validity of this statement fully as I haven't driven across the two continents using a TomTom and a Garmin. I can, however, confirm that the Maps on both continents will do the job, but it is important to ensure that your device is updated with the latest versions.
Result
DRAW – it depends on where you are located
Traffic Information & Updates 
Both manufacturers provide their own versions of traffic updates – TomTom Traffic and Garmin Digital Traffic. These are designed to provide real-time information about the traffic situation on your route. This enables the driver to reroute if required in order to avoid a traffic jam.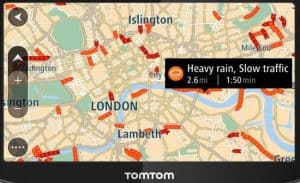 In my experience, the TomTom Traffic provides a better experience for the driver and is more accurate in providing information. This finding appears to be backed up by a study conducted by the University of Michigan in January 2014, where they analyzed real-time traffic capabilities of different navigational devices. They found that TomTom achieved the highest score when looking at the accuracy of traffic jam reporting – 67% for TomTom as opposed to 22% for Garmin. That's quite the variance. I am certain that the university was completely impartial in their findings, however, it would be remiss of me not to mention that the TomTom Group funded the study. Perhaps they knew for sure that their devices were going to come out on top with this feature!
Result
TomTom – has superior traffic information and provides better rerouting options
Places of Interest
All sat nav devices will allow you to search for places of interest. This may be as simple as searching for a supermarket, a restaurant, or even a tourist attraction in your vicinity. In my view, this is one of the features that sets some models apart from others. It's hugely beneficial being able to search for "interesting" places without having to carry out a search on the internet.
There are differences between the capabilities of Garmin and TomTom when searching for POIs. In my experience, this feature with TomTom devices can be very generic. A search for a shop will bring a list of the larger stores in the search vicinity – for example when on holiday in France I'll receive a list of the major supermarkets or main shopping centers. Likewise, when searching for a restaurant, I am likely to get a list of the major fast-food joints.
Garmin, on the other hand, provides you with the ability to drill down into a POI for some additional information. A search for a shop will provide far more options and search categories. They have also taken it a step further and have introduced Foursquare inbuilt onto a number of their devices. This crowdsourced platform provides the ability to search a database based on Foursquare user recommendations – find that restaurant that everyone is talking about!
Result
Garmin provides better and more in depth information that enhances the user experience
Additional Features
Many of the devices on sale today come with some additional features. Some of these will be bundled as standard within the range whilst some will only be available with the premium devices. Here are some of the options that appear regularly:
Voice Recognition – this option is great if you need to use the device without taking your hands off the wheel. The sat nav is activated once you speak your"wake up" phrase – it could be 'Superman' or even 'teapot'. You can then speak to the sat nav and it will run through a series of menus and confirmations until it gives you your intended destination.
Bluetooth Integration – with this option you can pair the sat nav with your mobile phone via Bluetooth. Using the microphone and speaker of the sat nav you may then make and receive calls. This option wouldn't be necessary if you already have some form of phone kit or integration in your car.
Speed Camera Alerts – this feature may be offered free for a few months initially before reverting to a subscription-based service if required. Premium devices may even offer this feature as standard. This service will tell you the location of all speed cameras along your journey. Probably only a requirement if you have a number of points on your driving license or you are on the road often.
Before making a purchase, ask yourself the question: do I really need this feature? And, if so, can I see myself using it? By asking this simple question, you may save yourself plenty of money. Buy only what you will use.
Result
DRAW – both manufacturers offer these additional features on their devices. In fact, they are features that you would expect to come as standard today. As a result, it's fairer to look at each device on its merits individually.
Summary
Comparing these two manufacturers is a difficult task. They both offer a number of varied prices and different sized GPS devices. There are a number of features that today, we would expect to see as standard. Once you know that the GPS will calculate your route correctly, additional features like Bluetooth, hands-free calling and smartphone notifications have now become the bare minimum.
It is, therefore, a rather difficult task to directly compare Garmin with TomTom. However, by opting not to pit one device against another and by looking at the whole range it's my hope that you get a clearer idea of the strengths and weaknesses of the two manufacturers.
                           
okay, okay, I hear you asking, but which one should I go with? TomTom or Garmin?
                                 Find out more about Sat Nav Devices here
So, really, which is better – Garmin or TomTom?
It appears that the answer depends upon your specific requirements. Again, I emphasize that you should decide upon how much you are willing to spend on a sat nav. And then you should absolutely stick to your budget.
My hope is that this website helps you pick a device with all the features you require at the right price. Both manufacturers have some cracking devices, but you do need to take your time and compare them. With the cost of these devices dropping every year, now is probably the best time to make your purchase. Here is a summary of the findings above that should help you in making your decision.
GARMIN
PROS:
Clear & Bright Screen
Easy to Follow & Understand Icons
Superior Places of Interest (POIs)
Better US Mapping
CONS:
European Maps
Battery Life
Voice Recognition
TOMTOM
PROS:
Accurate Traffic Updates
Clever Route Bar
Snappy Processor
CONS:
US Maps
Battery Life
Map Updates Can Be Problematic
Do you agree with my findings above or have you had a different experience with either Garmin vs TomTom? Either way, please feel free to drop us a line and let me know!