Garmin Oregon 700 Review
You could easily mistake the Garmin Oregon 700 to be a handheld GPS that's pretending to be a smartphone. After all, the device looks like and feels like a smartphone, particularly with its touchscreen and dual-orientation features. In our opinion, that sounds pretty much like a smartphone, don't you agree?  
Well, all of the above is true, except if you dig a little deeper, there are a couple of points that stand out. Firstly, it's not a smartphone. Duh! And secondly, it's a handheld GPS and believe it or not, a rather good one at that. In this Garmin Oregon 700 review, we are going to be delving a little further into what it offers and if it might be the right GPS for you. Oh, and before we get going, don't forget we have a roundup of the best handheld GPS for hiking here.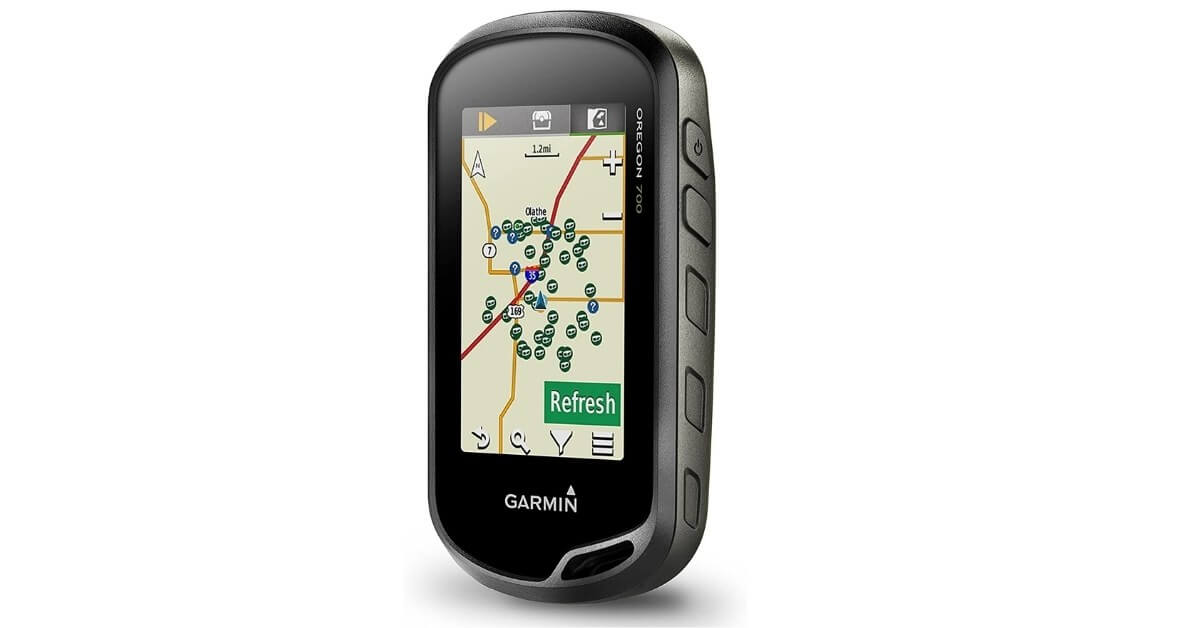 Features
Touchscreen Enabled Display
3D Digital Compass
Barometric Altimeter
Geocaching Live
Wireless Connectivity
Improved Antenna
Design
There is no getting away from the fact that the Oregon 700 looks like a smartphone. Yes, it might be a little smaller than today's phones with its dimensions of 2.4″ x 4.5″ x 1.3″, but this makes it far better suited to being carried by hand while you're out walking. There are some rubberized grips molded into the side of the casing, and these make it easier to carry. It's a robust little unit with an IPX7 rating that means you should be comfortable bringing it with you wherever you go.
Display
The 3″ color touchscreen is bright and easy to read even in the strongest sunlight. While a screen resolution of 240 x 400 pixels won't directly compare with the excellent displays of the latest smartphones, it is nevertheless, surprisingly vivid. After all, you are going to be exploring the great outdoors with this device and not watching movies! 
Interface
The Garmin Oregon 700 has an improved interface over older models. There have been a couple of improvements that make it a little more intuitive and easier to use when you're out and about. It's also straightforward to set up the device and to get going with it. If however, you want to use some of the more advanced features, then it's worth spending some time reading the manual.
Continuing with the theme of the device feeling like a smartphone, the use of a touchscreen certainly adds weight to that argument. What it does do, however, is make for a more user-friendly experience. Scrolling through the menu options etc. is undoubtedly quicker than using a joystick-type button that's on other handheld devices like the eTrex 10. 
One pretty cool aspect is the ability to turn the screen as you're moving. The display will right itself as it tilts and turns in your hand. The screen will always be the 'correct way up' as you travel. The dual orientation function is useful when you're on the trail as it allows you to move the screen around. This enables you to get a better view of your surroundings. The landscape format can be much more comfortable, particularly if there are two of you looking at the terrain on the screen  
Multi Activities
This device is suitable for a range of different outdoor activities – hiking, geocaching, cycling, kayaking, hunting, fishing and even horse riding. It's very straightforward to choose your activity. On the screen, you get a series of icons depicting different activities. You then swipe right or left on the home screen and select the appropriate icon. As you'd expect the figures represent a biker or a hiker etc. 
Once you have chosen your activity, you can set up your profile on the home screen. This means that you can choose to display your average speed alongside your elevations, or perhaps you want to know the time you're in motion alongside the distance you have travelled. It's entirely up to you what information is available on the screen. If you want some additional customization, then take a look at the Garmin IQ store where you can download some other apps and widgets for the Oregon 700. 
A great feature of this device is the ability to control how it records your information. You can select to record your movements by time or by distance at variable intervals. If you choose the 'most often' recording option, then this will track all details of your activity, great for collecting the information but perhaps not so great for the memory on the device.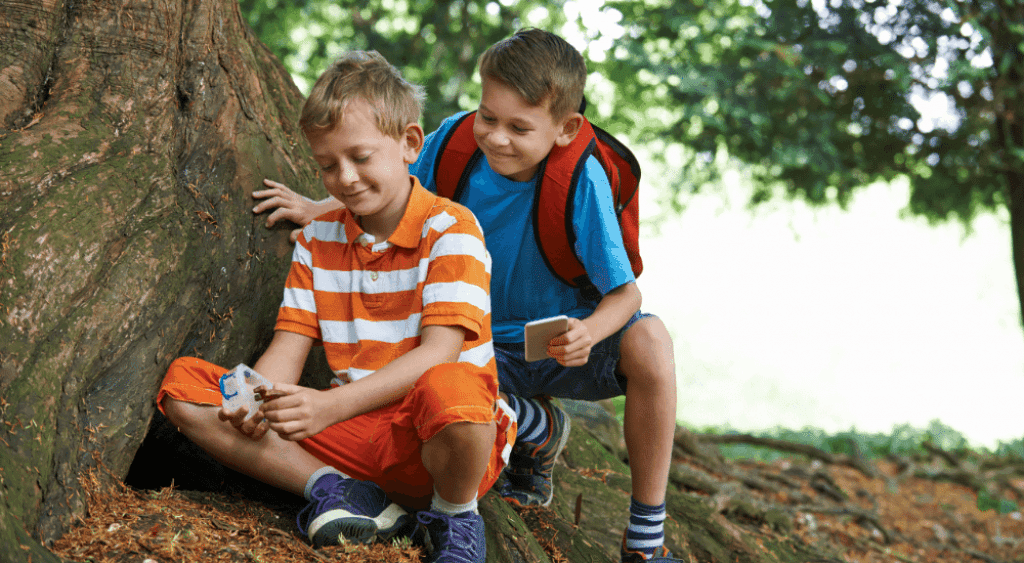 Geocaching
The Garmin Oregon 700 is one of our favorite devices for geocaching. There are a couple of methods of finding a geocache with the unit. You can upload the GPX files directly from your home computer to the device, or you can connect to Geocaching.com wirelessly. To search geocaches on the move, you will need to use the Garmin Connect App on your smartphone or use a nearby Wi-Fi connection.
To find a geocache using the Oregon 700 is straightforward. Find the Geocaching app from the home screen and select the search function. You can search the geocaches by name or by location using the map. Once you have chosen the geocache, the device will download the relevant details into the internal storage. Once you're happy with your choice, you press GO and begin geocaching. You will then be able to navigate to the cache using a combination of the map and the compass. 
As the device will have all the information of the geocache, you'll be able to access the hints and the descriptions left by your fellow geocachers. If you activate the 'chirp' feature, then you will be notified when you're in the vicinity of a chirp enabled cache.
Hopefully, you're successful in locating your geocache then you can log your find using the Oregon 700. The options you get in logging a cache are similar to what you'll find with other devices – Found, DNF, Maintenance Required etc. After you've recorded the cache, the next step is to keep going, and you can find the nearest cache and press 'go' again!
Connectivity
The Garmin Oregon 700 uses both the GPS and the GLONASS satellite systems. Thanks to the amplified antenna, it can lock onto your position quicker than previous models. 
With smartphone connectivity, you can receive your messages on the screen of the handheld – useful if you need to know when your supper will be ready! More importantly, however, you can utilize features such as live tracking data, geocaching live and active weather reports. 
The wireless ANT+ means you can connect to various sensors such as your heart rate monitor or cycling cadence sensors.   
Compass & Altimeter
The compass feature is self-explanatory; however, it's worth noting that as it's a 3-axis compass, it works whether you're stationary or moving.  
The Oregon 700 includes what's known as ABC functionality. This means you get an altimeter, a barometer and a compass built-in. The altimeter lets you know your elevation (how high you are at any given point) and enables you to monitor your ascents and descents. The barometer monitors the air pressure and helps you to predict weather changes – useful if you are on a long-distance hike through a hilly national park.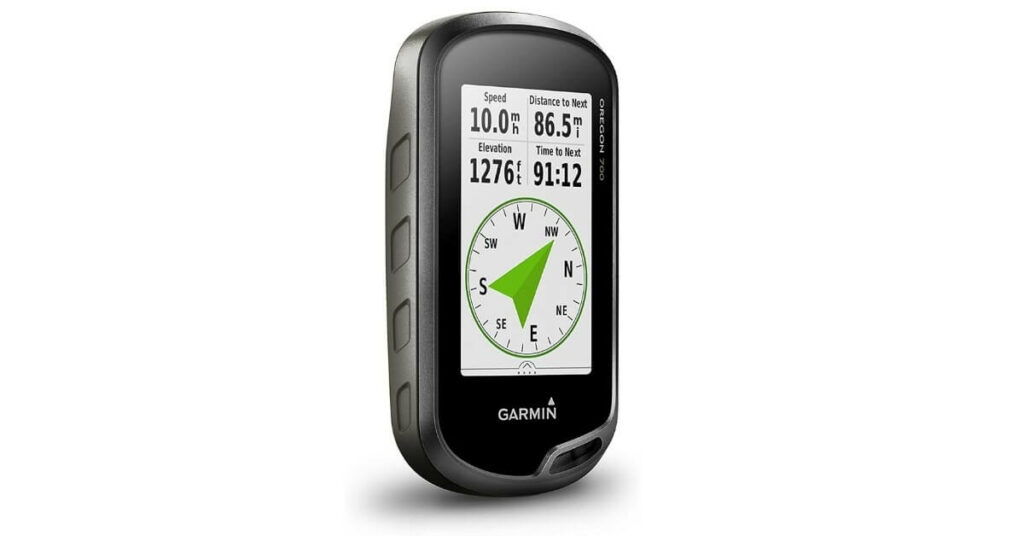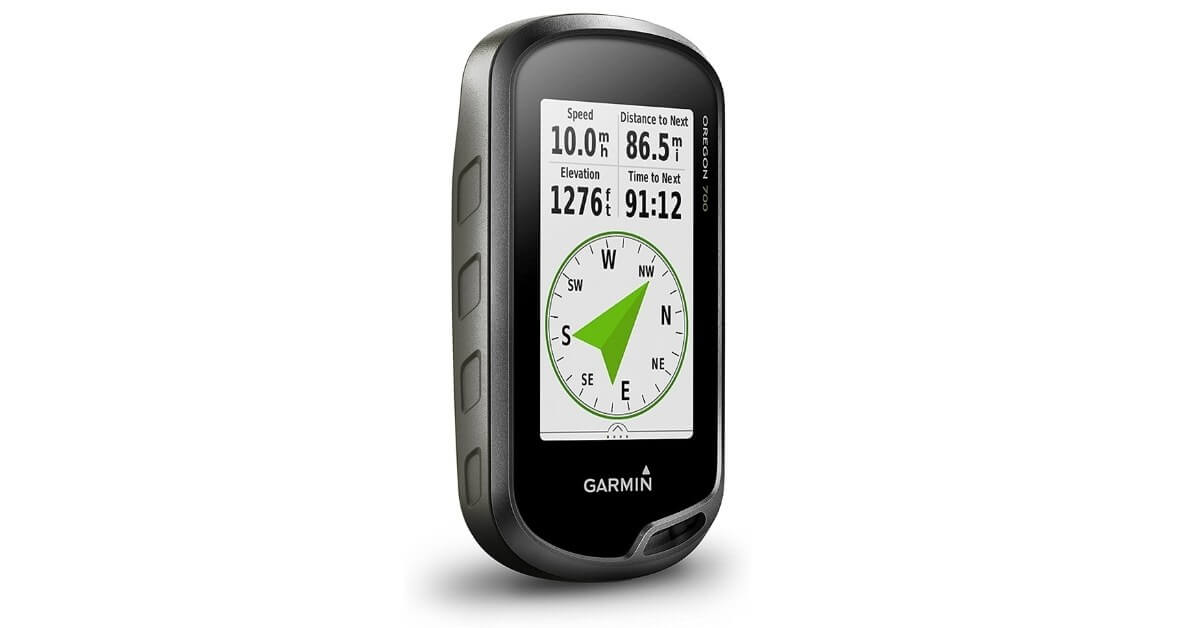 Battery
The battery life appears to hold up to the claim of 16 hours if you use specific options, i.e. use the 'battery saver' function. With this feature, the screen will turn off as soon as the backlight does, meaning that your battery life will last longer.  
TracBack Function
The TracBack feature is worthy of a separate mention as it has proven to be very useful. It gets you back to the point where you started using exactly the same route, albeit in reverse. In other words, if you have parked your car in a location that may be difficult to find, perhaps you're a little forgetful like me, or you were just too keen to get on the trails quickly; then this feature will get you back there without any fuss.
Summary
If you're in the market for a multi-activity touchscreen handheld GPS then, this Garmin Oregon 700 review should help you in your decision. It's undoubtedly an excellent device that is an accurate and small device that's easy to carry around. It's a great device to go geocaching with, particularly as you can access geocaching live on the fly. There are also plenty of customizations available from the IQ store, so you can have the device performing to your taste. 
If we were to be critical of in this Garmin Oregon 700 review, then it's probably fair to say that it tries to be all things to all people. For example, if you want a cycling GPS, then it's perhaps worth considering a dedicated device such as the Edge range. On the other hand, if you are looking for an all-rounder of a device that has a responsive touchscreen, then look no further.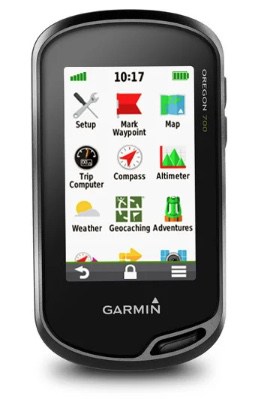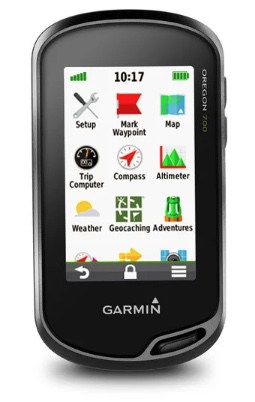 Pros:
Excellent multi-activity device
Responsive Touchscreen
Great for Geocaching
Easily Customizable
Good Value
Cons:
Basic Documentation
No Camera
FAQs
Does the Garmin Oregon 700 come with Maps?
It doesn't come with preloaded mapping but you do get Basecamp and you can add additional mapping as required. The internal memory of 32GB provides you with plenty of space for them. The great thing about this device is that the screen is easy to read and to be fair, it probably needs to be as it can store 10,000 waypoints!
Is the Garmin Oregon 700 waterproof?
Yes it is indeed. This is a tough little unit that has a rating of IPX7. In other words, you don't have to worry about using it in the pelting rain!
How do I install maps on my Garmin Oregon 700?
Once you have unlocked the maps you want in the Basecamp application, then it's pretty easy to load them onto the Garmin Oregon 700.
In order to get the maps onto the Garmin Oregon 700, you will need to do the following:

1. Connect the Oregon 700 to your computer.
2. Right click on internal storage.
3. Choose the install maps option.
4. Follow the rest of the instructions.
5. And voila! You should be good to go!