For many, traveling by RV is the perfect way to see the country. It's a great way to get up close and personal with a destination and offers a more home-like experience than you'd get in a hotel or traditional rental car. The only problem? Navigating an RV isn't the same as driving a car or a normal passenger vehicle. Nope, an RV is a much larger rig, and finding yourself lost or having to turn around in a tight spot isn't much fun.
Best Choice
Garmin RV 785
Largest Screen
Garmin RV 1090
Easy to Use
TomTom Trucker 620
Best Choice
Largest Screen
Easy to Use
Last update on 2023-09-26 / Affiliate links / Images from Amazon Product Advertising API
My uncle has a 40′ Coachmen Class A RV (honestly, I'm not jealous at all!) and he always has plenty of stories about his RVing mishaps over the years. His advice to me was always to have a good GPS with you on any road trip. It can make a world of difference to the overall enjoyment of your trip. It can make your life a lot easier and should also remove much of the stress that can come with lots of driving on your vacation.
To ensure you never miss a turn again, we've put together this guide to some of the best RV GPS units available on the market.
Why get a GPS for your RV?
One of the main reasons people buy a GPS unit for their RVer is simply to make sure they can find their way around. After all, you don't want to be getting lost on your way to the next place on your list. If you've ever driven an RV then you'll know that it provides some additional challenges. These 'issues' aren't something that you're likely to encounter while driving the family saloon. Here are some of the most common RV considerations:
RV (specific) Challenges
Size – the dimensions of your RV will dictate where you can and where you can't drive (narrow roads are an absolute nightmare). The simplest way of looking at it is that everything is larger. Much larger, in fact. This means that you may need some custom routing to get around. You'll even need to give some thought to parking at the supermarket. After all, those ordinary parking spaces won't suffice, you'll need to find an extra-large space that can accommodate your vehicle.
Low bridges – for rather obvious reasons, these are probably best avoided in an RV! Your GPS should provide you with an alternative route to your destination.
Unsuitable roads – not every RV can cope with different roads. Most RVs aren't happy off-roading, and nor do they love steep climbs or those sharp turns. Wouldn't it be nice to be forewarned of issues up ahead, or better still to be able to avoid any potential difficulties altogether?
Gas stations – depending on where you are in the world, not all fuel stops will be suitable for your RV. You will need to find a station that can accommodate your vehicle between the pumps and, most importantly, underneath the canopy.
RV Services – without getting too technical as an RVer you're going to need to fill up on water and dump your waste at an RV park somewhere.
As the popularity of camping and RV vacations has grown, so too has the need for the right gear for these types of trips. GPS systems can be a big help in planning the perfect route, keeping you on track, and avoiding the inevitable backtrack if you ever veer off course.
Do you need a simple device that can help you find the nearest gas station or a specific address? Or do you need something a little more sophisticated that will not only help you avoid major traffic jams but also provide you with restaurant reviews?  
The choices can be overwhelming, which is why it is important to know what features you need and what aspects of the system are most important to you.
Last update on 2023-09-26 / Affiliate links / Images from Amazon Product Advertising API
Here are our 3 best RV GPS that you should consider:
1. Garmin RV 785
Our Top Choice RV GPS
We didn't have to think too hard about placing the Garmin RV 785 on the top of the pile. It comes with a whole range of great features that will definitely make your RVing trips easier and less stressful.
This is a GPS that looks and behaves like a tablet in many respects. It has a gorgeous 7-inch screen high-resolution display that will provide easy-to-read and clear navigation. It looks great set up in the cabin, and you definitely won't need to squint to see the screen. 
Features
Voice Activation
There are plenty of customizing options available in order for you to make using this Garmin RV 785 a more personalized experience. This is a voice-activated device that you wake up by saying "Ok, Garmin". Once awake, you get to see a menu screen that you can navigate using your voice. A rather neat feature is the ability to change the wake-up prompt to something more to your liking – we've previously used "pumpkin" and "stormtrooper" in the past. I'll give you no points for guessing which one I chose!
RV Profiles
Before you get started you'll need to set the dimensions of your RV into the device. Once you've entered your height, length, width and your actual weight, then you'll only be provided with routes that are suitable for your vehicle. If you have a travel trailer attached to the rear then the GPS will take that into account too. All of this means that you should no longer encounter those low bridges or narrow roads on your journey- phew!
As you drive you'll receive alerts of any potential issues up ahead – any sharp turns, steep gradients, or any weight limits on the road ahead. Any upcoming elevation is shown on the right-hand side of the display in a graph format. This makes it super easy to see what's up ahead and it gives you plenty of time to prepare for those climbs. 
Points of Interest
With the RV 785, you can search for a whole range of POIs (points of interest) by categories or popular destinations. Perhaps you want to find the nearest gas station, a restaurant, or as you're driving an RV; a campsite that provides RV-friendly services. This is a really useful feature as it enables you to change your plans on the fly and ensure that you find sites with "full hookups" for your rig.
Dash Camera
The built-in dashcam is located on the top left-hand side of the unit as you look at it from the rear. It provides the possibility of recording with or without audio – it all depends I guess on how noisy your cabin is on your travels. I know that there's no way anybody in their right mind would want to hear a recording of me singing along to U2 as I'm driving!
The camera records as you drive and should the worst happen and you're involved in an accident then it will save the footage to the memory card along with the time and coordinates. This could prove to be invaluable in the event of any future potential insurance claims.
Back Up Camera
The RV 785 is also compatible with Garmin's range of backup cameras. If you install a rear camera then your GPS will display what's behind you – really useful if you're reversing out of a camping site where there might be children playing, etc. The Garmin BC35 rearview camera is pretty straightforward to install – check out our BC30 installation guides here and here.
Tip: The dashcam footage is saved in MP4 format on the memory card. If you put this into your computer you'll find the footage in the DCIM folder. 
Additional Features
So, what else do you get with this Garmin RV 785? Well, there are plenty of useful additional features available including:
Take a Break – you shouldn't drive for too long without a rest and, and you're Garmin will provide you with some prompts to pull over
Garmin Real Directions – a human voice will tell you to turn at the church rather than the next left in 120 meters
Active Lane Guidance – this will help keep you in the correct lane at all times. Great for taking away the stress of approaching or exiting large multi-lane junctions
Various Vehicle Modes: suitable for RVs, truckers and cars
Find RV Parks and National Parks directly on the device
This Garmin RV 785 is our first choice RV GPS as it's a great unit. It provides plenty of bang for your buck, plenty of useful features, as well as an inbuilt dashcam. All in all, this is, in our view, a more than worthwhile choice to accompany you on all of your various road trips.
2. Garmin RV 1090
The GPS with a Massive Display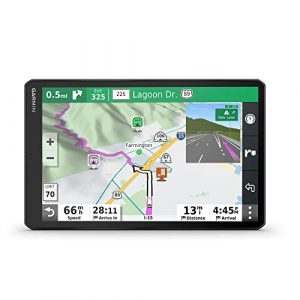 Features
This is the GPS device with the larger screen size in Garmin's RV range. It comes with a screen that is slightly over 10-inches and comes with a high resolution pinch ad zoom touchscreen. What does this actually mean in practice? Well, it provides you with a large, bright, and easy to read display that in all probability you'll be able to see from the back of the RV 😉  You can use this Garmin in either landscape or portrait orientation, which can be useful depending on where in the cabin you have the device mounted.
Mounting System
One thing that did occur to me was, as this is a larger device, it is going to be a little heavier and therefore more difficult to attach to the windshield. Looking at the manufacturers' specs it weighs in at a little over half a kilo. My fears, however, were allayed as the suction cup magnetic powered mount is pretty sturdy and as you'd expect, the GPS sits into it snugly.
In order to ensure that everything stays in its place, I'd recommend that you keep both the suction cup and the mounting surface clean. If the GPS does happen to drop off the windshield, then clean the glass as best you can. This should then provide you with the maximum grip from the holding arm.
The other option is to use the dashboard mount that you can screw permanently into your dash. Don't worry it's not as scary as it sounds as it's a pretty straightforward task, and you get three dash-screws with your purchase. 
RV Specific Routing
The custom RV routing can also take into account any trailer that you may have attached. It'll provide you with a warning if there are any traffic issues up ahead as well as letting you know if there are any sharp turns up ahead. In other words, it'll provide you with suitable routes along with real-time information.
These types of notifications make driving a larger recreational vehicle easier and definitely less stressful. Being pre-warned of any weight restrictions or steep gradients up ahead will definitely increase your driving enjoyment. 
Garmin Connectivity
To get the most out of your RV 1090 you'll need to pair the Garmin to your smartphone using Bluetooth.  Once you have them paired, then you can use the Garmin Drive app and also make telephone calls using your voice.
The app will provide you with a whole range of additional features that should make your driving more enjoyable. If you're on the road for a number of hours then it's useful to be able to receive your smartphone notifications and messages directly on the screen of the GPS. No need for you to take your hands off the wheel as you read your text messages. 
You can also use the GPS to make phone calls to your friends or even to call the campsite to let them know of your arrival time. 
Similar to the RV 785 above you can use your voice to wake up and activate the GPS. You can then speak to the GPS and input your destination or any detours that you might be planning without having to pull over to program the new route. 
Advanced Navigation Technology
Garmin Real Directions is provided by a human (type) voice and will make following your route easier. Instead of being told to turn left at 120 meters, the GPS will tell you to turn left at an upcoming landmark. This could be something like a church or a bus stop and will help take the guesswork away from the distances involved before you get to a junction. Initially, I wasn't a fan of this feature, however, the more I have used it the more I have come to appreciate its usefulness.
Weather Conditions
As part of the advanced navigation tools, you also have access to basic weather updates. You can receive live weather forecasts and real-time traffic alerts. If I'm honest, I wasn't too bothered initially about these weather updates as I'd be happy with looking out of the window. However, I have subsequently found that when you're on the road they can be a useful addition to the tool box.
Imagine you're driving to your next campsite, and you find out that there's going to be a storm in the early evening. Experience tells you that you need to get everything set up at the campsite before you can relax with that cold beer. Things don't tend to go so smoothly when setting up camp after a couple of beers!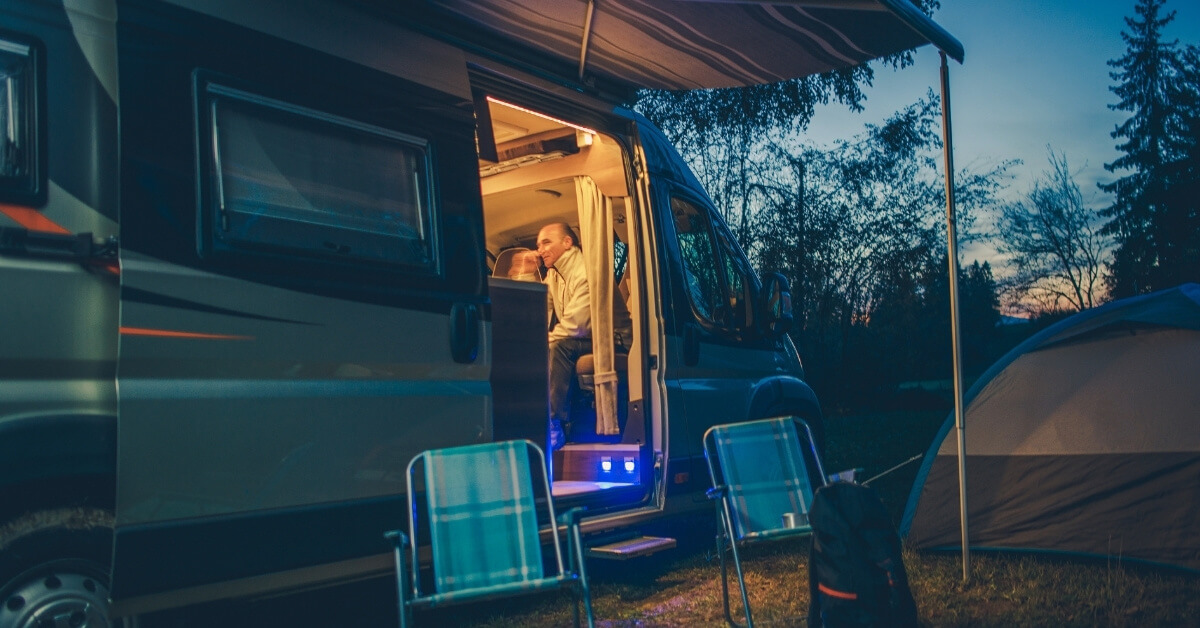 If you know that there's a change in weather conditions coming and there's a storm brewing then wouldn't it be better to head straight for the campsite and to skip the afternoon of sightseeing? By doing this, you can get your camping equipment set up, get the beds made and keep everyone happy before any bad weather hits.  Hopefully you'll also get to stay dry!
Real-Time Traffic Conditions
As part of your package you get lifetime access to Garmin Traffic. this means that you will receive accurate traffic updates that will enable you to avoid those dreaded traffic jams. If the traffic conditions for your journey are poor up ahead then it'll provide you with an option to avoid them by calculating a different route.
Additional Features
So, what else do you get with this Garmin RV 785? Well, there are plenty of useful additional features available including:
Take a Break – you shouldn't drive for too long without a rest, and you're Garmin will provide you with some prompts to pull over
Garmin Real Directions – a human voice will tell you to turn at the church rather than the next left in 120 meters
Active Lane Guidance – this will help keep you in the correct lane at all times. Great for taking away the stress of approaching or exiting large multi-lane junctions
Various Vehicle Modes: suitable for RVs, truckers and cars
3. TomTom Trucker 620
Taking the TomTom road with your RV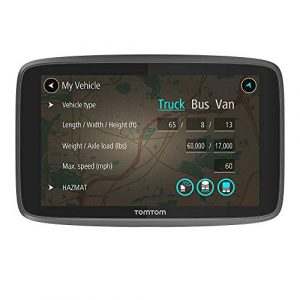 Features
This is the GPS with the smallest display for a recreational vehicle on our list but it's also probably the easiest device to use. The interface is clean and the system moves quickly between the various options.
The TomTom is a speedy device that manages to find your current location quickly. There also doesn't seem to be any noticeable lag when you scroll through any of the device features. The interface is clean and everything responds swiftly to your finger swipes. Thankfully there's little to no faff involved in the process from calculating your route to getting going on the road. Like the other device it will also provide you with an ideal route for the size of your vehicle.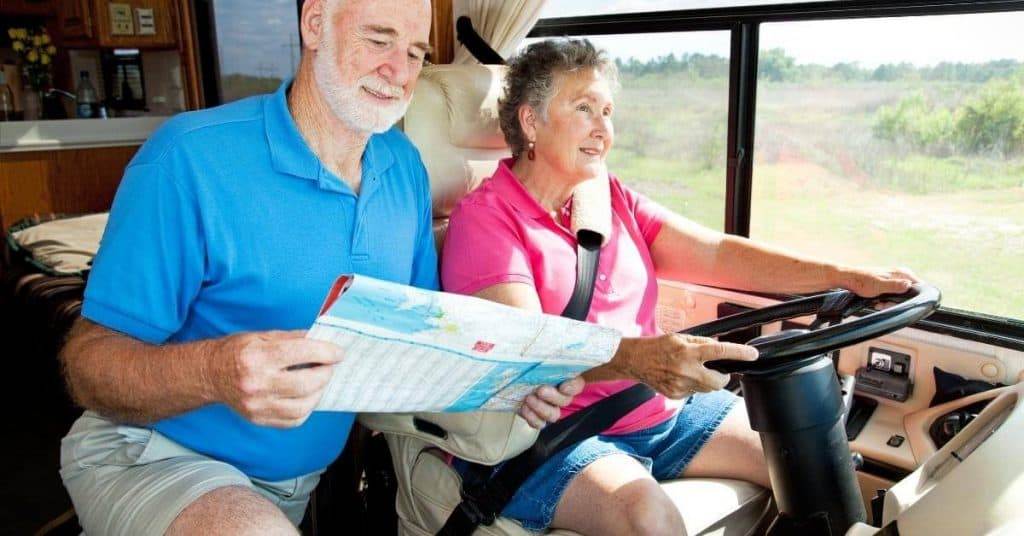 Scenic Routes
If you're on holiday then you may not want to travel directly to your destination and would prefer a more scenic route. The TomTom provides you with the option of choosing a longer and more intersting route. You could also look them up online and download touristic routes directly to your TomTom. This is a nice feature that could lead you to see some places that you wouldn't ordinarily have thought to visit.
TomTom Traffic
The 620 provides you with real-time updates of the road conditions on your route. It gives you accurate traffic information and if there's an issue up ahead a couple of options to avoid those bottleknecks.
Connectivity
Once you have paired the TomTom with your smartphone you will be able to receive your notifications on the display. This is useful as it means you won't need to take your hands off the wheel or pull over to read any important messages. As part of the hands free feature you'll be able to make your telephone calls and continue to drive at the same time.
Ok, so there's a couple of items that make this trip planning tool a little different. For starters it's smaller, but also there's no built-in dashcam. You do, however, get built-in Wifi, which in fairness, is becoming more of a standard option these days. Having the built-in Wi-fi does mean however that you won't need to connect to your computer using a cable. Any software updates can be done by connectng to any open wireless network. Great if you've pulled over into a service station as you can search for additional maps and updates while sipping your cup of coffee.
Look, I know that the name of this device includes the word trucker, and to be fair this would probably be enough for a 'full-time Rver' to give it a miss. However, that would probably be a mistake, particularly if you're looking for one of the smaller, more normal sized RV GPS's as this would be a great choice. If you want to read our more in depth review of the TomTom 620, then check it out here.
Best RV GPS
Hopefully, this summary of the 3 best RV GPS has helped you in making up your mind as to which device to buy. If you're still not sure of the best RV GPS for you, then please take a look at our summary table below:
Best Choice
Garmin RV 785
Largest Screen
Garmin RV 1090
Easy to Use
TomTom Trucker 620
Best Choice
Largest Screen
Easy to Use
Last update on 2023-09-26 / Affiliate links / Images from Amazon Product Advertising API
FAQs
Is an RV GPS different from a normal GPS?
Yes, an RV GPS is a little different from ordinary GPS devices although its primary functions remain the same. The RV GPS will still provide you with directions and a step-by-step route from A to B, however, it will do so while providing RV-specific instructions.
What does that mean? Well, it will take into account the size of your vehicle and will calculate your routes accordingly. In other words, you won't be sent on roads with weight restrictions, you won't encounter low bridges, and nor will you find yourself traveling down narrow country lanes unnecessarily.
Does an RV GPS have a trip planner?
It depends on the device that you have purchased, but in general, the better GPS devices will have a trip planning function. This is a great feature if you want to change your plans on the fly
All of the units we have reviewed above include some form of RV trip planning.
Are RV GPS units easy to install?
Yes, they sure are easy to install. In most instances, all you'll have to do is charge her up and switch her on and you'll be good to go. We would also recommend that you ensure that the software and maps are fully up to date before you leave. It's also a good idea to take your time to familiarise yourself with the device in order to understand everything that it can do for you. It should also ensure that you get the most out of the various features and ultimately it'll make your life easier if you're using the device fully.
Where is the best place to buy my RV GPS?
There are many places where you can go to buy your best RV GPS. If you want to see the device, hold it and play around with it before you purchase one; then you'll have to make your way to the store.
On the other hand, if you want to get the best value and try to save some money then, I'd recommend buying your device online. Online retailers tend to have fewer overheads than physical stores making it easier for them to sell a GPS for a cheaper price.
Do you get any issues with an RV GPS?
Any potential issues with your GPS are likely to be similar to those that you'd find with normal car GPS devices. Depending upon where you are located you may find that your GPS signal to be patchy; this, however, is normally fixed by making sure that your device had a clear line of sight to the blue sky above.
If you find that your device is continually losing power then make sure to check that the device is sitting correctly in its cradle. This should ensure a good connection and enable the GPS to charge correctly.
Some users have reported issues with a loose micro SD slot. This can be frustrating as you may have saved the details of your road trip onto the card. Take out the card gently and then put it back in securely. Like the battery issue, this should ensure a good connection that will allow the GPS to read the content of the card correctly.
As with most electronic devices, if you are continually experiencing issues with your device then I would advise you to either have it repaired or replaced under the terms of the warranty.