If you are looking for an easy-to-use GPS running watch, then this Garmin Forerunner 30 review might be what you're looking for. This stripped-back version of the slightly older FR35 provides you with all the basic functions you'd expect from a Garmin running watch.  And perhaps best of all, it comes with a pretty enticing price point.
We will examine whether this is a running watch that you should consider buying. Does it provide you with enough functions to track your performance properly or, is it just too basic to do a good job?
Garmin Forerunner 30 Review
Features
Easy to Use GPS Running Watch
Optical HR Sensor (no HR strap required)
Bluetooth Connectivity
24×7 Activity Tracking
Lightweight & Comfortable
Design
There has been some criticism about the design of the FR30 as it's, well uhm, a little too much of a square-rectangle type look. Honestly, there's nothing particularly wrong with the design but it may have benefitted from some rounded corners perhaps? 
Either way, it does come in some pretty funky color options and this can appeal to the fashion-conscious fitness guys and gals out there. You can choose between three different colors – black, turquoise, or amethyst (which is really just a fancy way of saying purple!). The silicone strap feels snug on your wrist and is pretty comfortable to wear. If it gets dirty it's also easy to clean as you can simply run it under the tap.
Display
The 0.93-inch diameter screen is a good size for a fitness wearable. After all, there are only a handful of stats that you want to be able to see on your wrist at any given time. The lens itself is constructed from chemically strengthened glass, although, I have to be honest and tell you that I don't think it'll withstand being dropped from the Eiffel Tower!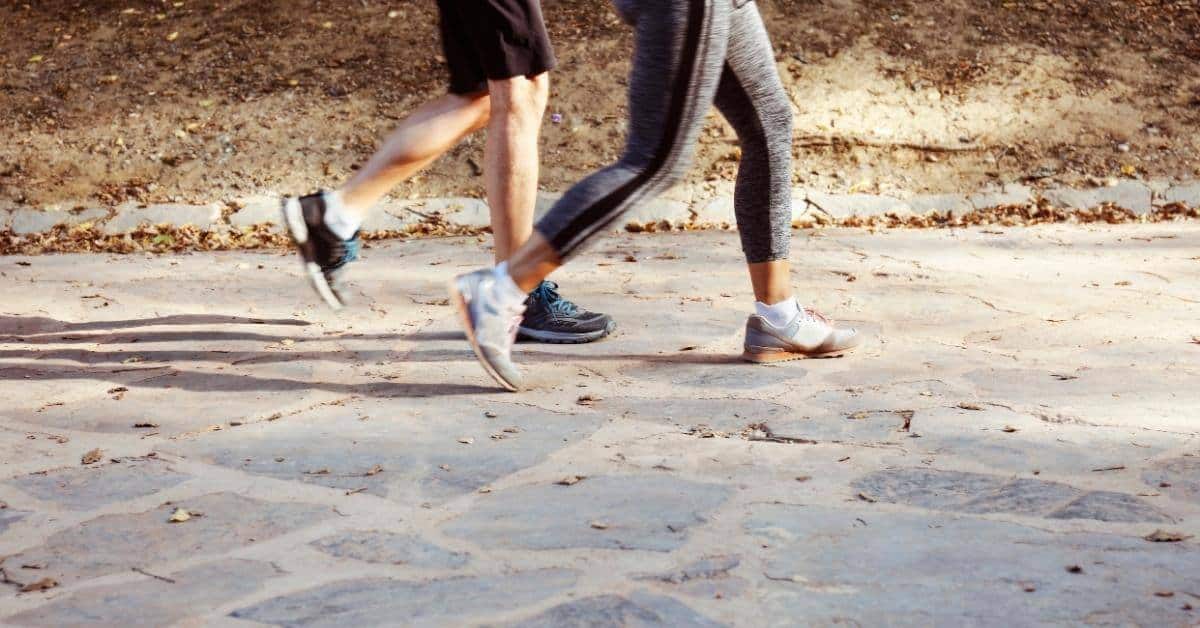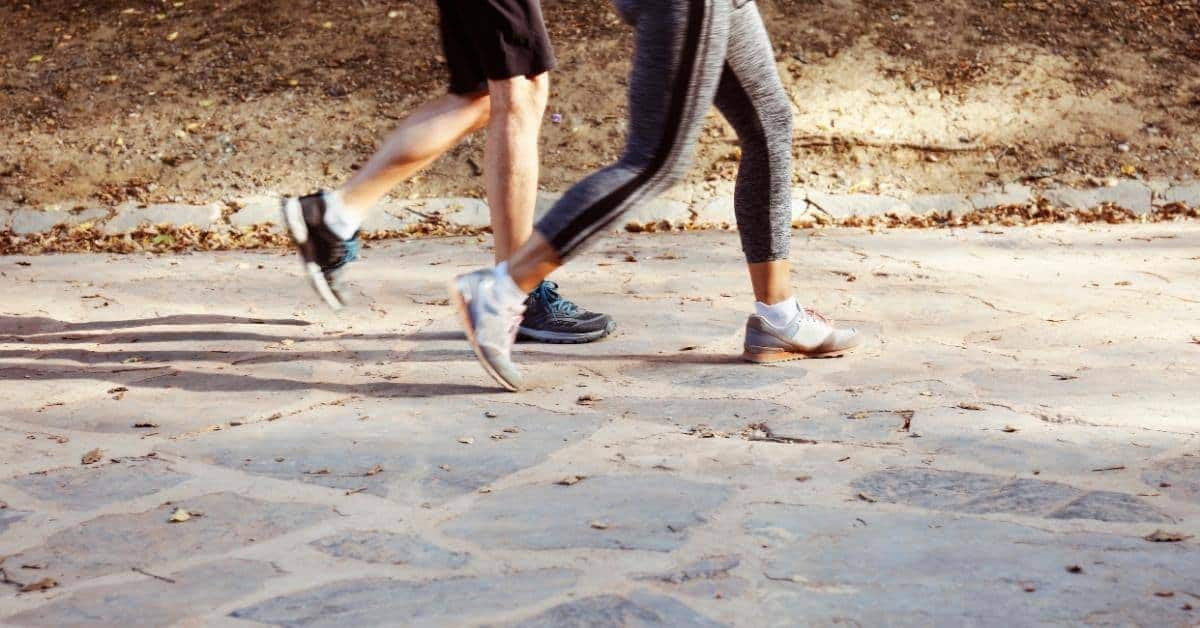 Interface
We like the fact that there isn't anything overly complicated about using the FR30. There's no touchscreen and in my view that's a good thing. I've lost count of the times that my touchscreen running watches haven' responded immediatley either because of my sweaty ands or the gloves that I'm wearing in winter.
With the FR30 you get four navigation buttons on the side of the watch. And for equilibrium thhey are located as two on either side. The left-hand side buttons enable you use to scroll through some options and turn to the watch on and off. You use the buttons on the right-hand side to start/stop your activities and to go back to the previous screen. All pretty straightforward and making it super easy to use. Literally, no faffing about here!
Heart Rate Monitoring
One of the best features of the FR30 is that you get an optical HR monitor. There's no need to purchase an additional chest strap or band to keep an eye on your heart rate. The HR sensor is located on the back of the watch and as long as it sits snugly on your wrist it will take your readings. Take a look at the sensor lights located on the back of the watch (you can't miss them, they're the three green LED type lights!) and that'll give you an ida of how a wrist-based heart rate monitor works.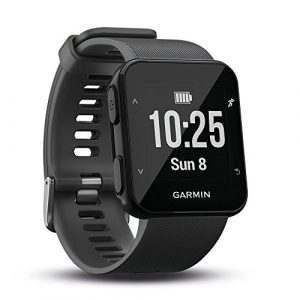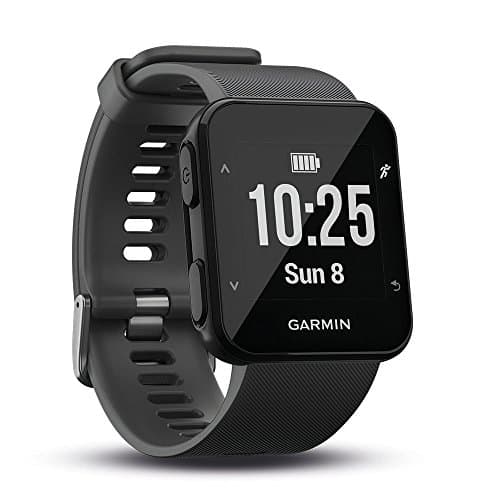 The Garmin Forerunner 30 monitors your heart rate 24 x 7. This can provide you with access to your fitness metrics during the day and your sleep tracking during the night. 
It's important to check out your heart rate as you run in order to ensure that you are getting the most from your training. It will tell you if you are exerting too much or too little effort in your training. Use the data to either speed up or slow down your running in order to ensure you are getting the maximum benefit. Ultimately the heart rate tracking will help you in your training and will with regular exercise increase your VO2 max.
Fitness Tracking
The Garmin Forerunner 30 is extremely easy to use as there's no need to mess about with menu options etc. When you're heading out for a run or a walk then all you need do is press the right-hand side button twice and start moving. The first press of the button activates the screen and tells the watch to get a GPS lock on your position. The second press of the button gets you going on your activity.
In fact, it's so easy to use that there's no need to choose your activity before you start. The watch does that for you by identifying what it is you're doing. In other words, it detects (using Move IQ technology) whether you're running or walking. Honestly, how easy is that to use?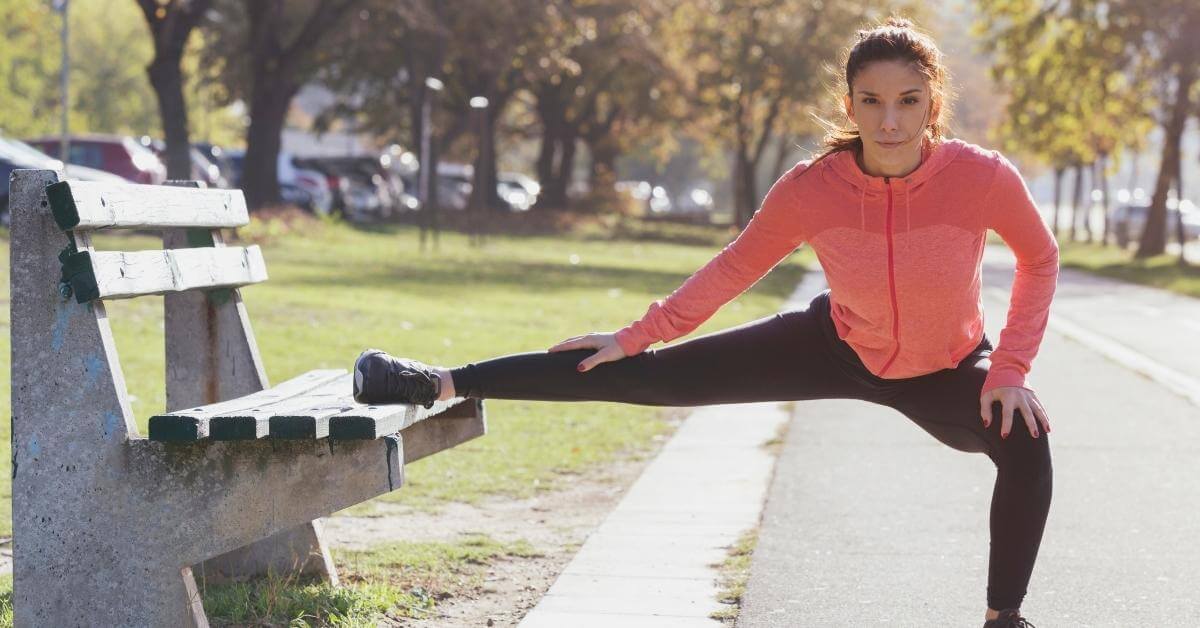 Training Features
There are plenty of custmisations that you can do to the layout of the information on the display. There are three main data screens set up for you straight out of the box. In order to access them while running just scroll with the buttons on the left hand side of the watch.
Distance, time and your pace
Heart Rate and calories burned
Time and date
These data screens are pretty standard fare, however, if you want to show you're average speed or your maximum speed then just go right ahead and start customizing to your liking.
Battery Life
How long your battery lasts depends upon how you use the watch. If you have the GPS function switched on permanently then expect to get about 8 hours before it needs some additional juice.
If on the other hand, you turn off the GPS and use it as a more traditional watch and step counter, then you can expect to get around 5 or 6 day between charges. However, this can be reduced if you use the smartwatch mode and receive tyour SMS and call notifications.
Smartwatch
If you pair the FR30 with your smartphone then you can receive some basic notifications on the watch. Now, I'll be honest and tell you that this isn't as great as perhaps Garmin make out in their paraphenalia. Yes, you can get some smart notifications like an SMS message or a missed call (you can't reply to them off the watch) show on the display, but, we couldn't get our WhatsApp and Signal messages to show up.
I have made a search on the internet for possible solutions and they include unpairing and repairing the devices together. It may just be however, that we need to accept that this is a streamlined device when it comes to the number of features and not try to make gadget comparisons with the other more expensive fitness trackers on the market.
What's in the box?
Open up the box, and inside, you get exactly what you'd expect – the watch, a charging cable, and a manual. The charging cable is of the crocodile clip variety; in other words, you line up the charging posts and clamp them onto the watch face. As long as you've lined everything up correctly, it's pretty easy to use, and you hear a small buzz to let you know that the watch is charging.
If you're looking for a copy of the instruction or the owner's manual, then head over here for some additional bedtime reading!
Summary
The Forerunner 30 is the latest addition to Garmin's budget-range running watch family. It's pitched as an easy-to-use device that can help you track your runs and measure your performance, with features such as built-in GPS and an optical heart rate monitor. In this Garmin Forerunner 30 review, it's pretty clear that although it's true that you get a stripped-back product, there's still a quality running watch underneath it all. And if you do need some additional features and have some more money to spend then check out our earlier review of the Garmin Forerunner 45.
The FR30 provides you with all the running features and functions that you'll need to get started on your fitness journey. Yes, it's predominantly a running watch, but the fact that it's also an excellent activity tracker means that there will be plenty of walkers out there who will buy this watch. It will enable them to track the number of steps they've taken, the distance, and the pace at which they've walked on their hikes.
Should you buy the Garmin Forerunner 30?
I really like the Garmin FR30 as it compacts everything that I like into a running watch.
Ok, it's definitely not the most feature-rich option out there and nor would it be the device for a gadget-loving ultra runner. However, it is great value, super easy to use, has a fantastic optical HR monitor and an accurate GPS function.
What are you waiting for? It's time to go for a run…………. 😉
Garmin Forerunner 30
Monitors heart rate at the wrist all day and night, using Elevate wrist heart rate technology
Last update on 2023-11-04 / Affiliate links / Images from Amazon Product Advertising API
FAQs
Is the Garmin Forerunner 30 waterproof?
You'll have no problem with sweat or even jumping into the shower with this watch. In fact, it says on the box that it's waterproof up to a depth of 50 meters! The only thing is that while it may be ok to jump into the pool with this still on your arm, there is no swimming functions available. 
Can I pair the FR30 with my smartphone?
Yes, the Garmin can be paired with your smartphone via Bluetooth. It's worth noting, however, that it can ony be paired to the official Garmin Connect Mobile App.
Does the FR30 have a touchscreen?
No, it does not have a touchscreen as it uses the 4 button on the side for navigation.
Troubleshooting
My watch doesn't show the right time.
This can happen if the watch has been unused in your bag for a few days and you've moved timezones.  The easiest way to fix it is to head outside to get a clear sightline to the sky. You want to obtain a GPS lock from the satellites orbiting the planet. Once your watch has a proper 'lock on," then the time should update automatically.
How often does the step counter reset?
Your step counter will reset itself every day at midnight.
How do I connect the FR30 to the computer?
Connect the watch to your computer using the charging cable provided. 
How do I update the FR30?
There are a couple of ways to update the software on your Forerunner 30. For both options, you will be required to have a Garmin Connect account:
Update software using your smartphone
Pair the watch with your smartphone and synchronize them. Open the Garmin Connect Mobile app and follow the onscreen instructions. Follow any prompts on the screen as required, and the device should update automatically.
Update software using your computer
Make sure you have the Garmin Express app downloaded and installed on your computer. Connect your watch to the computer via the charging cable. If there is an update available, then you should have a prompt on the screen. Follow the instructions, and the process should be pretty straightforward to complete.