If you're Looking For The Best Way To Keep Tabs On Your Dog, Then Please Read On!
And if you're in a hurry, check out the table below……..
Easiest To Use
PETFON Pet GPS Tracker
Best For Hunting
Garmin Alpha 200i
Long Distance
tractive GPS Dog Tracker
Long Battery Life
Whistle GO Explore GPS
Easiest To Use
Best For Hunting
Long Distance
Long Battery Life
Last update on 2023-09-25 / Affiliate links / Images from Amazon Product Advertising API
5 Best GPS Trackers for Dogs
Dogs are amazing animals. They are loving, loyal, and protective. 
Losing your dog, however, is an owner's worst nightmare. And let's be honest, it's a fear that every dog owner has.
If it happens to you, then you'll know that it's a horrible feeling. You frantically search the house, call your neighbors and walk around the neighborhood trying to find them. Then, you head to the local animal shelter, hoping they haven't been picked up yet. And if they have, you hope they're still there when you get there.
The reality is that you can't always keep track of your dog. Maybe your dog has wandered outside while you are at work? Perhaps it disappeared while chasing rabbits in the field, or they've decided to go off exploring the neighborhood. Whatever the reason, it can be challenging to find them if they are out of earshot. 

But what if you could use a GPS pet tracker to find your lost dog or cat? Would it make everything so much easier? We have looked at the best GPS trackers for dogs available on the market today to help you pick the most suitable for you and your dog.
Here are our recommendations:
Best Dog GPS Tracker with No Subscription Fees – PetFon 
Best Dog GPS Tracker for Multiple Dogs & Hunting – Garmin Alpha
Best Budget Dog GPS Tracker  – Bartun
Best Long Distance Dog Tracker – Tractive
Best Health Monitoring Dog Tracker – Whistle Explore GO
We believe that a GPS dog tracker is something every pet owner should have. It allows you to locate your dog no matter where they are located, and they make sure that they never get lost again!
Keep your dog safe; find them when they're lost. Use a dog GPS tracker.
If you're thinking of buying one, you should know that there are several different types of GPS dog trackers on the market. So, which one is best for you and your faithful companion?
In this article, we'll provide an overview of the top 5 GPS dog trackers. We'll also explain how to choose the best one for your pet.
Best Dog GPS Tracker with No Subscription Fees – PetFon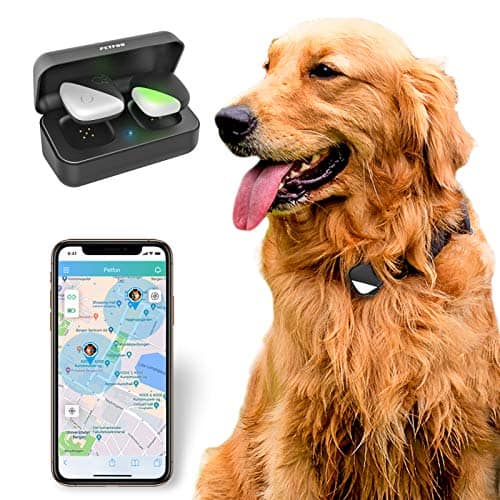 Pros:
Easy to use app
No monthly fees
Tracks with GPS & Glonass
Rechargeable battery
Geofencing options
Sound & light alarm
Cons:
Daily charging may be required
Not suitable for swimming
Description
The PetFon is a simple-to-use GPS tracker with a smartphone app to help you find your dog if it gets lost. Once you have purchased this then, that's it – there are no additional subscriptions or further charges required. In our view, this makes this the best value for you and your dog in the long run.
The PetFon doesn't require a sim card to work, and it utilizes both GPS and Glonass to provide a real-time location.  You get two separate modules in the box – one for your dog's collar and the other one for your belt or pocket. You can then monitor your dogs' location in real-time and, most importantly, see how far away from you, they are.  
It's also pretty easy (via the app) to set a safe zone for your dogs. You can build a virtual fence on the app, and if your dog happens to go beyond this, you'll receive a notification on your phone.  In other words, set the boundaries for your back garden or yard and be assured that your dog remains there! I
f you subsequently need to go out looking for your dog, then there's a pretty nifty feature where you can activate the lights on the PetFon. These flashing and multicolored LED lights will make it easier to locate your dog, particularly at night. The device is waterproof (IP65), so if you have an energetic dog that enjoys jumping into the water, then you won't have to worry; however, it's not recommended for them to jump right in for a long swim!
Best Dog GPS Tracker for Multiple Dogs & Hunting – Garmin Alpha 200i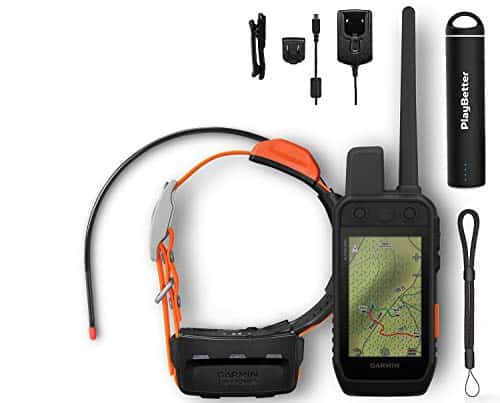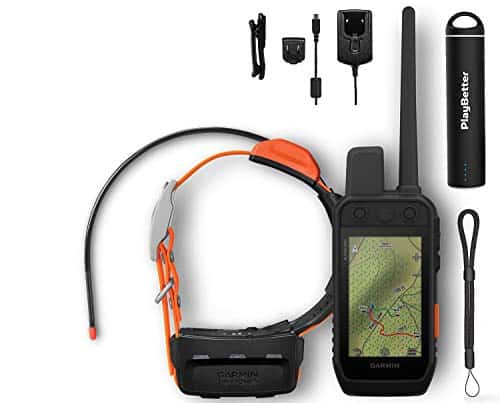 Pros:
Pack tracking (up to 20 dogs)
Group management
Monitor public land boundaries
Hunt metrics – dog performance
Fast dog training cues
9 miles range outdoors
Cons:
Satellite subscription is required for inReach
Additional collars cost more
Touchscreens are not always glove-friendly
This is hands down the best option if you require a multi-dog tracker and trainer. This is essentially a fully-fledged and robust handheld GPS device that allows you to track your dog (or a pack of dogs).  In short, if you want to train numerous dogs or want to take them hunting in the woods, then look no further than the Garmin Alpha.
If you think the Garmin Alpha 200i looks familiar, then perhaps you've read our Garmin GPS Map 66i review. Both devices can send two-way messaging and activate SOS calls if you have a subscription to the Iridium satellite network. This could be a lifesaver if you plan on heading off-grid with your dogs, as you can get some assistance if things go wrong.
You'll notice that there is a flexible but robust antenna on the side of the dog collar. This enables the collar to communicate with the handheld over huge distances—up to 9 miles in the wilderness. If you want to find your dog, then all you need to do is point the compass on the handheld and start walking. It really is as easy as that! 
If you're tracking multiple dogs, then each collar can be set up and controlled individually from the handset. It then becomes easy to provide some additional training commands to an individual dog within your pack. There are 18 different stimulation levels, alerts, and audible warnings available to assist you with your dog training. 
You can also set a geo-fence using the Topographic mapping feature. This way you can ensure that your dog stays within an area that you specify; if they go beyond the predefined boundaries, then, you'll receive an alert. This is particularly useful if you want to keep your pack away from certain private lands. 
Consider this device if you want a proper handheld GPS with inreach capabilities that allows you to monitor and train up to 20 dogs. It is a proper hunter's delight!
Best for Long-Distance Monitoring – Tractive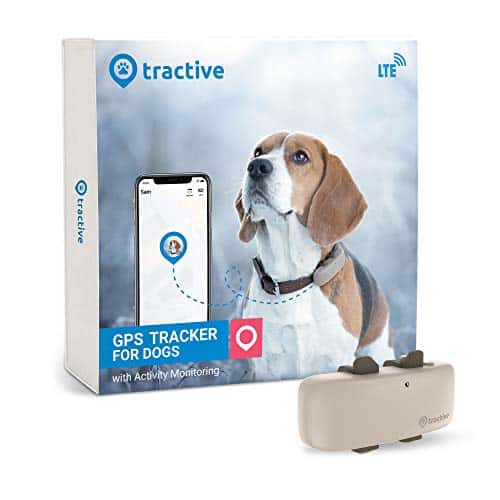 Pros:
Works worldwide
Activity tracker included
Digital fencing
Heat mapping
Regular location updates
Easy to charge – 5 days battery
Waterproof rating IPX7
Cons:
Ongoing subscription required
Proprietary charging cable
Description
The Tractive is a small, waterproof, and compact shock-resistant unit that weighs 35g. It can be attached to your dog's collar (up to a width of 2.5cms) using their clip and mount system. We like that you can set a safe area for your dog, and if they move outside this area, you'll receive a notification. This is a great option for letting you know if your dog has escaped under the fence again!
The stand-out feature with this particular device is that, because of its cellular connection, it works worldwide, i.e., there is no limit to the tracking it provides. This is great if you happen to go deep into the great outdoors with your faithful friend as a companion.
You may also have seen the device in the Amazon Original show, The Pack, presented by Lindsey Vonn and her pet dog, Lucy. Check out the trailer below.
As this uses a cellular network to provide GPS locations to your smartphone app, you must have an active cellular subscription. This can vary depending on the plan you choose, but it can cost less than a dollar a week. 
You also get the opportunity to check where you're dog has been exploring and perhaps, most interestingly, how active they have been. Useful for knowing that you might have to go out for another walk to make sure they get enough exercise!
Best for Budget Option – Bartun GPS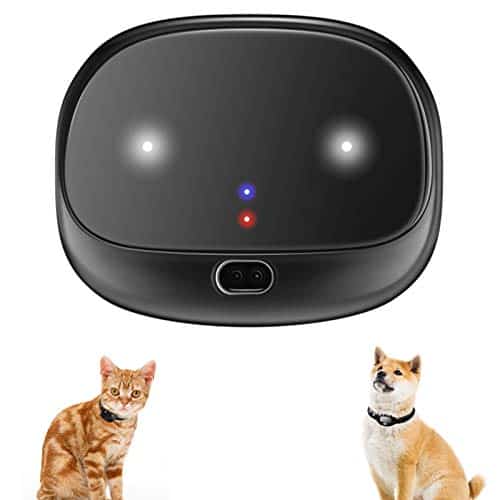 Pros:
Worldwide range
Small & lightweight
LED lights & alarm function
Cons:
Collar only suitable for small dogs
Some reports of glitches with the app
Keeping tabs on your dog's whereabouts can be expensive; therefore, it's always good to know that there are cheaper options available. The Bartun is the budget-friendly option on the list. It is the most affordable unit to purchase initially although, you will be required to have a suitable and active sim card. We recommend choosing the cheapest option provided by your carrier as you're not going to need lots of data.
This is a small and lightweight GPS tracker that weighs 30g and would be comfortable for your dog to wear.  It can locate your pet anytime, anywhere without any geographical limits; in other words, it provides worldwide coverage.  
If you find yourself outside looking for your dog at night, you can activate the LED lights on the unit's front. These will flash and make it easier for you to get your dog home in one piece.
Expect to get around 3 days battery if you have the location positioning set to show every 10 minutes. If the battery on the unit is running low, you will receive a pretty useful alert so you can get the device on charge. 
Best Health Monitoring Dog Tracker – Whistle Explore GO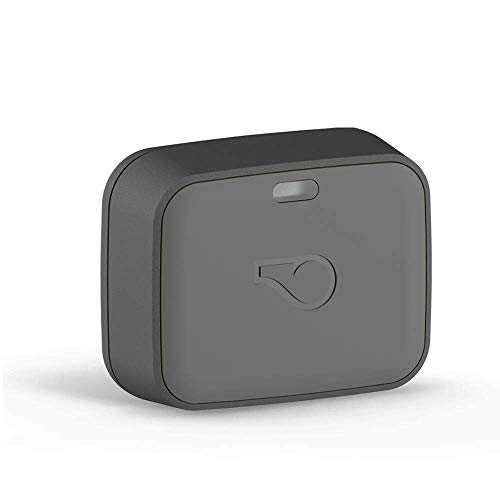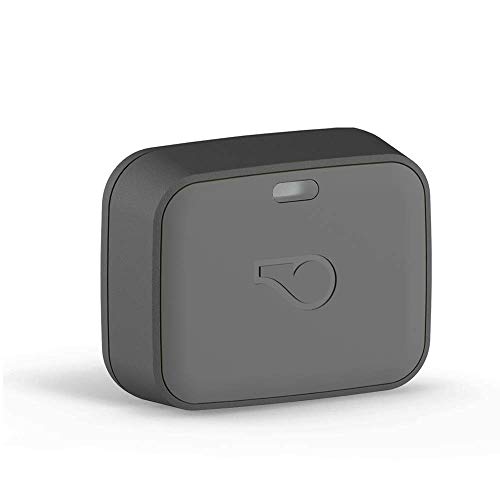 Pros:
Real time tracking
Monitors skin health
Dog calories tracker
Activity monitor
Cons:
Aimed at the US market
Monthly subscription required
This has proven to be a popular option within the canine community as it provides excellent health monitoring for your dog. It provides the possibility of setting various goals for your pup, including portion controls, activity levels, calories consumed, etc. All of this is measured against the dogs' weight, age, and general activity levels. It can update and record for you if your dog shows some unusual or erratic behavior. This can help you build a "health file" for your dog. Furthermore, you can contact a vet directly through the app if you have any concerns about the health of your dog.
The Go Explore utilizes Google Maps and the AT&T network, which does mean signing up for a monthly subscription.
However, we are fans of being able to set up multiple owners or dog minders for the same account. This means that if, for example, you leave your dog in kennels or with a friend when you go on a vacation, they can also see how your dog is doing. This feature is pretty reassuring and can help allay any fears you may have when you are separated from your dog.
Final Thoughts
So which one should you buy? In all honesty, it all comes down to what you are looking for and how much you are willing to spend. 
If you want to avoid hidden charges and those additional monthly subscription costs, go for the PetFon Tracking device. If you're interested in your canine friend's health and fitness, consider the Whistle Go Explore. On the other hand, if your budget is your primary consideration, look at the Bartun GPS.
For long-distance, worldwide tracking of your dog, then consider the Tractive GPS tracker. And finally, if you are looking for the most professional option or have a pack of hunting dogs to manage in the wild, then the Garmin Alpha should be your go-to option.
No matter which option you choose, simply having a GPS tracker on your dog will prove to be a wise investment. It can provide you with some additional peace of mind and help you keep your dog safe and from getting lost. Hopefully, this article has provided you with enough information to make your decision in choosing the best GPS trackers for dogs.
However, if you are still unsure, keep reading below for some additional information on the features that should be included with your pet GPS.
Features To Consider
Battery Life – it's vital for your dog tracker to have ample battery life. If your dog does go missing, then the last thing you want to happen is for the device to go dead. If this happens, then it will become far more difficult to find your dog. A long-lasting battery provides you with peace of mind that you will be able to locate your dog.
We would recommend as a minimum that you only consider batteries that last 24 hours. It will be cheaper in the long run if you have rechargeable batteries with at least a one-year battery life. Using battery chargers is also far more environmentally friendly.
Range – a device that can only track within a limited range can hamper your efforts to find your dog. Bluetooth devices have a range limitation of anything between 10 meters to 100 meters (depending on the device's classification). This means that it may be completely useless if your dog has wandered beyond these parameters. And let's face it, that type of distance for a dog is minimal.
Geo-Fencing – do you want to set some virtual boundaries for your dog? If so, you need to have an option to highlight an area that your dog can use. If they wander outside of this area, then you get a notification. It's a great option to have if you want to make sure that your doggie doesn't escape!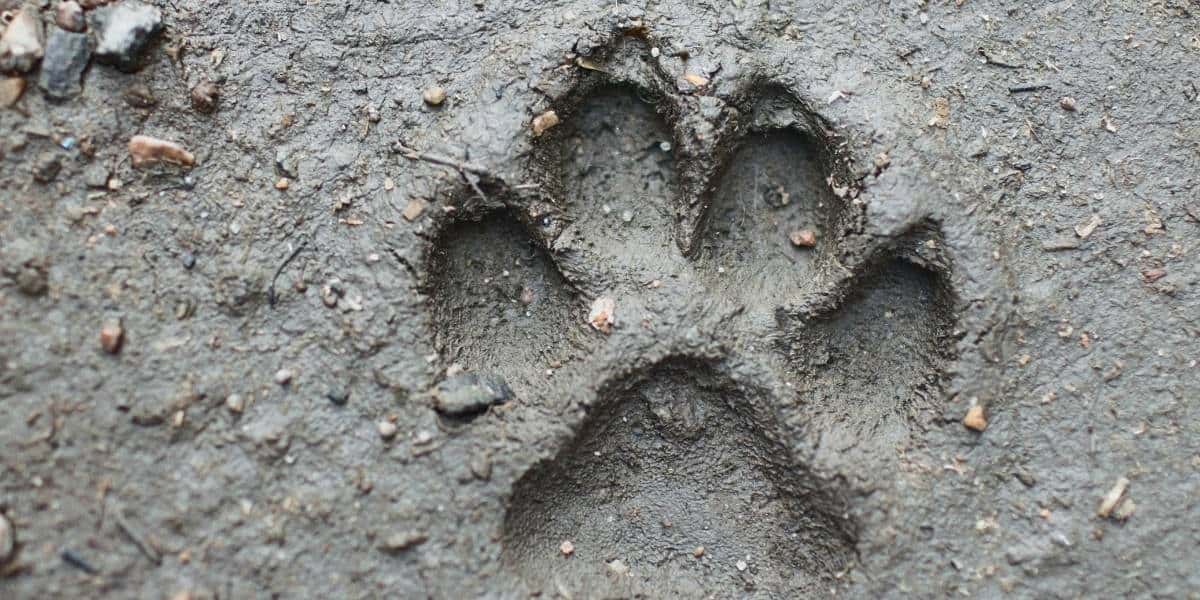 Design –   Once attached to the dog's collar, it shouldn't impede the dog's movement and nor should it be uncomfortable to wear. Look for a high-quality unit with a sleek design and a lightweight design.
Health – if you're concerned about your dog's health, then a unit with a fitness tracker is an excellent idea. It can provide you with a weekly health report that details the levels of activity from your pooch. You can then make the necessary adjustments to the length of our walks and ensure that they are getting enough exercise.
Subscription – the vast majority of units will require additional subscription fees to provide you with real-time location. These monthly subscription fees can be expensive, and therefore, it may be more cost-effective to seek a yearly subscription plan. This way, it's possible to make substantial savings; however, you may be locked into a long term contract. Before committing, always make sure you are happy with the service provided and aware of the small print. 
Cellular Service – depending on the module you use, you'll likely need a sim card. Having a reliable cell service will provide you with better location services. It may be worth checking with your current cell phone service provider if you can obtain a cheaper deal on a data-only sim card.
Waterproof – if your dog likes getting wet, then you need a waterproof unit. Bear in mind that there are different waterproof rating levels – some are only splash proof, while others can be submerged fully in water.
Manufacturer – a well-known company with a strong following, will more than likely provide you with better after-sales care. This may be of particular interest to you if your doggo likes rough and tumble and may damage the unit.
Frequently Asked Questions
What is a dog tracker?
A pet tracker is a small device that usually attaches to your dog's collar. It allows you to monitor your dog's whereabouts at all times by using either GPS or Bluetooth technology. In other words, you can track the location of your dog at any time of day.
These devices can come in many shapes and sizes. We recommend that you make sure that the device's size is suitable to attach to the collar of your dog. In other words, don't buy something too heavy and too bulky for your little dog. Not every dog can carry a small barrel of whiskey like St. Bernard dogs did once upon a time on the Alpine slopes.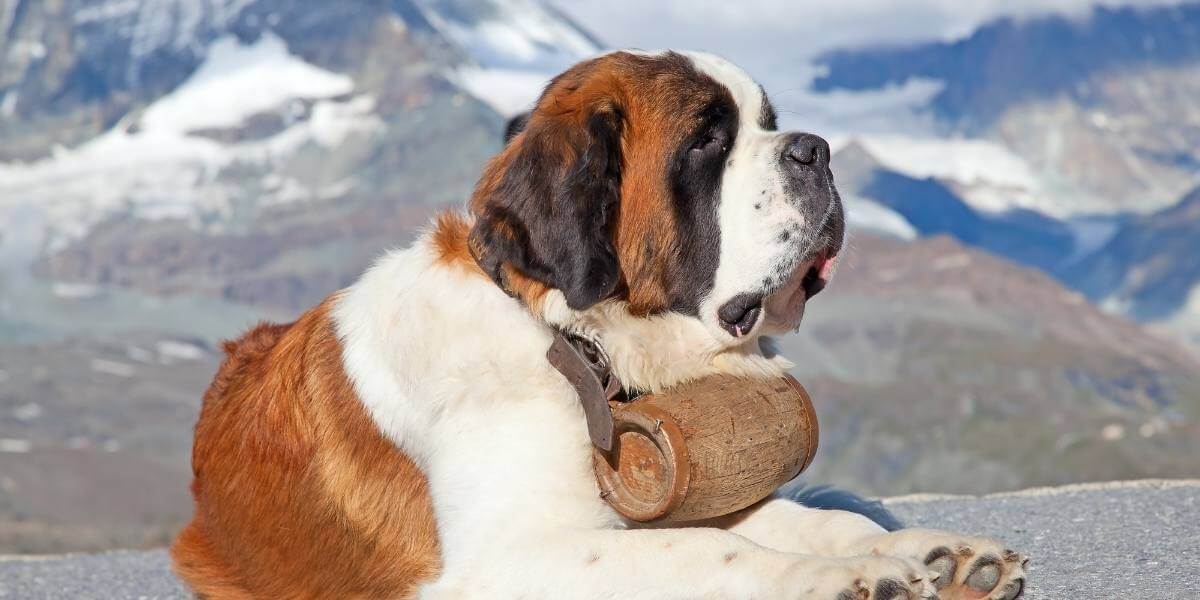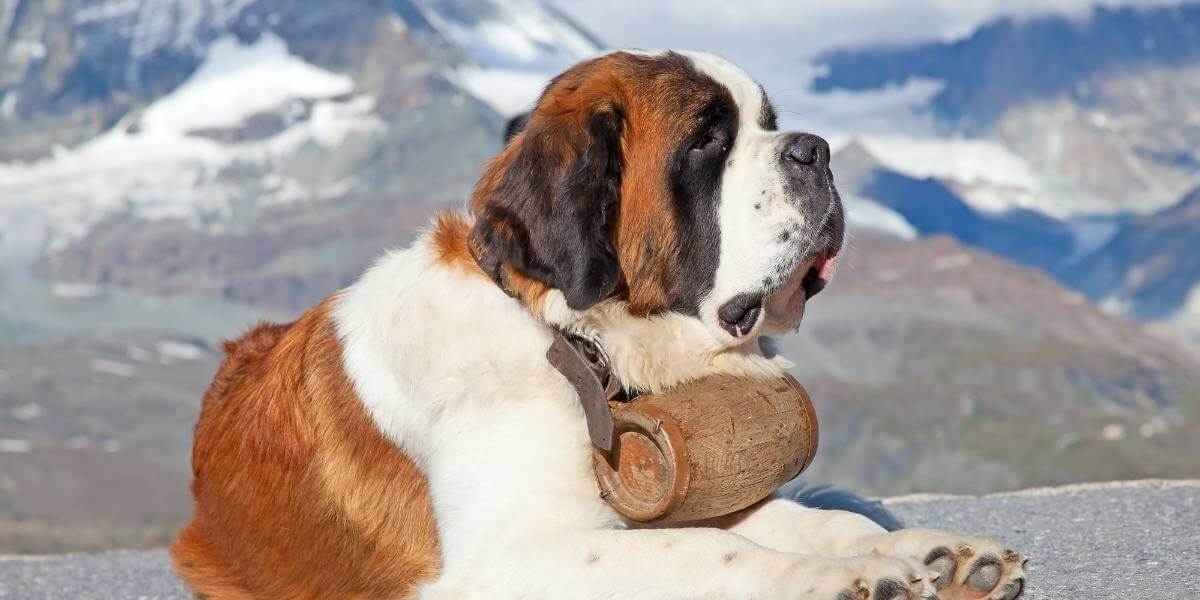 Do GPS dog trackers work?
Yes, they most certainly do work, and they can provide you with peace of mind. If required, you could track the whereabouts of your dogs worldwide. 
How do GPS dog trackers work?
They use the Global Positioning System (GPS) to provide location-based services to civilians. It means that if you attach a GPS tracker to your dog's collar, you will monitor their location at all times.
How do you attach a dog GPS?
The unit is nearly always attached to the collar of the dog. Some modules are clipped onto the collar, while others are threaded through the collar itself.
Do pet microchips have a GPS?
A dog microchip and a GPS are two completely different and separate things.
A dog tracker is normally attached to the dog's collar. It uses GPS to monitor the location of your pet. This information is normally relayed to the owner using an app or some mapping application. 
On the other hand, a pet microchip is injected into the dog's shoulders using an application gun. This microchip does not provide any tracking services. However, if scanned by a veterinarian or an animal rescue center, it will provide them with the owner's details. So, they can help get your dog back to you, but they don't track their location.
Are GPS trackers worth it for dogs?
It really depends on your dog and your situation. If your dog tends to wander off, escape from the yard, or get lost in the fields, they are most definitely worth it. If, on the other hand, your dog only leaves the house for a walk on a lead, then it may not be necessary.
A GPS device attached to a dog can provide peace of mind to the owner and their family. In this instance, therefore, then yes, a GPS is worth getting for your dog.
Can I use any smartphone to track my dog?
If you can download the necessary app, then you can use any smartphone to track your dog. 
What is the best tracker for cats?
Cats tend to be smaller than dogs and, therefore, will likely require smaller GPS units. Check out the 4 best GPS for cats here.
Can you recommend a GPS tracker for a very active dog?
If you're heading out for an adventure with your dog, then it's worth considering the Garmin. 
Don't lose your dog. If you do, at least keep track of him.
And so you don't have to scroll all the way back to the top of the article: here are our final recommendations once again:
Best Dog GPS Tracker with No Subscription Fees – PetFon 
Best Dog GPS Tracker for Multiple Dogs & Hunting – Garmin Alpha
Best Budget Dog GPS Tracker  – Bartun
Best Long Distance Dog Tracker – Tractive