Are you looking for a running watch that can help you get from the couch to a 5k? Do you dream of training for a marathon in the future? Well, then you might seriously want to consider the Garmin Forerunner 45. We won't lie to you, it's not going to get you off the couch and into your running gear. You'll have to do all that yourself!
What this will do, however, is provide you with lots of data that you can use for motivation. It'll keep track of your pace, distance, direction, heart rate, and even the amount of calories you've used (great if you're burning off last night's curry!).
This is an entry-level GPS-enabled running watch that can suit all runners, from beginners to more experienced pavement pounders. If you're looking for some help with your training, or perhaps you just want a slim sports watch on your arm; then this could be the running GPS watch you've been waiting for. Let's take a deeper look at this Garmin Forerunner 45 review.
The Forerunner 45 is an upgrade to the previous budget-friendly option, the FR35. And honestly, given the price point, I was impressed with the number of features that you get with this sports watch. The question we need to help answer, however, is whether this is really suitable for your needs, whether you're a beginner or a more serious runner. Let's dive in and take a deeper look at the Forerunner 45.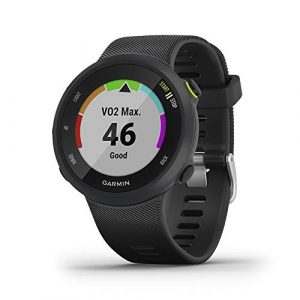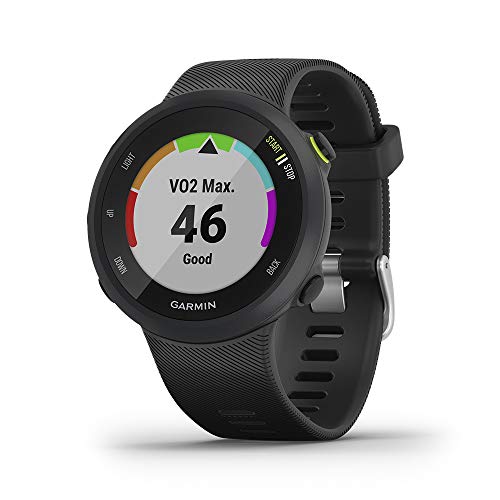 Design
It's immediately obvious that the Forerunner 45 is less bulky than many other running watches on the market. It's a slim and lightweight watch with a compact design. Depending on the model, it weighs between 32 and 36 g! To put that into perspective, that is around a sixth of the weight of your smartphone that probably sits in your pocket. In other words, you're not going to find it heavy and uncomfortable on the wrist.
The lightweight nature of the watch is due to the construction being largely made of plastic. Having a light watch is great, but the flip side of this is that this isn't a robust wrist piece.
If you're planning on going rock climbing or scrambling up mountains, then it's probably not the right device for you. There are other options out there for the more adventurous sports people. Check out our review of handheld GPS devices here.
The silicone strap comes in a choice of four colors – black, white, iris (which is really a posh way of saying, light purple), and a bright lava red. No matter the color, the bezel surrounding the watch face is black, as are the push buttons on the side.


Button Operated
I'm a big fan of button operated wearables. Why? Simply because where I live, it's pretty cold for large parts of the year. That means that when I run, I regularly wear warm windproof gloves. Let's be honest, touchscreen devices and gloves really aren't a marriage made in heaven. Running with a touchscreen watch usually means having to take a glove off to scroll through the functions. That's awkward to do, especially when I'm getting into my stride.
Okay, it's pretty obvious that I like buttons, but what do the buttons on this watch actually do? There are five buttons in total-start/stop, back, light, up, and down. It's all very Garmin, and all very intuitive, particularly if you've owned a Garmin sports watch in the past. It means that you'll be able to strap this watch onto your wrist and hit the ground running (pardon the pun!).
Display
As we have come to expect these days, the screen is made of chemically strengthened glass. In theory, this should make it tougher to break and better withstand scratching. The sunlight-visible screen means you can easily read the display even if the sun is shining on your back.
The 1.04″ color display is more than adequate as it's all very easy to read. The quality of the display, at 208 x 208 pixels, isn't groundbreaking by any stretch of the imagination, but it will without a doubt do the job for you.
One cool feature that I like with Garmin sports watches is that you can change the watch face. It's possible to personalize the face to whatever you want, and there are lots of different faces available to download in the Garmin Connect IQ marketplace.
Training
This is probably the most important aspect of the watch. It is, after all, the main reason for buying a GPS running watch. A bug bear of mine with a number of GPS watches is how long it can take to lock onto your location. Some of my older devices can take a few minutes before I can get going. Thankfully, the FR45 locks onto your location pretty fast, and you should be able to begin running within 30 seconds of leaving the house.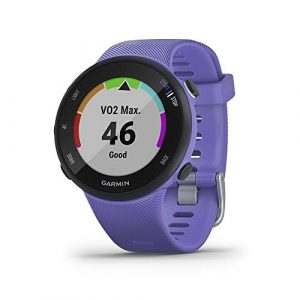 You will now be able to properly track your runs, the distance you've covered, and your pace broken down into intervals. If I'm heading out on a training run, then I find it useful to know my average pace alongside my current pace. This means that I know whether I need to speed up or slow down. Of course, it all depends on what it is I'm trying to achieve. This type of activity tracking can really help push you along in your training program.
As this is predominantly a running watch, I'm really only going to be able to delve into the running features. It can be used in a limited manner for other sports, such as cycling and yoga. It's also waterproof to a depth of 50 meters, although, rather annoyingly, it doesn't have any swimming functions included whatsoever. My advice to you is, if you're considering using this for sports other than running, just don't! There are plenty of other sports watches out there that would be far more suited to your needs.
If, on the other hand, you just want to head out the door and start running, then you can do just that. Just press the start button and off you go. There's no need to put any planning into the run, and your training session will be recorded for you. As it uses accurate GPS tracking, you'll be able to review your training history in some detail should you desire to.
Garmin Coach
Garmin Coach has been designed to help you achieve your running goals. At the outset, you set your running goals and choose a running coach from three options. The Garmin coaches are as follows:
You will then receive some free training plans and workouts that can be synced with your Garmin watch. All you need to do is follow the training plan and record your progress.
This is a great tool for keeping you motivated and on track to achieve your running goals. Best of all, however, it's free – there's nothing to activate and there's no ongoing charges, so you can make full use of it. And honestly, the stuff is as good, if not better than a lot of the paid premium training plans that you get on a number of running community websites.
I have also found Garmin Coach to be useful when it comes to the end of one of my training plans i.e. when it gets close to 'race day'. It tempers my enthusiasm and locks me into a proper tapering plan, which I have always found pretty difficult to do.
My natural instinct is to keep running long distances prior to the event with little regard to the science of tapering. Clearly, this is a terrible strategy and one that can cause injuries or, at the very least, a sub-par performance on the day. Using the Coach feature, however, ensures that I taper properly, and as difficult as it is to hold back, it certainly pays dividends in the long run (again no pun intended!).
Heart Rate Monitoring
The FR45 doesn't use the traditional heart rate strap to take your readings. Rather, it uses a constant wrist-based sensor that measures every second for 24 hours a day. There's also a smart little feature that warns you if your heart rate goes too high or too low. If it shoots up while you're running, then you know you're going to either have to stop for a rest or at the very least slow right down.


Body Battery & Stress Tracking
Have you ever wondered how stressed you actually are during a normal day? Well, the 45 tracks your heart rate 24/7 and therefore your stress level. If it feels like it's getting out of sync, then it may prompt you to do some breathing exercises. It also takes things a little further as it also constantly monitors your normal activity levels. This information you can then use to better understand the best times for you to take some rest and the optimum times for training.
Sleep Monitoring
If you keep the watch on your arm throughout the night, then it will also monitor your sleeping patterns. Sleep tracking is useful for knowing how much deep sleep you managed to obtain the night before. Head over to Garmin Connect if you want to see the exact breakdown of your sleeping patterns in a dashboard format. I must admit the data is rather interesting, and honestly, I don't seem to be getting as much deep sleep as I had expected.
Fitness Tracking
The Forerunner 45 also acts as your fitness tracker, similar to what a Fitbit might do. It will record the number of steps you take in a day along with your BPM. It's useful if you're one of those many people that strive to reach a goal of 10,000 steps per day.

Battery Life
If you use this device in smartwatch mode, then you will happily get a full week of battery life. Turn on the GPS, and you'll get around 13 hours of life. There is plenty of time to cover all of your running distances, except perhaps if you decide to run something crazy like the Marathon Des Sables. If that is the case, however, I'm pretty certain that you're a serious ultra runner and will probably need a sports watch with some additional features for your upcoming feat.
As a rule of thumb, I found that running for around an hour, with everything turned on, uses around 10% of the battery. Bear in mind that it involved full GPS and me pressing and scrolling through the features pretty often. In short, the 13 hours of GPS battery life, is probably accurate enough.
Integrations
You can receive messages and notifications directly on the screen if you've paired it with your smartphone. Receive any smartphone notifications or a text message and part of it will show up on your screen. If you want to read some more, then you can scroll through the rest of the message. It is useful if you have your smartphone with you when you run, but not something I value as I rarely run with a phone.
As with most Garmin wearables, you can sync and connect this device to Garmin Connect. Useful for recording, planning, and sharing your achievements online. It's pretty easy to use, and it provides you with a pretty cool dashboard of all of your stats. If you haven't used it before, you can download it here and try it out.
Emergency Notification
One feature Garmin has begun introducing to their devices is a built-in incident detection feature. For this to work, you will need to have paired it with your smartphone. In order to activate any SOS signal, you simply hold down the top left button. A pre-defined person will then receive a notification that you have been in an accident and that you require assistance. It will also tell that person where you are located via a Google map location pin.
What's in the Box?
There are three things to be found when you unwrap the contents of the box. The Garmin Forerunner 45 naturally includes some documentation and a charging cable.
Our Garmin Forerunner 45 Review
Final Thoughts
This is a good value, easy-to-use running GPS watch. It's well-designed, lightweight and comes with plenty of useful running features. It may not be the most robust watch available, but unless you're a serious polar adventurer, this really shouldn't be an issue for you.
In this Garmin Forerunner 45 review, we've seen that if you're looking to track your progress or to improve your fitness levels, then this is an excellent choice. Throw in the additional health monitoring, smartphone integration, and music controls, and you can't really go wrong.
In short, this running GPS watch is perfect for any beginner runner but can also serve more experienced runners too.
Garmin Newest Forerunner 45 GPS Smartwatch 42mm, Lightweight, Waterproof, Wellness & Sport Tracking, 24/7 Heart Rate Monitoring, Bluetooth, Coach 2
【Wellness tracking】 Wear this Forerunner running watch 24/7 to monitor daily steps, distance, calories burned, all-day stress, and even sleep.
【Safety and tracking】 This watch includes incident detection (during select activities) and assistance, which both send your real-time location to emergency contacts. Live tracking allows family...
【24/7 heart rate monitoring】 The Elevate? wrist-based heart rate technology monitors heart rate all day and night with no additional straps required.
【Sunlight-visible, transflective memory-in-pixel (MIP) display】 Features a bright, always-on color screen and a reliable five-button interface that lets you mark laps with just a quick press.
Last update on 2023-11-04 / Affiliate links / Images from Amazon Product Advertising API