Cats are great pets. They are playful, loving, and great with kids. They are, however, also totally independent creatures. In fact, they are so independent that we really don't know what they get up to during the day. They head out through the cat flap in the morning and come back in the evening for their dinner.
Where do they go? What do they get up to? Honestly, unless you track your cat it will be difficult to know with any certainty what their actual movements are. If this is the case how on earth are you to know if your cat is safe and sound if they don't come home of an evening.
One solution is to use a pet tracking device or a GPS collar. Using one of these devices you will be able to track their movements and ensure that you will be able to find them whenever they don't return to the house when called.
Before we take a look at the best gps for cats we will explore where we think your pet cat goes every day. Spoiler alert, it won't be just our guesswork but rather we'll be looking at some data collected by the scientists!
Best GPS For Cats
Last update on 2023-11-04 / Affiliate links / Images from Amazon Product Advertising API
Where Do Cats Go?
A few years ago there was an interesting documentary on the BBC produced by their Horizon team. They set out to investigate "The Secret Life of the Cat". They set out to conduct an experiment on 50 cats that were located in a village in Surrey, which is in the South East of England. This particular village had an unusually high density of cats within the population. It was, therefore, a more than suitable location in helping the scientists work out exactly what the cats get up to on a daily basis. They wanted to better understand their lives once they left in the morning through the cat flap. In other words, where do the cats go and what on earth did they do all day?
The Cat Experiment
All 50 of the cats were fitted with a special GPS collar. This collar recorded and monitored their movements over the period of the week. In order to assist the team with their understanding, they also installed a number of cameras around the locale. Studied alongside the GPS better that they would be obtaining these visual images would provide a better and fuller understanding of the cat activities.
What did they find?
The results would rather surprising. They found that on average that each cat remained pretty close to their home. Most of the cats only travelled around 50 to 100 metres away from their homes. Rather interestingly what they did do, however, was to patrol these areas regularly. They spent their days by going around and around the same pieces of land over and over again. In other words, therefore, they covered a lot of ground without travelling that far away from their home.
The findings of the scientists as a result of this week-long experiment does provide some reassurance to cat owners. Knowing the likely whereabouts of your cat does provide some comfort. In all honesty, it appears that your pet cat doesn't venture too far away from the house. If this is the case, however, how on earth can we explain the high volume of pets that go missing every year?

Missing Pets
The American Humane Association have estimated that around 1 in 3 of cats and dogs will go missing at some point in their lives. In the United States alone, approximately 10 million pets go missing every year.
Let's stop and think about that figure for a moment. 10 million pets go missing each year in the US alone.
Wow!
That's an absolutely staggering figure that's quite upsetting to read. Clearly, there are many different reasons as to why pets go missing. Perhaps the garden gate was accidentally left open, perhaps the dog escaped from the leash, or perhaps the family cat didn't return for their food one evening. Whatever the reasons for the disappearance of a pet each individual story can be both upsetting and traumatic for the families involved.
It goes without saying that losing a pet, any pet is a traumatic experience. Indeed, I can certainly sympathize having had a couple of incidents over the years with our pets.
Our Missing Pet Story
A few years ago we couldn't find the family dog for a few days. It transpired that we had a damaged fence at the very bottom of the garden that had provided a means of escape. We had had some pretty bad storms over a few days and unbeknownst to us, the garden fencing had collapsed in part. Naturally enough, the dog, being the curious creature that she was, took the opportunity to head out and explore the big bad world completely unsupervised.
I can vividly remember the panic and the emotions at the time as we frantically tried to locate the dog. We searched everywhere in the locality – neighboring gardens, playgrounds, and the nearby fields but to no avail. We suspected that she had initially gone to sniff around another dog who lives a couple hundred meters away from our house. However, there really was no sign of her and nobody had seen her walking around.
We put up some posters around the town and contacted as many people as possible that may be able to help us. The kids were really distraught, and each passing hour made us all the more upset. Where on earth could our dog 'Missy' be? 
Anyhow, to cut a long story short we thankfully received some news on the third day. Our local animal shelter had found Missy and she was safe and well! Well, that was just the best news that we'd received all year. Needless to say, we headed straight out to the animal shelter and collected our little furball! Apparently an elderly lady had found the dog on the street and had brought her into the shelter. She had been so taken by the dog that she wanted to keep him.
The rules of the shelter are that if the real owners aren't found then she would have an opportunity to provide her with a home! Crikey, I thought how lucky were we to have had Missy chipped with her electronic ID. This meant that the vet could scan her shoulder, find the details of the dog and get in contact with us as the owners.
As a result of that dreadful experience, we now have both our cats and dog fitted with pet GPS trackers. It means we can always look up to see exactly where they both are at any given time.
Through the process of trial and error, we also learned a few steps to take if you find yourself in a similar situation. Hopefully, by sharing them below they will help you stay calm and stay focused if you're unable to find your pet.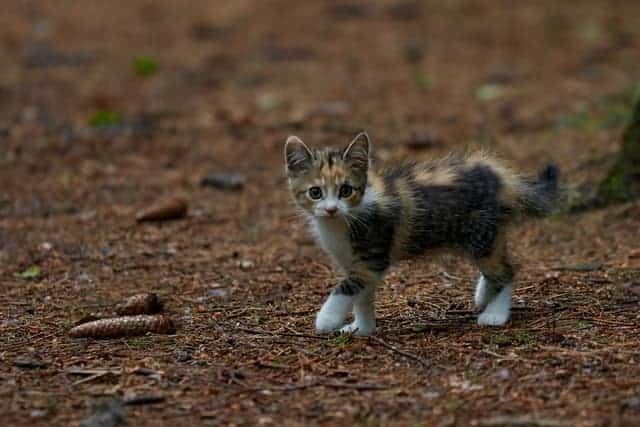 What To Do If Your Cat Goes Missing?
If your pet goes missing there are a number of steps that you should take in order to maximise your chances of getting your cat back safely.
Don't Panic
First of all, and perhaps most difficult of all to do, you should not panic. Yes, emotions will be running high and yes you will feel a sense of panic, however, keeping a clear head and being organized will provide you with the best possible set of circumstances to get your cat back safely.
Check Your Home
They could be for the cast you simply hiding somewhere within your home. Make sure you check you're home early before venturing outside carry out continue your search. perhaps the cat is hiding under the bed or else is asleep somewhere within your home.
Don't Delay 
Mobilise yourself immediately. The faster you get out there and start looking then the better the chances of finding your pet.
Get Some Help
Get as much help as you can as the sooner you're out there searching then the more likely you'll be to fing your pet. Get you friends in the neighbourhood, your kids and their friends too to help you look for the cat. Share a photograph with everybody that's searching and make sure they know the name of your cat. For coordination I'd also recommend making sure that you have everyone's telephone phone details. After all, you will need to coordinate with people to ensure that you're not covering the same areas as each other. Being organised and efficient will increase the chances of a favourable outcome.
Contact Your Local Animal Shelter
From time-to-time, well-meaning members of the public will find a pet, presume that they are lost and bring them to the local Animal Sanctuary. Give them a quick call, you never know they may well have your cat in the shelter.
Flyers and Posters
If after spending a few hours looking you, unfortunately, haven't found your cat then start planning the next stage. You will need to put up posters or flyers of your missing cat. These posters should include a photograph of the cat along with its name and your contact details. Some owners will also provide a reward for the safe return of their pet, but honestly, I believe most people will do the right thing regardless of any reward offered. 
Get a Pet GPS Tracker
Losing a pet even if it's only for a few hours can be extremely upsetting. Fitting your cat with a GPS tracker will provide you with some peace of mind. This way you will be able to fully track the movements of your cat and know where they are at any given moment. And guess what? It's also super interesting to find out where they go during the day and see where they have been venturing.  Most importantly of all, however, you will be able to locate them quickly and easily if they don't come home of an evening. 
What is a Cat GPS tracker?
A cat GPS tracker is a device that enables you to follow and track the movements of your cat. It can provide you with peace of mind as you will always know the exact location of your pet. Parents could also use the same technology in order to keep track of their children!
The GPS is fitted by means of a collar and it will replace the normal collar of your cat. The best GPS for cats should involve a collar that's lightweight, waterproof, and have long battery life. It must fit comfortably and not impede the cat from carrying out their normal daily activities such as exploring, hunting and playing.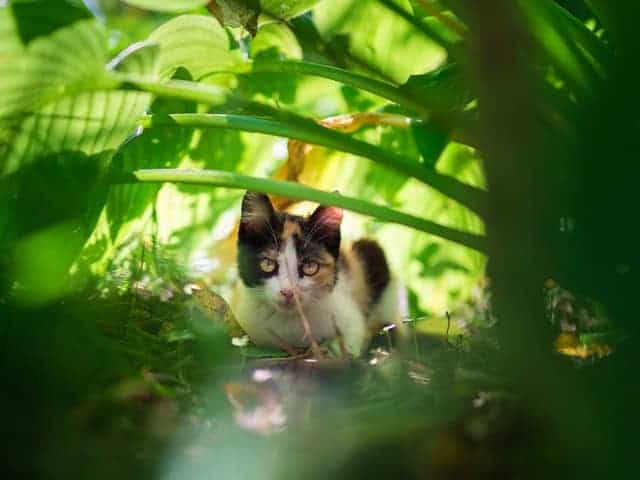 Features Of A Cat GPS Tracker
Lightweight – the last thing you want is to attach a heavy device to your cat's collar. look for the GPS collar that weighs less than 40 grams. After all you don't want to be a heavy burden on your cat.
Waterproof – yes I realize that cats are notoriously shy when it comes to water however, a waterproof device means that it will survive any rain and enable the cat to explore through the wet grass.
Easy to use – the best cat GPS trackers will work straight out of the box. They should be easy to use and provide you with straightforward and clear information as to the whereabouts of your cat.
Pricing – there are a number of different GPS trackers available on the market. Some of these devices will require a monthly subscription in order for the GPS tracking to work correctly. There are also other devices available that require larger upfront payment with little to no monthly subscription. It's worth checking out the best solution that meets your budgetary needs. 
Best Cat GPS Trackers
There are a number of different cat GPS trackers available on the market today. So in order to save you some time and to help you choose the best GPS for cats, we have narrowed it down to the four below.
Last update on 2023-11-04 / Affiliate links / Images from Amazon Product Advertising API