Are you looking for to arrange something different for a child's birthday party? If you're like me, then you've probably exhausted all the usual party ideas. I've arranged cinema trips, pizza restaurants, fancy dress parties, princess discos and various indoor ball parks for the kids.
I have to admit that it was my husband who came up with the idea. He suggested we arrange a geocaching party?
Geocaching Party
My first reaction was that I love geocaching, but organising a geocaching party for kids?
Honestly, just saying those words out aloud sounds like it would involve a ton of organisation and work!
After all, all I do is search for geocaches. It's a hobby of mine that I dearly love. It can be great fun and a bit of an adventure, and logging your find can become rather addictive!
I have never hidden a geocache before and, if I'm honest, I wouldn't know where to start! My children accompany me on plenty of my geocaching trips and they love it.
If you haven't taken your kids' geocaching with you just yet, check out our previous article on geocaching with kids. This should help provide you with ideas of how you can make geocaching a really fun day out for the family.
Ok, so the idea of a geocaching birthday party was taking shape.
After all, if you're turning 10, a party where you go looking for treasure sounds pretty cool, right?
Getting Started
If you're new to geocaching with kids, then don't worry, it's pretty easy to get started. All you need are some GPS devices and some handy accessories, some supervising adults and a sense of adventure. For a kid's party, you're probably going to limit the journey to a certain section of a park or a garden and you won't need all the stuff that we ordinarily carry in our geocaching backpack.
The difficulty shouldn't be too hard: remember that, depending on their ages, it might take a little longer for kids to get used to using GPS units and coordinate systems.
And if the children are too young to use a GPS device, then it would be better to use a hand drawn simplified map with plenty of diagrams.
Here are five ideas that you could use to arrange and theme a geocaching based children's party……
Pirate Treasure Search
The best place to carry out a search for any pirate treasure surely has to be on the beach.
In order to grab the imagination of the children, you can paint them the picture of how years ago pirates used to roam the oceans seeking their treasure. They were fearsome people with fast ships and sharp swords! They also used to hide the treasure that they had stolen near the beach upon which the children are standing on today……..their job is to follow the map, solve the clues and find the hidden pirate treasure!
After receiving the treasure map, the game begins: Each map contains a hint of the next location. The children will have to solve the clues, follow the hints until they come to the last location. This is where they will find the treasure chest that will contain plenty of goodies!
The treasure can be goodies or even small trinkets that are suitable for the children of all ages. We found this plastic treasure chest that would be suitable for hiding on the beach.
The Fairy Forest Tour
This is a super way of getting the kids out into the forest exploring. The idea is the children each receive a map and follow a predetermined trail through the woodland. The map details the location of a series of different fairy houses hidden at the foot of the trees. Children have to answer questions about each location before being given a clue for the next location.
There are parks that already have these types of walking and exploring tours set up. This is great news as it means it's much easier for parents; all you need do is turn up and supervise the walk!
We found a great example of a fairy adventure walk at Ardgillan Castle Gardens in Dublin, Ireland. Visitors can download and print both a simple map and a short quiz in advance.
Provide these to the children at the beginning and let them walk through the trees trying to finding the various wooden fairy houses.
If you cannot find a similar fairy trail in your neighbourhood, then with a bit of thought, it can be pretty straightforward to set up a small adventure and a simple quiz.
Detective Mystery
Sherlock Holmes should provide plenty of inspiration for a budding detective. The children could be told of how a famous painting worth millions was stolen from a prestigious art gallery.
The thieves had been, however, disturbed by the police during their getaway. And in their haste to escape, they had hidden the painting somewhere in your area. They are obviously planning upon returning in the future to collect their ill-gotten gains.
The children, have therefore, given the hugely important task of solving clues in order to move from one location to the next and to find the painting.
Similar to our other ideas, they should discover the painting at the last location.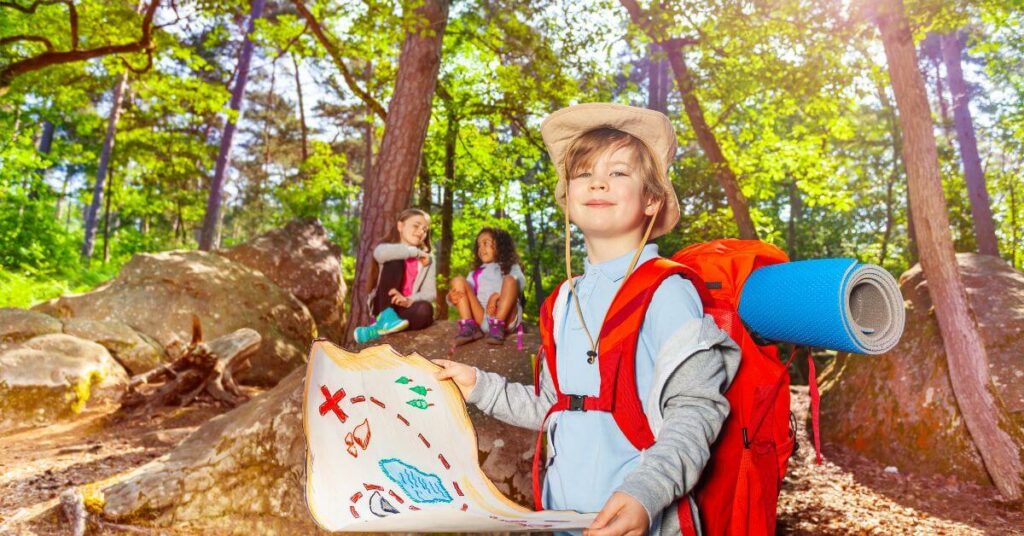 You can also make it more interesting for them by letting your imagination run wild. Perhaps the thieves dropped an item during their escape that will provide a clue towards the next location? A muddy footprint pointing may provide a clue as to the direction of travel by the thieves?
A (Real) Geocaching Adventure
If the children are a little older, then they can use a GPS device to find actual geocaches. Geocaching can become the primary focus, rather than one based on a simplified treasure hunt.
The best approach may be to choose an area in your vicinity that has a high number of caches hidden close to each other. Look for a series of caches that the same person has hidden. They usually number these, making it easier for people to move from one cache to the next.
I would recommend that you filter the caches you to choose to make the game a little easier to solve. You can filter the difficulty, the terrain and the size of the geocache to ensure that it's suitable for everybody.
It's important to ensure that the geocaches you choose aren't too difficult as otherwise the children will lose interest in the game. Keep it easy enough to solve but difficult enough to keep them engaged!
Hopefully the kids have a lot of fun. If they get a taste for geocaching and want to continue once the party is over, then they may need to get a proper GPS. Check out our reviews of the best handheld GPS for hiking and geocaching.
Geocaching Birthday Parties Are Fun!
Hopefully, the ideas above can help you plan a geocaching based birthday party for your children. It's an opportunity to let your imagination run wild and provide them with a unique experience. You can incorporate unicorns, soldiers, pirates and cuddly animals into the adventure.
All these ideas involve getting the children to go outside, engage with nature, solve puzzles, learn how to work together and, most important of all, have lots of fun with your geocaching birthday parties!