Golf is a popular sport that provides plenty of benefits to those who play – exercise, fresh air, and an opportunity to socialize. Any half-decent sportsperson, however, will want to play as good a game as possible.  In golf, this means finishing your round with as few strokes as possible. 
Now, what if I was to say to you that there may be a way to obtain a legitimate advantage over your fellow golfers – would you be interested? I'm guessing that the answer is probably going to be a resounding yes! I mean why else would you have landed on this page, right? 
In this Garmin Approach S40 review, we will examine whether this golf GPS watch can benefit your game. Does the provision of additional data provide you with a competitive edge on the greens? Let's go ahead and take a deeper look.
Garmin Approach S40 Review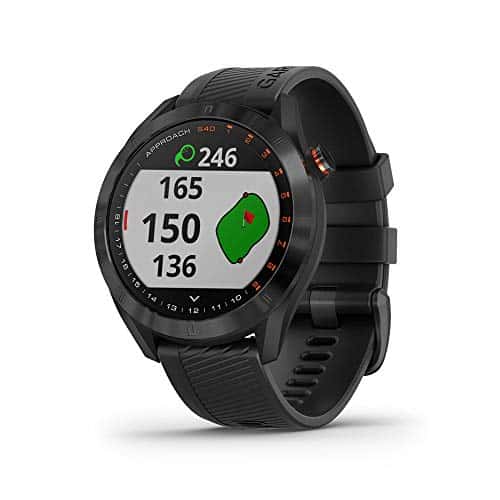 Pros:
Auto Shot Detection
Green View Feature
41k + of Pre-loaded courses
Sunlight Readable Display
Color Touchscreen
Use as an Everyday Watch
Cons:
There may be a bit of a learning curve
No Proper Multi-Sport Functions
Design
The S40 has a sleek and minimalistic design.  This is a lightweight watch that sits comfortably on your wrist and most importantly of all, it doesn't impede your golf swing. It's an attractive watch that you could happily use as your everyday watch. A neat feature is the ability to quickly release the straps and change them to suit the occasion. Perhaps you might prefer a leather strap for an evening event or leave the silicone strap for a run around the park.
The screen itself has been constructed using chemically strengthened glass. If nothing else this should help keep those scratches to an absolute minimum. The face is surrounded by a metal bezel that details the numbers 1 to 18. These depict the number of holes on the golf course and help you keep track of where you are on the course.
Display
The watch has a color 1.2″ touchscreen display that can be easily read in the brightest of sunlight. This means that you will be able to read the screen with no difficulties on the course.
The screen resolution of 240 x 240 pixels however won't be setting any records, but it is more than sufficient for highlighting the course you are playing. After all, you aren't going to be watching videos on the screen!
As this is a touchscreen-enabled device, there is only one button on the side of the device. All of your navigation is done by tapping and swiping the screen. If you tend to play golf in cold weather while wearing gloves, then this is definitely something to bear in mind. In practice, wearing winter gloves while using touchscreen devices tends to be a frustrating experience. If, on the other hand, you are more like me and only play your golf in good weather, then you should be okay.
Features
The Approach S40 is first and foremost a golfing watch. It comes preloaded with information on over 41,000 golf courses. As you'd expect, it provides you with details of the golf course that you're about to play.
It shows you the various distances, the location of the pin, and the makeup of the green area. It gives you the ability to swiftly check the front, the middle, and the back of the green. All of this data is designed to provide you with information to improve your game.  After all, knowing the hazards up ahead and the distances required to get up there will give you a head start at the tee.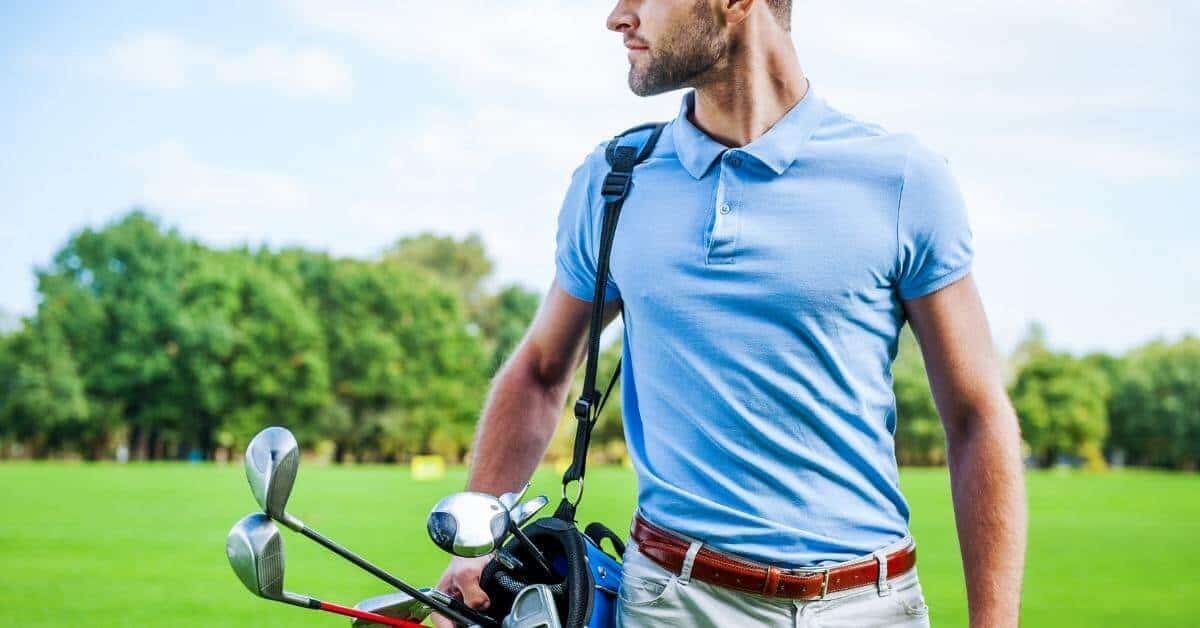 Golfing Features
Hole View
This feature provides you with the details of the hole you are currently playing. The screen will highlight the number of the hole according to the numbers that are fixed on the bezel. Remember we mentioned those earlier? 
It will provide you with an overview of the green with an indicator marking the location of the hole. Furthermore, you also get the distances from wherever you are to the front, the middle, and the back of the green. Being provided with accurate yardage information can give any golfer some real insights that can really help to improve your game. 
If at any time, you find yourself struggling to read the display, then you can easily increase the size of the numbers. The big numbers function is activated by holding down the button on the side and heading over to the settings.
Green View
As you play your round of golf, you can study the green of any particular hole in more detail. A rather useful feature is that you can move the location of the pin and the device will recalculate the distances for you.
Auto Shot Detection
This feature records each shot you take and notes your location on the course. This means that you will be able to mark your progress each time you play but also analyze your game further at home. To make the most of the measurements it's recommended that you wear it on your leading wrist.
Oh, and they also recommend that you make good contact with the ball! I'm not sure what the manufacturer thinks I'm trying to do when I'm at the tee? Clearly, they don't think I can hit a ball properly and get that good contact with the club! It also probably explains why this feature does not record your putting. 
Club Sensors
If you want to track every shot that you take using all of your clubs, then it may be worth considering the Approach CT10 system. This is a set of sensors that you attach to each of your clubs and then pair with your golf watch.  As soon as you take any club out of the bag, then the sensor will provide the details and have it displayed on your watch. This club tracking feature also works for your putting game.
Using these sensors will provide you with a dizzying array of information and give you some answers as to how you will perform on the course. How far is your longest drive? What's your average driving distance, and how many putts do you typically require to pot the ball? It really is great data from a simple sensor.
All of this information is collated, and you can dig into the data at home using the Garmin Golf app. This is the kind of information that will enable you to identify and improve certain aspects of your game. 
Fairway Hazards
This feature, perhaps, is the most useful and certainly something that we've found can improve your scores. If there are hazards, doglegs, or a layup that may cause an issue on your turn, then these are highlighted on the screen. Furthermore, you get the distance to both the front and to the back of that particular hazard. This means that you have no excuses for a lack of accuracy in not avoiding that bunker! At the end of the day, your scorecard will more than likely, thank you!
Smartwatch Features
As you may have guessed, this is predominantly a golf watch. That being said, it does have certain smartwatch functionality. If your watch is connected to your smartphone, then your notifications will appear on the display. You also get some widgets that provide some additional functionality. These include a stopwatch, a step counter, activity tracking, and, interestingly enough, a sleep monitor. In addition, you can check the weather and the sunrise and sunset times. This is all important information if you're going to be planning your next round of golf.
The function we enjoyed the most, however, during this period of worldwide lockdowns was the Move Alert. Many of us are currently working from home and therefore sitting in front of a computer for long periods of time. Clearly, this isn't optimal for our health, and therefore after around an hour of inactivity at your desk, you get a Move! notification. Seriously, it's a great little reminder although, the downside for me is that I've never drunk so many teas and coffees!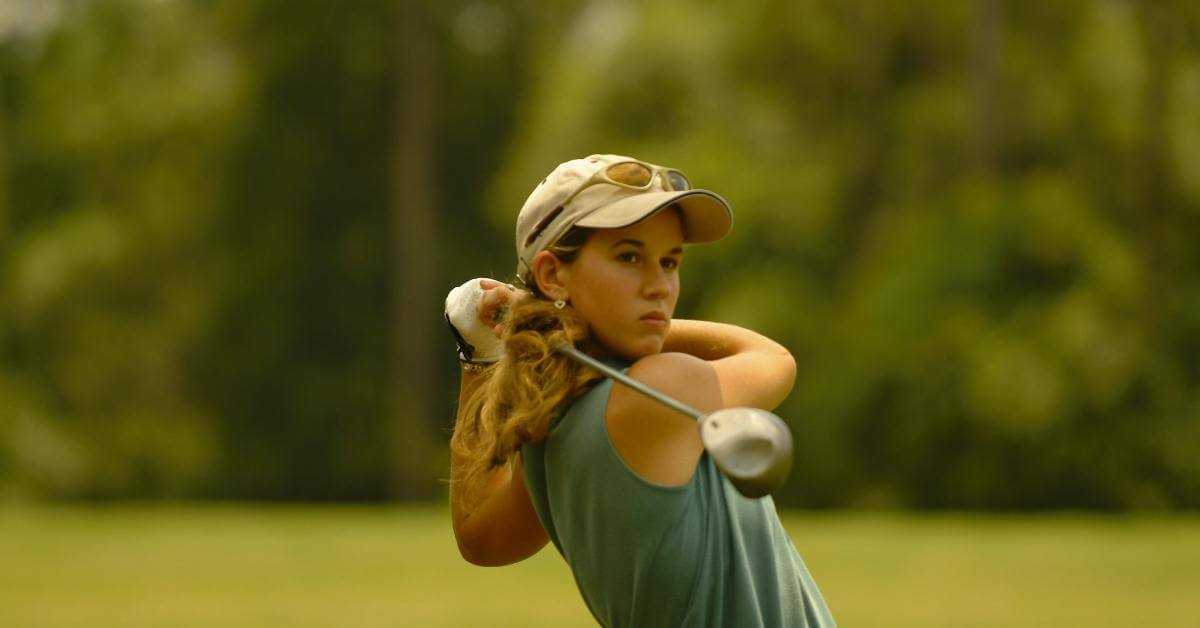 Battery Life
How long the battery lasts on any smartwatch is an important consideration. Terrible battery life can make an otherwise excellent device unworthy of consideration. Thankfully, the battery on the S40 can last up to 10 days on your arm like a smartwatch. Switch on the GPS functions (which are needed when you shoot a round of golf) and you can expect to get 15 hours before you need to go and recharge it. That's ample time for a round of golf and a catch-up at the nineteenth hole before heading home!
Conclusion
This is an excellent golf GPS watch. It provides you with plenty of data, and it certainly has the ability to raise your game to the next level. This is particularly true if you harness and use the information it provides correctly. 
In my opinion, this is a great option amongst all the various golf watches on the market. Will it help you play the jaw-dropping golf that we'd all love to be able to do? No, not quite. What it will do, however, is help you identify the areas of your game that you can work on. And, in that sense, it will most certainly help you improve your game, particularly if you were to pair this golf GPS watch with the golf club sensors too.
In short, this is a dedicated golfing watch at a decent price. It hits the sweet spot that many mid-range options do between price and features. Within the Garmin Approach golfing range, it provides some excellent features without the additional price tag of its big brother, the S60.
FAQs
Is the Garmin S40 waterproof?
The S40 has a waterproof rating of 5 ATM. This means that it can withstand the pressure of 5 bars to a depth of 50 meters. What does this mean in practice? Well, the watch is most definitely showerproof, and you can happily have a swim with this on your wrist. It isn't, however, something that you'd want on your wrist if you're planning on some deep-sea diving!
Does the Garmin S40 have a heart rate monitor?
Unfortunately, the S40 is not compatible with a heart rate monitor. It can, however, provide location details, measure the distances you have traveled, and so forth. 
How Can I Update the Garmin Approach S40?
Updating the courses on your S40 is initially a little cumbersome. This does appear to be an unfortunate requirement for users within the Garmin stratosphere and one about which there have been numerous complaints by users over the years.
First, you will need to have the Garmin Express software installed on your desktop computer and the Garmin Golf app on your smartphone. This will provide you with updates to the golf course details on your watch and any software updates that may be required to keep everything running smoothly.
Once you have everything you need installed, then the next time it becomes easier – an almost straightforward task!
Is the Approach S40 tournament legal?
Yes, it is most certainly tournament legal. Garmin released a press statement confirming this way back in 2016. However, they have since clarified that certain functions should not be prohibited during competition. These are the Plays-like-Distance and Club Advice features. In order to keep within the spirit of the game, these functions should be turned off during competition. Thankfully, this does not apply to the S40 as it is only included with its big brother, the Approach S60.
What's the difference between the Garmin Approach S40 and S60?
There are some fundamental differences, mainly related to the number of features that are included with the two devices. The more expensive S60 is rather more feature-laden and can provide you with plenty of additional stats.
Check out our direct comparison between the Garmin S40 vs S60 here.
Should I buy the Garmin Approach S40 or S60?
Honestly, it depends on your needs. If you're a regular golf player that will devour your golfing data and the various stats then it would probably make sense to fork out a little more and purchase the S60. 
If, on the other hand, you want a solid and attractive-looking dedicated golf watch, then you will be more than happy with the S40. In other words, both devices can perform admirably for you and should help you improve your game. 
Where can I find the manual for the Garmin Approach S40?
Ok, so you've misplaced your manual? It happens. Use this link to browse a soft copy of the manual.