The Garmin Drivesmart 65 is the company's premium automotive GPS. It's the device that comes with all the bells and whistles, including built-in integration with Amazon Alexa. It has a large high-resolution display and uses TripAdvisor ratings and Foursquare POIs. The question we have, during our Garmin Drivesmart 65 review, however, is simply this: should you consider buying this GPS navigator or should you look at alternatives?
Garmin DriveSmart 65 Review
Features
Built-In Amazon Alexa
Large 6.95 inch Screen
Live Traffic & Weather Updates
TripAdvisor & Foursquare POIs
Plenty of Handsfree Features
Highly Customisable Displays
Design
The first thing that strikes you about this GPS navigator is the sheer size of the screen. It's enormous beside my older TomTom Go with its 7-inch display.
Somehow Garmin manages to design slimmer devices than their rivals TomTom. They have less material surrounding the screen, and that means that despite having a larger screen, they don't appear as chunky.
The display itself is sharp and crisp thanks to a higher resolution of 1024 x 600 pixels and the white backlight. It's a multitouch screen meaning that you can pinch and zoom in and out of areas on the maps – useful for when you want to take a closer look at a particular junction. 
The power button is on the top right-hand corner as you look at the rear of the device. There is also a speaker, a MicroSD slot, a mini USB power slot, and a circular ridge where the mount is attached.
At the very top of the GPS, there is a button to activate the Amazon Alexa voice features, and on either side, there are two small microphones.
What's in the Box?
Vehicle suction cup mount
Vehicle Power cable
USB cable
Instruction Manual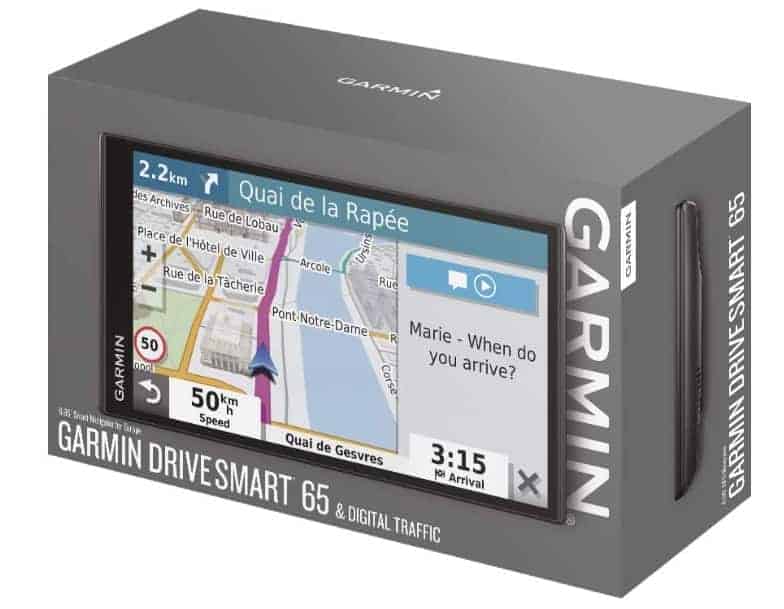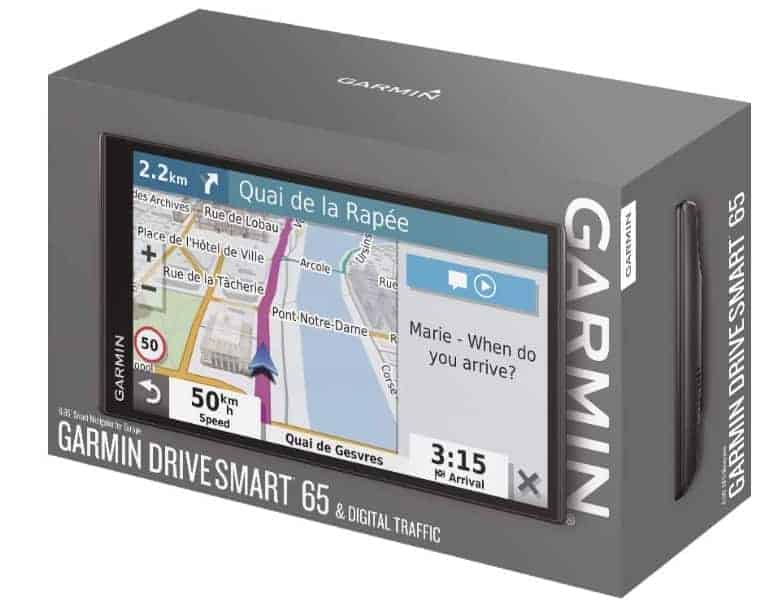 Navigation
The Garmin Drivesmart 65 does what you'd expect it to do. That is, it gets you to where you need to go. The maps are easy to read, and the navigational instructions are easy to follow.
Take a wrong turn, and the Garmin is quick to recalculate your route. You may need to do a u-turn, or perhaps you can take the next turn to get back on track. Either way, the whole process of rerouting feels smooth and works as it should.
As you drive, the Garmin will also warn you of any potential hazards that are on your route. These might be steep gradients or very sharp turns. Helpful driver alerts means that you can prepare yourself and drive safely around potential hazards.
Whilst the hazard warning will make for safer driving, there is still no substitute for using your own eyes.  After all you don't really want to trust the GArmin drivesmart 65 gps entirely for railroad crossings and low bridges!
The US Department of Transport has published a list compiling all road hazard signage. It's useful to know what those signs you come across from time to time  actually mean. You can check them out here.
As is normal with a Garmin GPS you will need to use Garmin Express in order to obtain software fixes, a map update, additional foursquare points, 3D buildings and updates to any notable parks and notable historical sites.
In other words, just make sure that your Garmin GPS is kept up to date to ensure you receive the latest and most accurate street maps information.
Garmin Real Directions
The navigational instructions from Garmin use real-world examples. Instead of being told to turn left at 200 meters, you turn left after the 'upcoming statue'.
Honestly, it took a few trips for me to become familiar with these types of instructions. Once done, however, I found them to be relatively accurate and a far more interesting way to navigate unfamiliar areas.
Live Traffic
Being able to avoid traffic jams makes driving much more pleasurable. Nobody likes having to sit in traffic. Worse still, it's usually pretty difficult to ascertain why exactly you might be in a bottleneck in the first place. So many of them seem to have no reason whatsoever!
Thankfully, Garmin traffic will warn you of any issues or accidents ahead and provide you with alternate routes. For the traffic updates function to work, your Garmin will need to have downloaded the Garmin Drive app so that it can access the latest information and provide alerts and smart notifications.
Real-Time Features
By using your smartphone, Garmin can provide you with some real-time information. These include live streams from monitoring cameras at major road junctions, which are useful to know whether traffic is flowing.
Alternatively, you could obtain live parking data from many city centers, which could potentially save you a lot of time by not having to drive around until you find a parking space. 
Mounting System
There is a suction cup with a levered arm that should snap down to attach to the windshield securely. The mount is then attached to the ball at the end of the arm. Once in place, you can join the GPS to the mount.
I'm happy to report that the adhesion is stable, and you shouldn't have the device falling away from the window.
Setting Up
To get all the benefits of this GPS, you will be required to download a couple of apps. Download the Garmin Drive App and then pair your smartphone with the GPS. Once done, this provides you with access to the Garmin Live services.
You'll get traffic and weather updates along with the pretty nifty photo live traffic cameras that show you real-time pics of major junctions etc.
Once you have downloaded the app and synced it to your phone, you should be good to go and can start using the voice-activated commands.
Always remember to speak clearly with the device as there is often background noise when you are driving. I know our car has the radio playing constantly, and the kids will be singing and sometimes the dog will also be making noise. 
To begin Voice-Activation, you have three options:
Press the button on top of the Garmin
Say, Ok, Garmin….
Say, Alexa….
Garmin Voice-Activation
As an example, you could ask the following question of your Garmin: 
"Ok, Garmin show me where the nearest pharmacy is?" 
And guess what? Garmin will show you the distance and how you get to the nearest pharmacy. You can then change your route to get you to the nearest pharmacy. All done while you keep both hands on the wheel.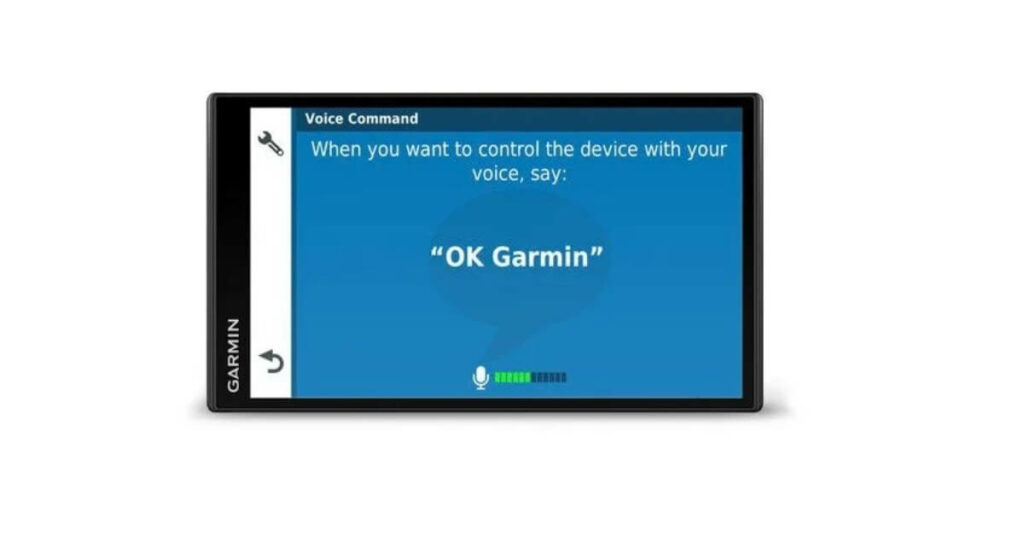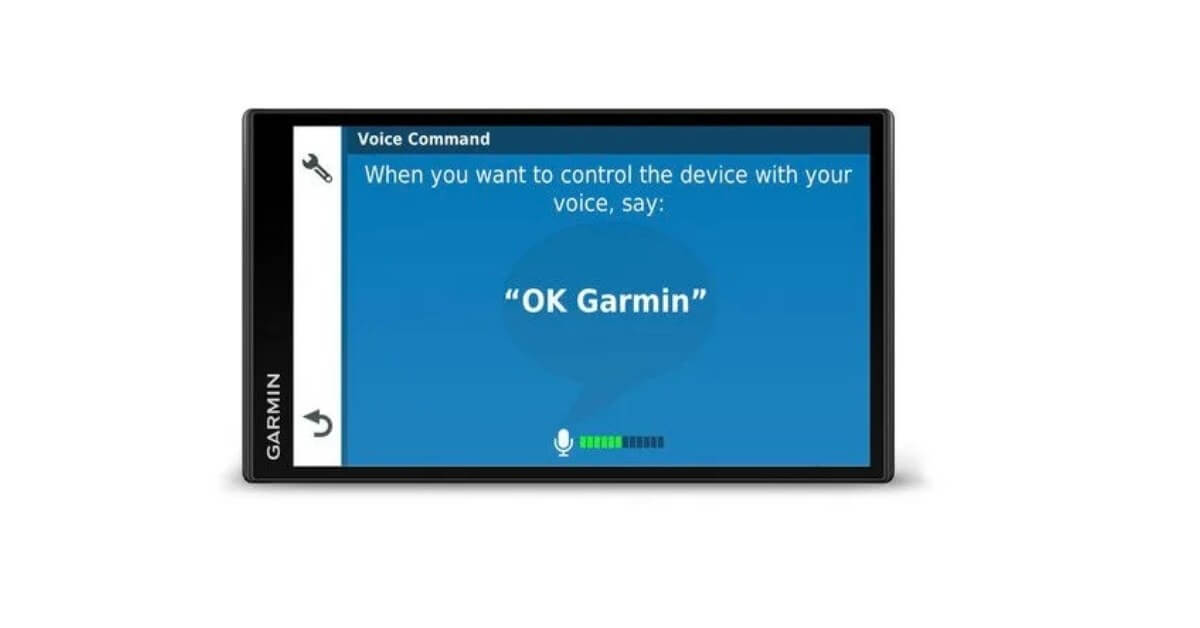 Alexa Skills
By utilizing the built-in Alexa, you can make your life much more comfortable. Alexa can, of course, play you some music, read the latest audiobook or provide you with weather updates. You should, however, try and use the integration to its full capabilities and make use of Alexa skills. 
Alexa skills are probably best described as Alexa specific apps. There is a whole range of Alexa Skills, and you can integrate further with your smart home.
How about turning on the living room lights? Or perhaps turn up the volume of the living room TV to make people think somebody is at home? The possibilities are almost endless as there are always new skills added to Alexa. 
Our family favorite at the moment is the Song Quiz. 
This quiz is great fun in the car as you try to guess the titles of your favorite songs. It should probably come with a warning; however, as well let's just say that my family are probably best described as super competitive!
A fun Sunday afternoon drive could potentially turn into a journey of silence……
Direct Access
This feature that made my other half a big fan of the Garmin DriveSmart 65. You can use the GPS to navigate to a particular store in a shopping mall, and it will direct you to the closest parking area and entrance to your destination. This feature made getting around shopping centers and particularly airports with all of their different terminals and entries easier to navigate. 
Road Trips
In my view, this is the area that sets Garmin apart from its competitors. The ability to plan an excursion is an excellent feature if you like to pack up the car and go exploring. Garmin uses the TripAdvisor platform to provide you with ratings of hotels, restaurants and places of interest.
Planning a day trip or even a multi-day trip becomes very straightforward. If however, you're not planning a trip, it can be handy to see places of interest along your route. Great for a stop off with kids. You may get to explore a park or a castle, that you would not ordinarily come across. 
Speed Limits
The Garmin displays the speed you are travelling on its screen. If you go above the speed limit for a particular area, then you will get an audible beep to warn you.
A useful feature that will help prevent you from getting any speeding tickets. Particularly around where I live, the speed limits tend to change regularly on the same stretch of road, and a bit of forewarning by the Garmin has proved to be very helpful.
If however, you're one of those people who find speed changes warning beeps annoying, then you can mute the function in the Alerts and Tones section of the menu.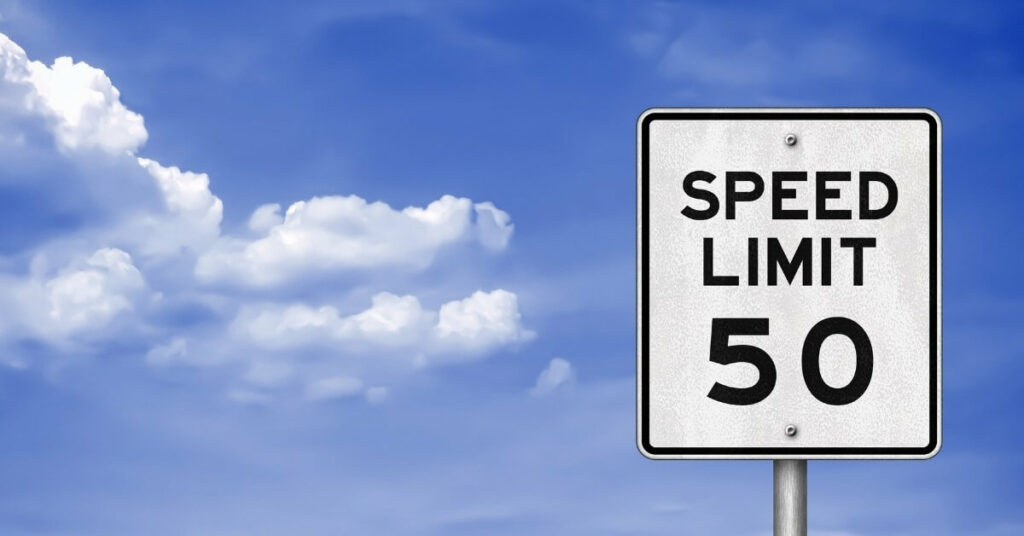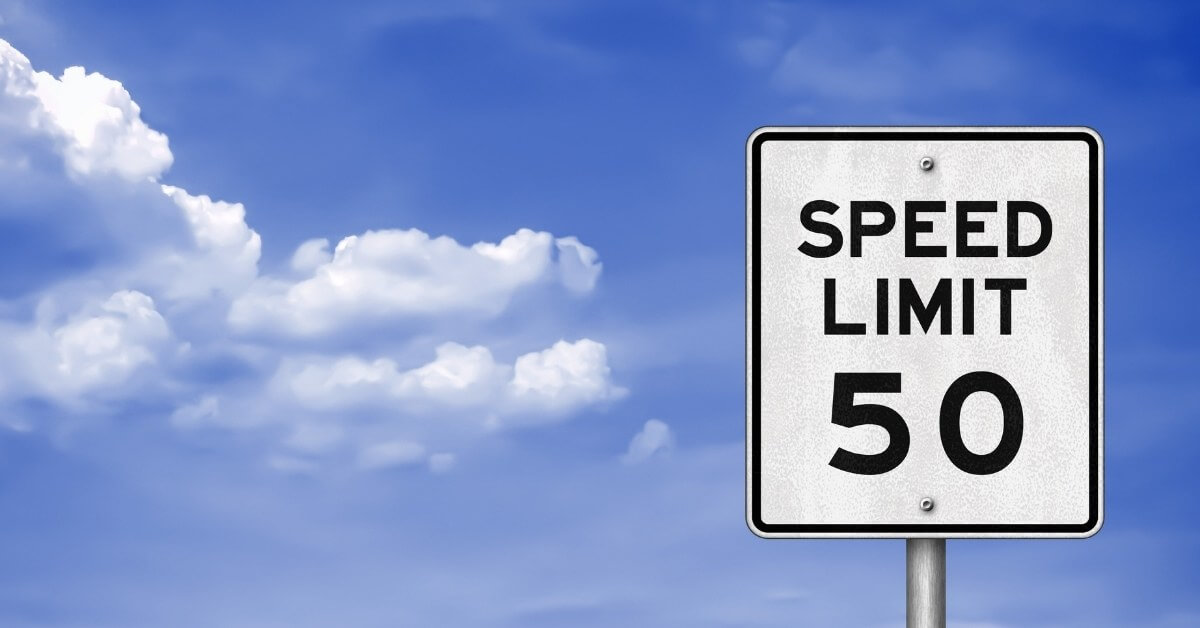 Connectivity
Wi-Fi Updates
As you might expect with a premium satnav these days, you get Wi-Fi updates. This is great as it means you no longer need to connect to a computer using a cable. The Garmin will pick up the WiFi signal, and you can connect for both mapping and software updates. 
Hands-Free Calling
Once you've paired the phone with Garmin, then you can, via voice activation, make your hands-free phone calls. The sound quality is excellent, and the person on the other end was able to hear voices quite clearly.  
Summary
This Garmin DriveSmart 65 is undoubtedly an excellent GPS navigator. It has hands down the best screen quality on the market today. As you'd expect, it does the navigational basics well, and it will get you to where you need to go and enables you to outsmart gridlocks.
It's also a highly customizable GPS, and it's able to convey a whole array of information to you while you drive. Perhaps you want to know what the weather will be like next week, or you're interested in a particular share price. 
The deep integration with Alexa opens up a whole new world of possibilities for the driver via the use of Alexa Skills. Couple this with the TripAdvisor traveler ratings and Foursquare features, then you have lots of information at your fingertips. Or perhaps, in this instance, I should say at the end of your voice!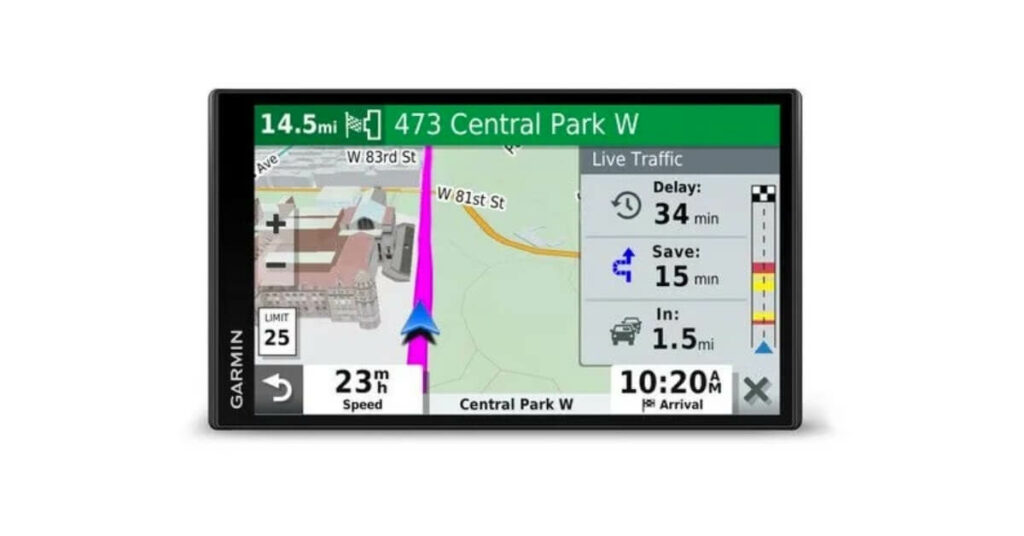 Pros:
Impressive Display Quality
Large Screen
Top-Notch Lane Guidance
Built-In Alexa Integration
Highly Customizable Navigational Layouts
Massive POI Database
Cons:
Rerouting calculations are not always fast
Real Directions Can Be Confusing
Some Rebooting Issues Reported
Final Thoughts…..
The Garmin Drivesmart 65 is a premium product that performs extremely well as a navigational device. There are lots of features and Alexa Skills to explore. Getting the most of this large GPS may take some time!