The TomTom Go Supreme is the company's flagship car GPS. The device will get you to your destination with the minimum of fuss. However, what sets this GPS apart is that it's undoubtedly the most connected GPS device that we have seen. In this TomTom Go Supreme review, we'll take a deeper dive to see if this is a device you should consider purchasing.
TomTom Go Supreme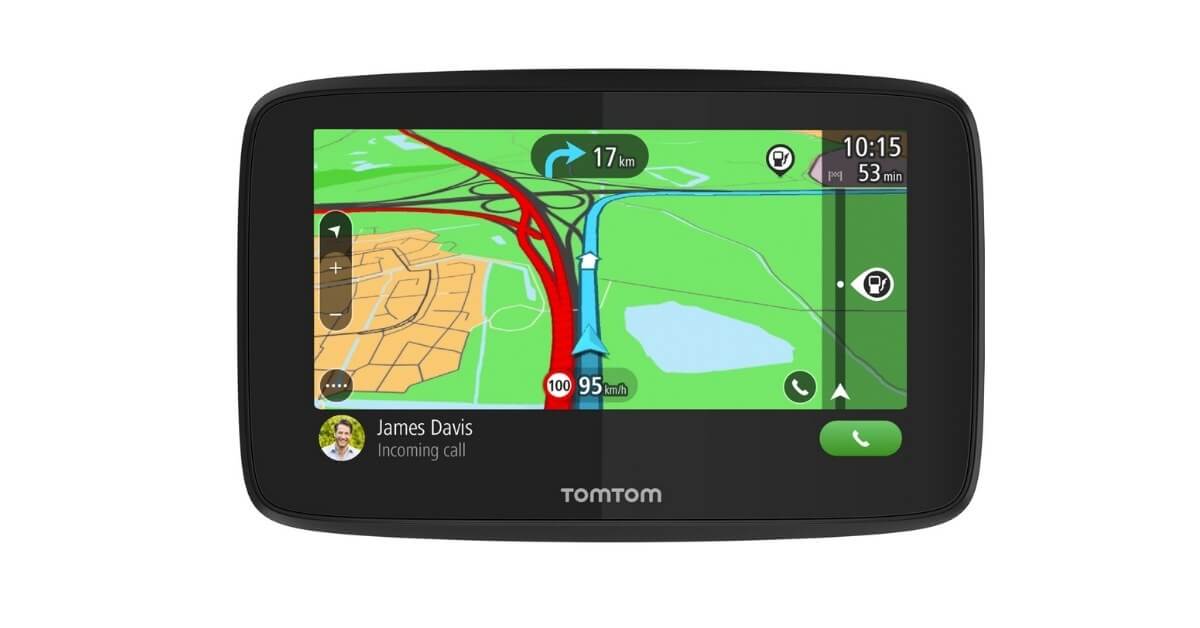 Features
Wi-Fi & Bluetooth Connectivity
IFTTT Integration
Lifetime Worldwide Maps
ETA Notifications & Location Sharing
Last Mile Navigation
Find My Car
Design
The design of a TomTom sat nav is the same as they have always been, a rectangular box with a screen on the front. Although perhaps I'm a little unfair as what else could they do with the design of a GPS? It just works and therefore, why change something that's not broken?
The GPS is available with either a 5-inch or 6-inch capacitive screen. There is a power button found on the rear top right-hand side of the device. There is a gold coloured fixation point at the back of the GPS, and this is where it will connect to the magnetic mount.  
What's In The Box?
Setting Up
Setting up the device is a straightforward process. Once you turn it on, you hear the TomTom drum roll and see a white bar moving from left to right on the bottom of the screen. Next, you'll need to choose your language and locale, and it will then load your maps. Once done, you will need to determine what information you want to share with TomTom. Next step is to sign in to your TomTom account and connect to your Wi-Fi, and it will update the software and the included maps.
Mounting System
The included windscreen mounting system does its job well. The magnetic connection keeps the GPS in the mount securely. If you want to remove the device when you leave your car, then it merely clicks out of the mount. The mount will still be attached to the windscreen, ready to go next time. If however, you do want to remove the mount, twist the circular suction pad and off it comes.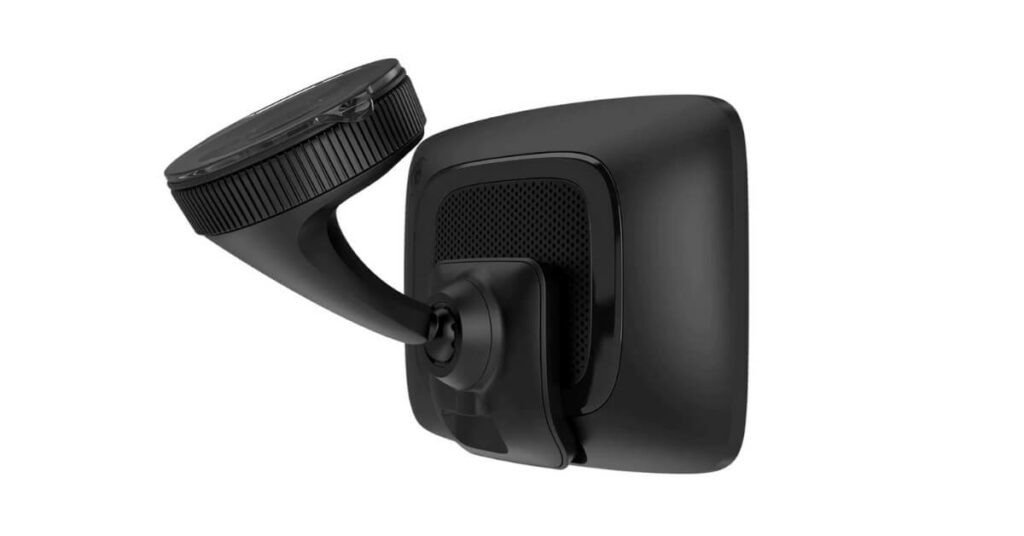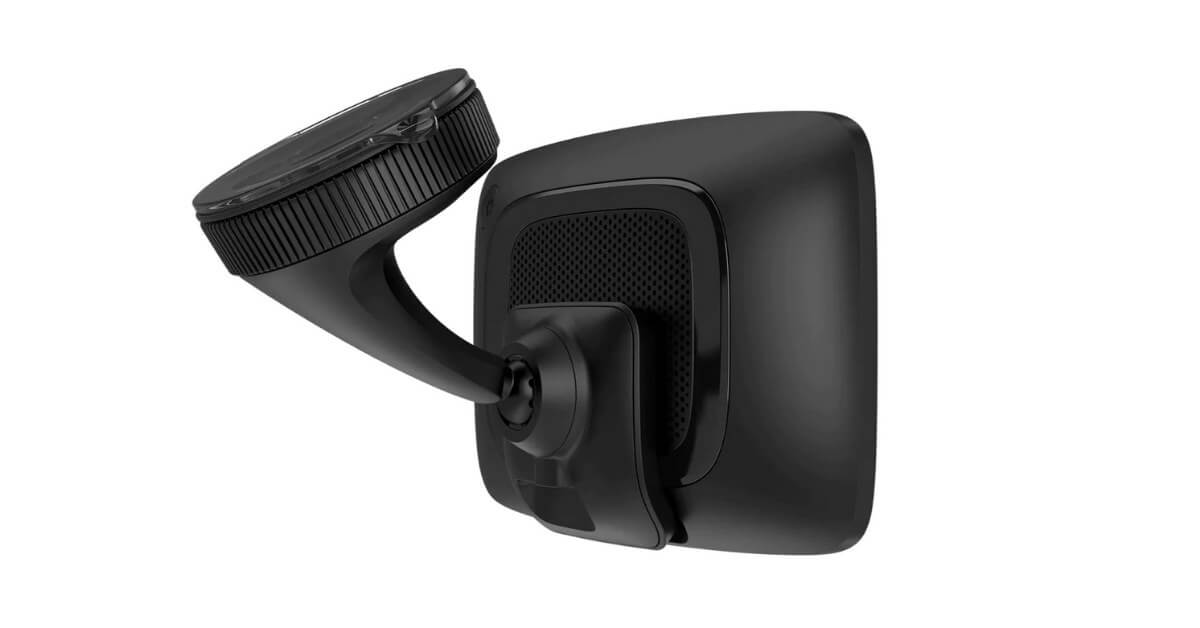 Navigation
In our view, this is where TomTom excels with the quality and simplicity of their directions. The instructions provided are clear and easy to follow. Once you input where you'd like to go, it's as easy as pressing 'drive' and then following the driving instructions until you arrive at your destination.
As you receive traffic alerts with this GPS, you'll be sent on an alternative route if there's a traffic jam on your original itinerary. The road ahead turns red on the screen to warn you of where the issue is situated. Oh, and if you happen to go over the speed limit of the zone you are driving, then you'll receive an audible beep warning you to slow down. 
Voice Activation
The Voice Activation function kicks in as soon as you say the words "Hello TomTom" in a very deep voice. I am joking, of course, mentioning it in your normal voice will more than suffice! Using your voice, you can then reset your final destination or even adjust the settings of the device, such as screen brightness or volume levels.
The TomTom is also fully compatible with Google Assistant and Siri, enabling you to connect as you drive with your hands on the wheel. Check the weather report, get the latest football scores, or just search random things on the internet. It's entirely up to you how you use them.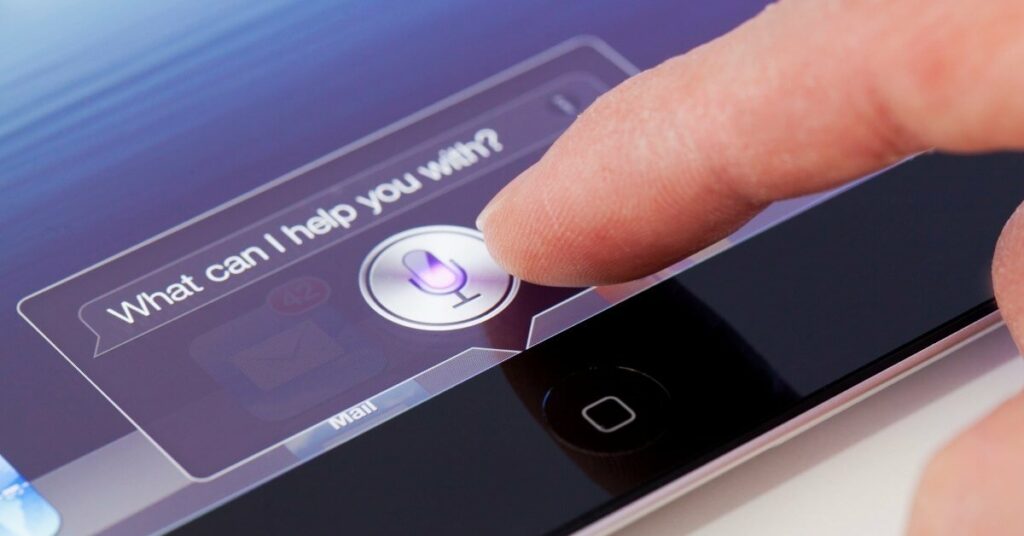 Unknown Roads
A common complaint with most sat nav devices is that from time to time, you come across a road that doesn't exist. Well, the way does exist; it's just that the GPS does not recognise it. If this is the case, then TomTom has a nifty feature whereby you can record the route and then just drive it. If you are sharing the information with TomTom, then this will presumably trigger an update further down the line. In your case, though the sat nav will recognise the road in the future.  
Location Sharing
A new feature is the 'Share Your Location' and ETA notification that lets you tell people where you are and what time you will be arriving at your destination. These notifications, unfortunately, only currently work using Android devices. However, we will take a further look at using the IFTTT integration in further detail below.
The TomTom will also save the journeys that you take automatically meaning that you can find and retake these routes very quickly. There's no need to keep inputting the same details for a regularly taken journey over and over again.
TomTom Road Trips & My Drive
Using these programs, you can plan your routes from the comfort of your home computer. Plan your journey with the stop-offs that you want to include easily using addresses or on the map. Once completed, you can then send the details to your sat nav. Once you then turn on the device, you'll get a notification of a new journey planned, and you can press drive to get going. If you're not near a computer, then don't worry, you can download the app on your phone and carry out the same functions.
Connectivity
The TomTom can connect to your smartphone via Bluetooth, meaning that you can sync your phone with the GPS. Once connected, this allows you to receive all of your messages on the screen of the TomTom. You can also use the device to make hands-free calls, meaning that you get to keep your hands on the wheel at all times.
Wi-Fi Updates
The TomTom Go Supreme will let you know when there are new and updated maps available. The update is done via Wi-Fi, and therefore, there's no need to connect the device to the computer. This process used to be so frustrating in the past, as the estimated 4-hour update always took way longer to complete. Updates on this unit so far are by all accounts, pretty quick to complete.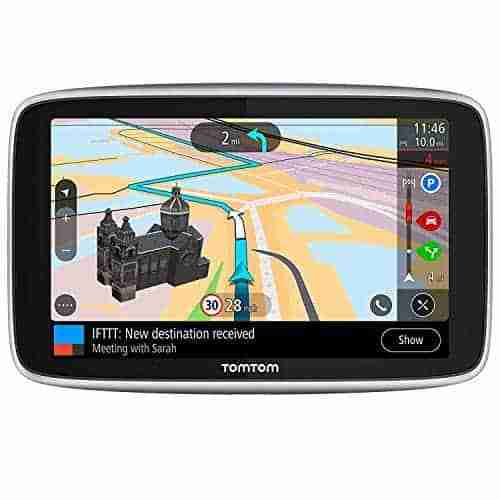 IFTTT Integration
With the IFTTT integration, you can sync your calendar and events to the TomTom. It will store the locations seamlessly for you, meaning that you won't have to worry about where you need to be for an appointment as the route calculation will be done for you.
But what exactly is IFTTT?
IFTTT is an acronym for "If This Then That".
It probably isn't as well known as perhaps it should be. Believe it or not, the technology has been around for nearly a decade, and it has evolved from connecting two separate devices to connecting multiple devices. This connectivity is achieved by what we call 'applets' which connect various apps and automate stuff. 
Hopefully, that makes sense? It may be better, however, if we look at a couple of practical examples of how these applets could operate and automate tasks for us. Picture these scenarios. 
Lost Smartphone
You've misplaced your phone somewhere in the house. And guess what? As would be typical, your phone is on silent mode. You've spent ten minutes looking everywhere for it. You've looked in all of the usual places and still no luck. It certainly didn't fall down the back of the couch, nor is it in your trouser pocket in the laundry basket. Using IFTTT technology means that you could use an Applet to text your Android phone to turn the ringer volume on your phone to the highest level. That way you can ring your phone and find it easily, pretty cool, huh?
Automated Cleaning
Let's take a look at another scenario. How about setting a vacuum cleaner to begin cleaning when you leave home? 
Ok, so you'll need an iRobot vacuum for this to work, but it should give you an idea of what is achievable with the TomTom ITTT integration. And the great thing is you can even delve a little deeper and start creating your very own applets to automate a whole range of items that'll make your life easier. There are other items you could automate, such as opening the garage door when you approach home. There are also ones whereby you could turn on the heating or turn on the lights as you approach your home in the car. Pretty neat, wouldn't you agree?
Furthermore, IFTTT can integrate with Amazon's Alexa and Google Assistant. In other words, there could be a whole world of integration open to you with lots of different smart devices.
Click here if you want to find out some more about the integration between TomTom and IFTTT. 
Summary
This is a quality device that's easy to use. It's also without a doubt the most connected sat nav we've ever seen. Like some other sat-navs out there you get Wi-Fi updates and Bluetooth connectivity for making calls with your smartphone. 
What sets this device apart is the IFTTT integration and the various possibilities that can be thrown up. If you're a person who loves to automate tasks, then without a doubt, this device was made for you. It literally opens a whole new world of possibilities for people who like to automate tasks.
Pros:
IFTTT Integration
Easy To Follow Directions
Lifetime Worldwide Maps & Traffic
WiFi Updates & ETA Notifications
Cons:
Dash Camera Not Included
No Major System Improvements
Some Features Only Work With Android
And Finally…….
This is a top-class GPS that's easy to use, connects to all of your devices, and interacts with your Assistants. You will have fun designing Applets to automate tasks before you get home. By the way, did anybody leave the lights on? 😉
TomTom Go Supreme