Is this the world's best golf watch?
One of my goals for last year was to level up my golf game. If I wanted to get my game to the point where I could stay consistently under par, I had a fair way to go – excuse the pun. Seriously, I had a very long way to go even to come near to a decent scoring round! If I wanted to take clients out for a round—and hopefully gain the insider advantage—I needed something.
This year, I still needed something, and I'm wondering if a golf watch is that something? In this Garmin Approach S60 review, I was determined to find out.
Garmin Approach S60 Review
Pros:
41,000+ courses pre-loaded
Multi-activity sports watch
Sunlight-readable display
Excellent battery life
Waterproof to 50 meters
Lots of customization possible
Cons:
Potentially a steep learning curve
Premium pricing
Additional accessories required for some features
First Impressions 
Garmin has long been outperforming the competition in the sporting GPS arena – and specifically with their golf tools. For golfing enthusiasts, the Garmin Approach S60 displays exact yardage to greens, hazards, and curves. It also provides you with an overview of the course. It is, effectively, a caddie and GPS in one.
With over 41,000 pre-loaded golf courses, a 1.2″ display, and long battery life, the Approach S60 is a premium offering from Garmin. It's also a multi-sport device like the Forerunner Series that you can bring with you while running, cycling and swimming.
In other words, if you were feeling particularly energetic, you could complete both a round of golf and a triathlon on the same day. All of these activities can, therefore, be done with the guidance of this watch on your arm! 
Garmin Approach S60– Specifications


Golfing Features

Course view, Green view, Yardage, Auto shot,
 
Full Vector Map, Swing Tempo, Plays Like Distance
Pre-Loaded Courses


Yes – 41,000 different courses
Multi- Sport
Run, Swim and Cycle
Physical Size
46 x 46 x 14.5 mm
Display
30.5 mm
Resolution
240 x 240 pixels
Weight
52g or 61g – depending on model
Battery
10hrs golf or 10 days watch
Waterproof
Yes
Memory
1 GB
Connectivity
Bluetooth, Smart and Ant+
Customizable
Yes
Items to Consider 
Deciding if the Garmin Approach S60 might be worthy of consideration is relatively straightforward:
Does your golf game need work?
Do you want assistance gauging the distance of your shot?
Do you need guidance getting past bunkers and water hazards?
Do you want to keep track of your scores easily?
Garmin's Approach S60 promises to resolve these issues – and then some. It's marketed as the ultimate in versatile golfing devices as it doubles as a multi-fitness tracker too. In this Garmin Approach S60 review, we will also see that there are some times where it might not be the best choice for you. So, without further ado, let's take a closer look at the various features.
The Garmin Approach S60 Review
This model comes with a steep learning curve attached. Because it is so feature-rich, it might not be the right choice for purists who like the game as it is. Similarly, it can be challenging to pair, or cycle through the different features, in competitive play.
We should also bear in mind that there are are some golfers who enjoy a more traditional style of golf. They might well feel uncomfortable making use of Garmin's technology since it does feel as though you've got an unfair advantage over your competition. For golfing enthusiasts and competitive players alike, though, it's worth noting that the Garmin Approach S60 is tournament-legal.
What's In The Box?
The Garmin Approach S60 
Charging / Data Cable
Documentation
Design
The watch is a well-designed piece of kit, and most importantly it looks good on the wrist. It is comparable in size to the Garmin Fenix 6, with only a couple of millimetres between them. There are two main types of finish available – the black premium scratch-resistant ceramic bezel with a leather strap or the standard finish with a silicone strap (available in a black or white finish).
Display
The high-resolution 240 x 240-pixel, colour display gives a crystal clear view of yardage and hazard info. Because of this, Garmin has also packed more detail into their yardage info – meaning less scrolling and swiping for the average user.
The 30.5 mm display also performs well in direct sunlight. If you've used a golf watch in the past, you'll understand how important this is on the course. It eliminates awkward hunching and stretching to shade your watch to view valuable information before you take your shot. This feature alone puts it ahead of some of its other competitors. You also get some additional peace of mind with the Corning Gorilla glass 3; this should minimize the dreaded scratching on the watch face.
Customization
One of the standout features of the Garmin Approach S60 is the sheer number of possible customizations. Users can upload themes and backgrounds to coordinate their watch face with their outfits. This particular function was of specific interest to my fashion-conscious brother in law. He enjoys coordinating his outfit when playing golf. Oh, and he adores his dog, so he has a photograph of Millie the Shitzu as a screensaver! You have the option of changing this to a photo of your choice.
There are various watch faces and bands which allow you to change up your style at a whim and keep your golf watch on-trend. With a selection of silicone and leather strap options, you can easily change them with the Quickfit bands. Along with the various watch face themes and customizations, you can take your Approach S60 from course to café, or from cocktail hour to the required nineteenth hole with no hassle.
This level of customization is excellent in combination with how the Approach S60 functions, too. Since it is compatible with both iOS and Android devices – via mobile app – you don't need to change your watch when you come to upgrade your mobile device.
In-Game Features
There are many great features with the Approach S60 that should help improve your golf. We won't cover them all here, but we'll take a look at some of the main features and how they can help your game.
When setting up the device for the first time, you will be prompted to input some details to personalize features. It will ask you for your average or expected distances with each of the clubs in your bag. 
As you play your round of golf, your watch will then prompt you to confirm the club you used for your last shot. In our experience, the device is pretty accurate with its prompts in predicting the clubs used by the player. At the end of your round, you will begin to have a lot of data on your game. Using this data will enable you to build a better picture of your game. It may help to isolate areas of your game that may need improvement. In other words, you'll be able to identify the areas that need work and improve your scores.
Course Selection
Once you turn on the watch, go into the golfing mode, and you can see a list of nearby golf courses. The next step is to choose the course you are going to be playing. You will now be able to get all of the details of the golf course on a hole by hole basis. 
Hole View
As you start playing your round of golf, the watch detects where you are on the course. It knows which hole you are currently playing and provides you with all the details – including distance to the green, bunkers, hazards etc. As soon as you have completed the hole, the watch moves along to the next hole with you. 
If curiosity gets the better of you, then you can also view any of the upcoming holes on the course. You do this by scrolling through the course using the responsive touchscreen.
Green View
With this feature, you can take a closer look at the green of the hole you are playing. The device will automatically calculate the distances from the middle, the back and from the front of the green. This provides you with the information you need to make sure you get the ball onto the green in as few a shots as possible.
Sky View
As the name suggests, this provides you with the hole layout from a bird's eye view of the green. It displays its shape and gives a clear overview of any potential hazards, dog-legs, and bunkers. It allows you to reposition your flagstick, get accurate pin positions and tailor your game to your appropriate skill level. All very useful in improving your game and at times vital when playing a new course and you want to earn some bragging rights! Repositioning your flagstick is easy, too, thanks to Garmin's drag and drop touchscreen.
This drag and drop feature could come in handy if you spend a lot of time on links courses with large greens.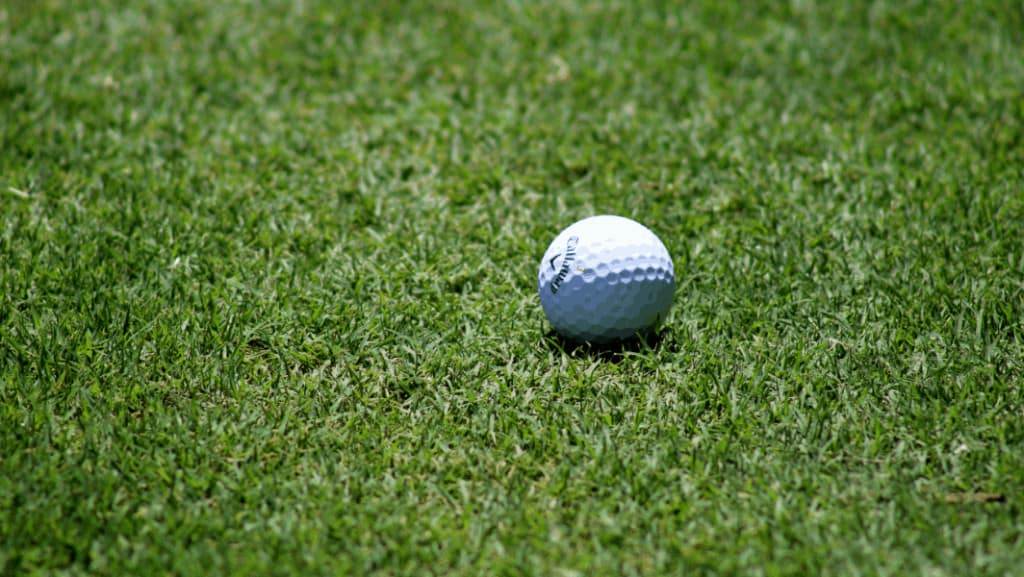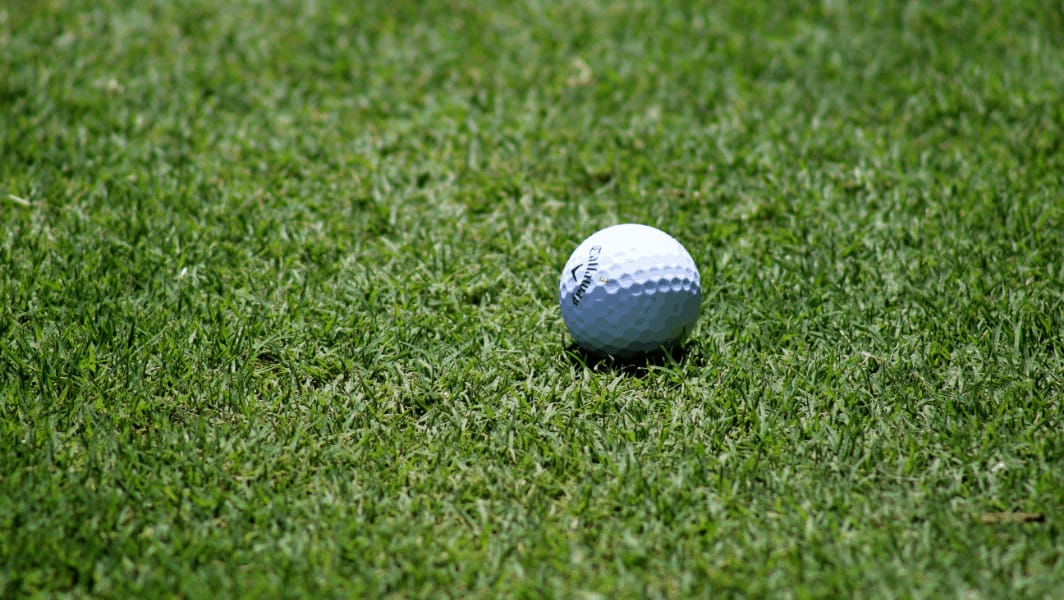 Plays Like Distance
The 'Plays Like Distance' is one of the most useful features of this device. Why? Well, we all know that sometimes knowing the exact distance to the green isn't always enough to get there with a shot. This feature adjusts the distance you have to the green based upon any changes in elevation. Perhaps the ground is particularly uneven in parts, and therefore it helps you gauge the distance better. At times the distance you have to play to get to the green plays longer or shorter than expected. Knowing how to play the hole and choose the correct club at the right time can help you make massive improvements to your game. 
Touch Targeting
Do you want to know how far it is to somewhere else on the course? Perhaps you want to know the distance to get back onto the fairway or to the back of the green? The watch pinpoints your location, and you can drop a pin anywhere on the course to calculate the distance to that point. This makes it easier to choose the right club to get to where you want to be.
Hazard Info
Etiquette is still a valuable and cherished part of the golf game. And nothing says poor etiquette like one player clicking and scrolling and messing with their golf watch trying to figure out the hazard information. The key is to avoid this awkward situation entirely.
This device provides golfers with an easy and quick means of getting information on drains, water hazards, bunkers, dog-legs, and Par 5s with a couple of light touches to the display. It's never been easier to play a well informed and hopefully a solid round of golf.
Game Analysis
The post-round analysis is one of the best features of any golf watch. If monitoring your progress and growth in your sport matters – whether you're a weekend warrior or aiming for the future big leagues—the Approach S60 certainly offers plenty of features in this department.
Pair your S60 with a Garmin TruSwing to monitor your swing tempo, critical club angles, swing speed, and club–path measurements. The intuitive technology is sensitive and accurate and recognizes the difference between practice swings and actual shots. Then review all this data from the watch interface, or upload it to the smartphone app.
You can also use the Garmin Connect to upload your golf scores and track each shot—both features that are vital in monitoring your improvements. If you take one thing from this Garmin Approach S60 review, let it be that this watch excels at tracking your shots with precision. It records the location and distance of each shot effortlessly and most importantly, accurately. These details are then all uploaded to your mobile app from where you can carry out further analysis of your game.
Garmin Golf App
This feature provides some additional social interaction to your golf. If you download this app onto your smartphone, you can then upload your scores and compete against your friends. If you're feeling competitive, then you have the option of competing in various leaderboards against other golfers. Proceed with caution though, as from what I've seen, things can get pretty competitive out there on those various leaderboards.
Alternatively, you may want to keep things a little more low key. Perhaps you only want to compete against a smaller group of your friends; then you can do so by setting up your very own tournament. As you proceed along the course and complete the round, you will see everybody else's scores on the leaderboard. There's nothing like a bit of friendly competition! 
You could also make things a little more interesting by using the in-app chat function. What else can I say? Except I always recommend bragging about your golf at every given opportunity. The caveat is of course that you should hold off on the bragging if your game isn't going particularly well. Only brag if your game is going to plan at that moment! Check out the video below on how the leaderboard and interaction features can provide some extra spice to a round of golf. 
Battery Life
GPS watches – and specifically the golfing variety – are renowned for poor battery life. In most instances, you can squeeze two rounds of golf out of a full charge. Thankfully, the Garmin Approach S60 has bucked that trend.
At 10 hours on a golfing GPS mode, you should comfortably be able to cover two rounds – possibly three, at a push. If you want to use it as a standard watch without the GPS function, then expect to get ten days of battery life between charging.  
The Final Verdict
So, the real question is, should you go out and buy a Garmin Approach S60? There is no doubt that this is a feature-rich device. And hands up, I do think that this is a great watch. It really is an excellent device and most importantly, it has enabled me to improve my golf no end.  
I guess you should ask yourself what it is you want from a golf GPS watch. If improving your game is high on your list of priorities this year, then a golf watch could be a game-changer for you. With all of its extensive features, the Garmin Approach S60 golf watch is a valuable tool that can help you to analyze your game better and therefore, improve your golfing.
So, back to your initial question: should you buy one? If you're going to use it regularly then yes absolutely it comes highly recommended. If on the other hand you only get out occasionally for a game of golf then, in my view, it may make better sense to look for a less feature-rich and budget golf watch. 
Do bear in mind though that this isn't just a golf watch. It's also a multi-sport device that can be used for running, cycling and swimming too. So, if you were looking for an additional reason to go out and buy one, then that may just 'swing it' for you – crikey! Apologies once again for the poor use of those golfing puns!
If writing this Garmin Approach S60 review has taught me anything, it is the value of versatility. With more features than a new golfer needs, and enough to keep a 50-year golfing veteran satisfied, this could well be one of the best golf watches available on the market.
Ready for your game-changer?
Check out the Garmin Approach S60 using the buttons below.