This is TomTom's flagship model. It is their top of the range offering. Read any of their promotional material and they will tell you that it's their most advanced GPS device ever. Is the hype justified? Well, in this TomTom Go 6100 review we aim to find out and put the device through its paces.
Pros
Lifetime World Maps
Free Lifetime TomTom Traffic
Free Lifetime Speed Cameras
Unlimited Data & Roaming via In-built Sim
Cons
No Hands Free Calling
Recalculating Routes May Lag At Times
Only 8GB Internal Memory
Micro SD Card Not Included
TomTom Go 6100 Review
Product Features
Design
Like most car GPS devices what you get is a black and grey rectangle box. This particular model however has curved edges and a mesh-like finish at the rear. This provides the premium look and feel that you'd expect from one of their top of the range model. Also striking about this sat nav is the feeling of sturdiness, it's a very well built GPS. It's not as slim as one of the newer Garmin's on the market but this won't be an issue unless you plan to carry it around with you.
Mounting System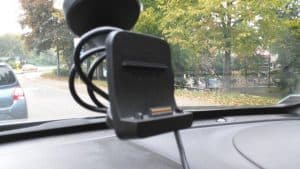 You get the magnetic 'click and go' mount with the TomTom 6100. You attach the sat nav in the vehicle by placing the suction cup onto the windscreen, turning the locking wheel, and then dropping the sat nav into the cradle. To remove the sat nav you just lift it out of the cradle with a firm snap towards you. The cradle is easy to use and most importantly it holds the sat nav firmly in place. I'm pretty sure that it'll hold it in place even for a rally driving lunatic too!
Navigation
I have always had a bit of a soft spot for TomTom's interface. I have always found them straightforward and fairly intuitive to use.  Thankfully TomTom seems to have listened (or perhaps they haven't!) to their users and haven't done anything wildly different with the interface.
The only slight noticeable tweak is that the map has become more prominent on the screen. A bonus of this is that even a brand new TomTom user shouldn't have too many difficulties in working out how to use the navigational features.
Inputting your destination into the TomTom 6100 is a straightforward task. Just tap it into the onscreen keyboard and let the sat nav work out the best route for you. You don't need to type in the full address to get going.
If you type in the street name then the TomTom will find those streets with that name. If there happens to be more than one street with the same name, then you'll have to choose which one you want from the drop-down list. Once you make your choice it'll calculate your best route and you'll be all set to go.
In order to calculate the best route for your journey, you have a number of options.
Do you want to take the quickest route or the most economical route?
Do you want to avoid toll roads or ferry crossings?
Do you want to add breaks to your journey?
By configuring your requirements prior to finalising the route calculation you do have a lot of control over the outputs provided. You can even preview your route in super-fast mode if you fancy it!
One point worthy of note is that unlike the Garmin the onscreen keyboard with the TomTom does not have the number keys immediately available. In order to find these, you have to hold your finger onto a letter for the numbers to show.
If however, you happen to be looking for somewhere like Apartment 21D Block 3C then it may be a little more problematic. Switching between the letter and number keyboards will add additional seconds to your journey planning. In fairness, it's probably not going to be a deal-breaker but it most certainly is worthy of note.
"Speak and Go"
The "Speak and Go" allows you to control the device with your voice. When you speak out aloud the sat nav calculates and follows your instructions. In order to make sure that the TomTom picks up your voice you will need to have the feature turned on. This can be done by either shouting "Hey TomTom" or whatever alternative phrase you have saved previously.
Perhaps you may have saved "banana boats" or "supercalifragilisticexpialidocious" as your device wake up call – whatever makes you happy! The second option is nowhere near as fun as you simply press and activate 'Voice' in the main menu.
The voice recognition of the TomTom worked well for both my wife and I. It didn't appear to have too many difficulties understanding our accents like some devices have had in the past. The recent travails of the poor chap from County Tipperary in Ireland getting very angry with his sat-nav was picked up by the national press.
The video was titled "Irish man fights with his sat-nav" has been viewed almost a million times at this stage. If you want to check it out then head over here but do please be aware that there is some bad language involved!
Interactive Screen
With this, you get a fully interactive capacitive screen. What does this mean?
Well, you can pinch and zoom on areas of the map. Great if you want to zoom in on a particular location. Useful also if you just want to see what is around your area. I use this feature a fair bit when I am looking for a park or some green area to run in.
Another useful addition is the ability to tap and hold an area on the screen. The TomTom will then calculate your route to that point. Handy if you don't have the exact address but you know where on the map you want to go.

Easy Navigational Buttons
TomTom has introduced 'Drive To Work' and 'Drive Home' buttons to make navigation quick and easy for your regular journey. It seems to me that the more you use the sat nav then the more intuitive it becomes (perhaps I read too many science fiction novels!). If you tend to do the same journey on a regular basis then you may want to avail of these quick button features.
Jump into the car on your way to work in the morning and you can tap the 'Drive To Work' function to get the quickest route (avoiding traffic). Similarly, when your ready to leave the office in the early evening jump in and hit the 'Drive Home' button. Pretty useful and streamlines the whole process of fiddling with your sat nav for those regular journeys.
Free Lifetime Maps & Traffic Updates
These are great features that are most welcome with this device.  The sat nav manufacturers have had to pull their fingers out and begin offering these features to consumers. Why the change of heart?
Well, rest assured its not from the goodness of their own hearts but, rather its an overdue reaction to the ever-growing popularity of the smartphone. Whatever the reasons for their inclusion it's certainly a win for the consumer.
With the TomTom 6100, there will be no further charges to access these services. It has an in-built sim card that is always connected. No smartphone is required meaning that it cannot charge you any extra. The beauty of this becomes apparent when you are travelling across numerous different countries.
As I have mentioned previously I received a huge mobile phone bill upon my return from a road trip around Europe. The cost of accessing the data required for traffic updates on my TomTom Go 500 was way too expensive. I sometimes still wake up with beads of sweat on my forehead at the thoughts of that stupidly expensive mobile phone bill.
Rest assured that I most certainly would not have used the features ever if I had known the charges that were involved.
Thankfully that lesson has now been learned and with the TomTom Go 6100, you do not have to worry about any of this!
What Happens If I Take A Wrong Turn? 
This is an important consideration as it can help immensely with reducing stress whilst driving. Most sat navs when you do take a wrong turn will seek to correct and reroute your journey. It should put you back on the right track.
The question most of the time, however, is how long it'll take to change the route for you. There's nothing worse than missing your turn a second time because the sat nav was slow in carrying out a recalculation.
In order to test this function, I deliberately missed a few turns on one of my test journeys. On average it took between 12 – 16 seconds to fully calculate and provide the new route. Not a bad result at all.
If you do miss your turn the advice would be to slow down a little to provide an opportunity for your sat nav to catch up with you and recalculate. This would relate to any sat nav device, not just this one.
Conclusion
Should You Buy One?
There really isn't a lot to dislike about the TomTom Go 6100. You get a quality sat nav that's really quite straightforward to use. My eight-year-old daughter is more than capable of navigating through the menus and setting our destination.
If you want to buy a device that will last you a number of years then this is highly recommended. The inclusion of Free Lifetime Map Updates, Traffic Alerts, and Speed camera Alerts make this worthy of serious consideration.

Check Price on Latest Price on Amazon