Garmin Zumo XT Review
Are you a motorcycle enthusiast always on the hunt for a thrill? Then you probably know what it's like to be running your bike all over and suddenly realizing you have no idea where you are! When I'm out on my bike and enjoying the road, I end up losing all sense of direction. This is absolutely a good thing, as it means that at that moment in time I'm entirely stress-free and in my own world. In other words, all the worries of the office have been left behind. All that's left is the feeling of freedom that comes with being out on the bike. Does anyone else get this feeling too?
However, reality does, unfortunately, have to bite at some stage, and I need to find my way home. This is why I always have a motorcycle GPS with me when I go on my biking adventures. In this initial Garmin Zumo XT review, we will take a look at whether it has the ability and the features you need to enjoy your adventuring lifestyle. Is this the device that can handle your day to day navigational requirements as well as those long road trips? 
Things to consider when buying a Motorcycle GPS 
The primary job of any half-decent navigator is to help the rider find their way around. It should keep you from getting lost and eventually help you to find your way home. 
The Motorcycle GPS Navigator is a specialized device with biker specific routes and features. If you are considering purchasing one, then here are a few essential details to consider: 
User-friendly Interface: The menus should be easy to access and manage. The touch screen should be sensitive to gloved hands. 
Durability: It must be water-resistant and robust. No point in having a flimsy device that won't last more than a few weeks.
Battery Life: If you don't plan on hard-wiring the power cable, then it needs a large enough battery to power navigation for longer rides.
Price: Navigators should be affordable and good value. Avoid cheaper models that can be unreliable and possibly even counterfeit. It may seem like a good idea at the time, but it will probably become expensive in the long-term as you may have to buy another GPS to do the job.
The Garmin Zumo XT Review
The Zumo XT is Garmin's newest motorcycle navigation device on the market. It has a rugged build that can tough it out against all kinds of adventure, the harshest rain and the dustiest terrain. Compared to its predecessor, the Garmin 595, the Zumo XT has a larger screen and a lighter body. The Zumo XT has wireless connectivity using both Wi-Fi and Bluetooth while the Garmin 595 only had a Bluetooth system. Garmin also upgraded the battery life from 4 hours in the 595 to 6 hours in the XT. For a more in-depth look at the differences between the two devices, please head over to here.
Built for adventure, extreme conditions, and high visual quality this is a device specially designed with adventure in mind. For all the thrill lovers out there, this might well be the gadget to back you up. For the more leisurely rider, however, it will push you to try more daring routing so be careful when selecting those settings and picking those buzz-oriented routes.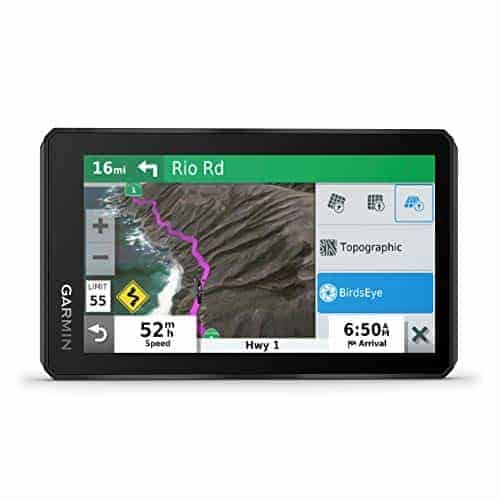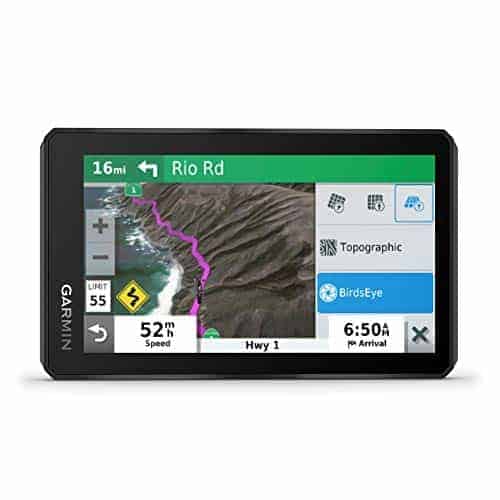 Pros
Excellent connectivity
Good quality larger screen
Improved battery life
Tough and weatherproof device
Cons
No worldwide pre loaded maps
Only a basic manual is included
Price
Features and Benefits
Topographic and Satellite Imagery
The Zumo XT provides both topographic and Bird's Eye satellite imagery, and you can easily transition between the two with one click. This allows the user to pick the ideal format for them. 
The best thing about the imagery design in this navigator is the ability to retain details when zoomed out. Most navigators disable secondary roads when zoomed to 0.5 miles, but on this GPS you can zoom out all the way to a 0.8-mile scale and still be able to see all diverging lanes. If there is a specific little road that you are thinking of exploring, you just have to zoom out to pinpoint it instead of being forced to scroll around and in the process lose all perspective of your location. 
There are even options to toggle the details and hide things you are perhaps not interested in. 
Rider-Alerts
A unique feature that instantly notifies the rider about any hazards or sharp turns coming along your route. This gives you time to prepare so you can slow down and react to the upcoming obstacle. The feature also notifies you about the relevant helmet laws when entering a state or country. Not only is it suitable for hazards but it also warns pre-hand about incoming red lights and speeding cameras in some limited areas. 
These Rider-Alerts also give live notifications on the weather conditions. It lets you know if there will be any sudden downpours or storms that you should be wary of. The traffic on the route is also something essential to riders, so thankfully the Zumo XT provides regular traffic updates as well. The GPS also connects to local news broadcasters and can notify the user if any incident has taken place on the route or near them. 
Track-Recorder
You can use this feature to record your routes for future reference. This helps you to customize future routes based upon what you have enjoyed on previous rides. 
Riders who blog (like me!)can use this feature to show their track history and where they travelled for an individual trip. It's also pretty cool to be able to share trip info with family and friends. The 32 GB internal storage and micro SD slot for additional storage can help you utilise this feature to its maximum potential. However, please do be careful when sharing your trip information online – you don't want potential thieves to know where you and your bike live.
Pre-loaded Maps
Like most devices, this navigation system also relies on internet connectivity to access road maps. But for Europe, Mexico, Canada, and the Virgin Islands the gadget provides detailed pre-loaded on road maps. For North and Central America, in addition to the on road maps, off road maps are also pre-loaded which can provide more exciting rides.
Pre-loaded maps are great for riding in locations where you know there will be limited to no internet connectivity. This will make sure you don't get lost in a completely unknown area and still be able to find your way back after a thrilling bike ride. 
Adventure Routing
Like we have been emphasizing from the start this is a GPS built for action! So you can choose to let the GPS pick your route or modify it to make it a more enjoyable ride. The navigator can set a challenging route catering specifically to your style. 
But it doesn't just limit itself to set an exciting route to a specific destination, but you can adjust the setting to set up a roundtrip. This means no matter how far you wander, you will always be able to find your way back where you started. 
Planned Fuel Stops
If you don't like to stress about the details, this navigation device will plan ahead for you. It's not just a map but a complete guide. It becomes easy to forget our limitations when we are out touring, and we could suddenly find ourselves running low on fuel in an unfamiliar location. The Zumo XT will not let this happen. It will strategically plan fuel stops and notify you, so you are never left running on empty. 
Trip Advisor
You can view this Trip Advisor feature to find ratings on hotels, restaurants, and attractions along your route. This also includes a historical database of popular parks and places of interest which makes sight-seeing easy. This also includes a guide to public camping grounds. All of these features can make your trip all the more enjoyable.
Distress Calls
In case of a distress situation, the navigation device can pair with nearby devices and emit a distress call. This is useful as extra protection and a backup for riders who like to ride deep into the countryside. It is the last minute helpline, but clearly, it's best not to rely on this feature and to continue driving safely!
Hands-Free
It's hardly possible to use your smartphone while biking, and it is definitely not something that anybody could recommend! It is the case; however, that (especially on long rides) we feel an urge to call someone or maybe just change the music without wanting to pull over. This is where the Zumo XT comes into play. Simply pair your phone to the gadget, and during the ride, you can control your music and calling features with a few taps on the navigator's screen. This is far handier than reaching into your pocket for your smartphone and much safer.
Bluetooth
It's not easy to continually look at the screen of a GPS on a moving bike. You should really only need to glance at the screen to confirm what your headset is telling you. This is why a motorcycle navigation system should always be equipped with a Bluetooth system that can provide you with spoken directions directly to your chosen headset. 
Rain-Resistant
The Garmin Zumo XT has a rugged build that can bear the travelling on any kind of terrain and any kind of weather conditions. It would simply not be good enough for even a half-decent motorcycle GPS to not be water-resistant. The GPS needs to be able to handle the onslaught of those furious raindrops as they pelt down from the heavens. This device has a waterproof rating of IPX7 which means that even if it snows or falls into the kitchen sink, it should be ok. 
Ultra-Bright Display
The most useful feature of the navigation system is, of course, its display. It has a large 5.5 " high-resolution screen that is easy to view even with the constant movement of the motorcycle. The display is equipped with a strong ultra-bright backlight that provides the best visual experience in night and day conditions. You also get a higher resolution than what was presented in previous models, with 1280 x 720 pixels. 
The display is also glove-friendly. This means that the navigator has a highly sensitive touchscreen which you can easily maneuver, even while wearing your winter gloves. 
Battery Life
Unlike car navigation systems, motorcycle navigation systems cannot be plugged in throughout the ride because it hinders the driving experience. This is why the ZUMO XT has a 3.5-hour battery like on full brightness and an impressive 6 hours on a regular setting. For longer rides, the navigator also comes with a charger for constant power. This detail won't matter to you if you plan on hard-wiring the device to your bike.
Ball Mount
This feature is excellent because it fits the GPS perfectly into the motorcycle's dashboard area. Installation and removal of the navigator become straightforward as it is just a click of the button at the back. But of course, this can be a set back if you consider that it will be just as easy for a thief to simply click and walk away with this expensive device. 
Testimonials 
We have scoured the internet, and all the users that we have found believe that the Zumo XT was a significant upgrade from their previous navigation systems. Please do bear in mind; however, that this is a brand new device on the market. This means that there aren't that many reviews currently out there. This will, of course, change as more and more people begin to use the device. From our first look at the Garmin Zumo XT, however, the early signs are very positive, and this unit looks like it comes highly recommended for those bikers looking for adventure.
Conclusion
On a first look, this Garmin Zumo XT review seems to show that this is an excellent device that provides some exciting features. The addition of topography and birds eye mapping is in particular, a fantastic addition. These features alone can really open up the world of adventurous and off-road biking. In the meantime, I shall be taking this GPS out on the bike over the next few weeks and will update you with a more in-depth review. 
Garmin Zumo XT
The new GPS for the adventurous biker
Check Price
Motorcycling