Garmin has just released its latest motorcycling GPS, the Zumo XT. As a result of this new release, the price of the other Zumo devices is beginning to fall. So what should you do?
Should you splash out and purchase the new Zumo XT or should you perhaps grab a bargain with a Zumo 595? Well, before you go any further let us help you with making your decision. In this Garmin Zumo XT vs 595 we take a closer look at the two devices, highlight their differences and ultimately help you choose the best one for you and your bike.
Garmin Zumo XT vs Zumo 595
Both devices include the Garmin Adventurous Routing feature meaning that you can plan a more challenging ride. You can increase the challenge of your route by the addition of curves and increasing the number of hills on your journey. This feature is made better with the option of avoiding all major highways in your route planning. This will provide a more thrilling ride where you'll get to explore the lesser-traveled routes on your bike.
Garmin Zumo XT
The Zumo XT has a bigger, brighter screen and also includes some additional features. These include the following:
Screen
The Zumo XT a larger 5.5inch screen that utilizes Garmin's ultrabright screen technology, meaning that the display is crisper and brighter than previous models. The screen will, therefore, be much easier to read in direct sunlight. You also get the benefit of a higher screen resolution of 1280 x 720 pixels.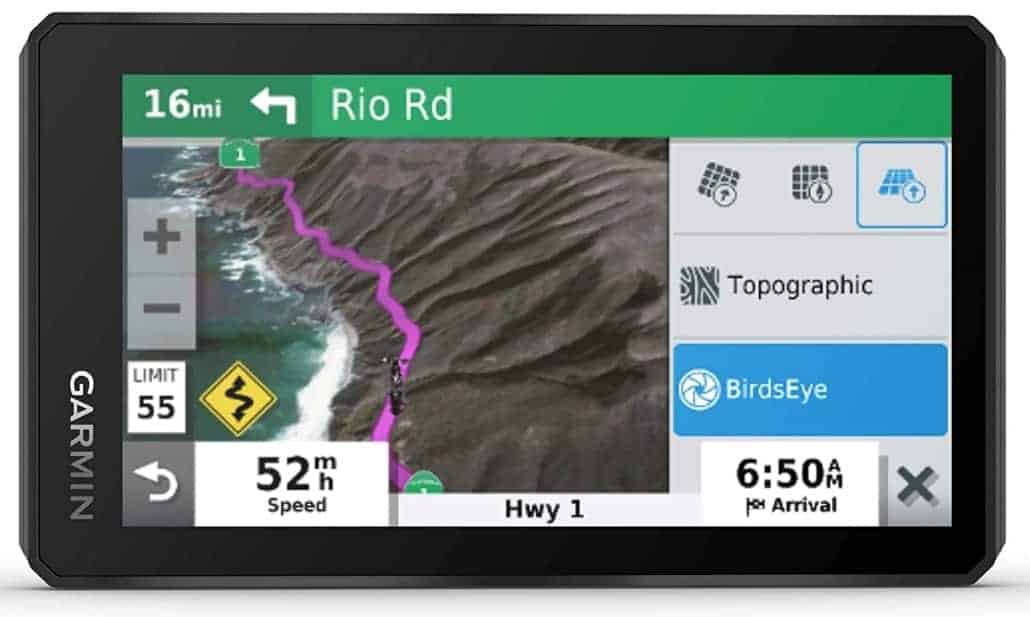 Check Price on Amazon
Orientation
This GPS can be viewed in both portrait or landscape orientation. Being able to change position provides you with more options when mounting your device to the bike.
Processor
Under the hood, there is an improved processor chip that should provide you with a better riding experience. The device will function smoother and will recalculate those missed turns faster. 
Battery
A better battery life means that you can continue using the device for longer in between charges. The Zumo XT claims that it will last for a total of 6 hours on regular settings. If however, you have the screen brightness set to the full 100% then you will only get 3.5 hours battery life. Naturally, battery life is of less importance if you plan to hardwire the device to your bike.
Toughness
Just like previous models, this GPS is a sturdy unit. It's dustproof and waterproof with a rating of IPX7. It also has a drop rating of MIL-STD-810 which simply means it shouldn't smash into pieces should you happen to accidentally drop it.
Connectivity
Thankfully you no longer need to connect the GPS to your computer with a USB cable. Any system or mapping updates can be done just by connecting to your nearest WiFi network. This is a neat little feature that really makes life a lot simpler.
Storage
You can use micro sd data cards with the Zumo xt but there's probably no need for a storage perspective. This is because you get an additional 32GB of internal storage meaning you can save routes, music etc directly onto the device.
Garmin Zumo 595
Screen
The display screen is a little smaller at 5 inches from edge to edge. The device itself is believe it or not, larger than the Zumo XT. This is because of the thicker plastic casing that protects the device.
The screen resolution is lower at 800 x 480 pixels and when compared side by side the difference in quality is apparent. However, as it's unlikely that you'll be comparing the two side by side I would clarify that the quality of the Zumo 595 display is very good.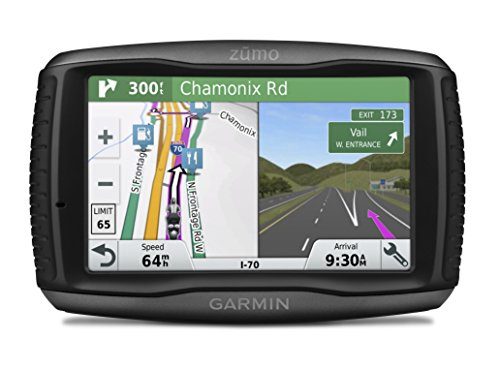 Orientation
The Zumo 595 can also be used in either portrait or landscape mode. This is a great option if you need to zoom in on a particular area on the map or if you are tight on space on the handlebars.
Tyre Pressure
This feature works by continually monitoring the pressure of your tyres and provides you with a warning if there is a drop. There is also the possibility of purchasing additional sensors to increase the monitoring scope should it be required. Frustratingly and for whatever reason, this option has now been dropped from newer models and is not available with the newer Zumo XT. 
Battery
If you leave all your settings at normal then it should be provided with around 4 hours of battery life. This shouldn't be an issue if you plan to hook the device up to the battery of your bike. Interestingly, however, the battery within the Zumo 595 is removable. Good to know that you should be able to replace the battery in the future if you're planning to hang onto the device for several years. 
Connectivity
It may not have WiFi connectivity like the Zumo XT, but it can connect to your smartphone. You can make hands-free calls as long as you have a compatible helmet or headset. You can use the Live track Via app and even stream your music using the Spotify and Pandora apps.
Toughness
The GPS looks at home on a Touring Motorcycle as it's a robust unit. The casing has a grip-like feature on either side, meaning that it is easy to handle even with gloves. In other words, you won't be dropping it onto the floor in a hurry.
Garmin Zumo XT vs 595
Which GPS Is Best? 
I'll be honest with you, both the Zumo XT and the Zumo 595 are excellent devices. They both come with some pretty decent features, and both will provide you with more adventurous routes for your riding.
The question is, however, which device should make you spend your hard-earned money? There's no denying that the Zumo XT has improved on several features that you get with the Zumo 595. You get a slightly larger screen, albeit in a smaller body because of the slimmer casing. Rest assured, however, that it's still a robust device despite being sleeker in its design.
Internally the improved processor provides a smoother overall experience. Everything seems to work that little bit faster, from locking onto your location when you turn on the device to rerouting you when you take a wrong turn. WiFi connectivity takes away the fiddling and the messing of having to sit at a computer to update the GPS or the maps. The addition of satellite imagery (birds-eye views) is a neat feature as it provides far more control over your off the road biking. It does push the adventure to a different level as you can work out if a route is going to be possible.
The Zumo 595 is no slouch however and has been an excellent device for a vast number of riders. It does have the benefit of the tyre pressure monitoring, which for some reason Garmin decided to drop off the Zumo XT. If knowing your tyre pressure is essential to you, then this device has to be seriously considered. 
When comparing the Garmin Zumo XT and the 595 alongside each other, it's difficult not to come down on the side of the Zumo XT. The good news is that the release of the Zumo XT means that the price of the Zumo 595 has decreased. So whichever device you decide upon you'll be onto a winner.
If you're still not decided and want to look at the latest motorcycle GPS available from TomTom, then head over here to read our write up on the TomTom Rider 550.
In the meantime, you can check out the latest prices of both devices by clicking either of the buttons below.