The TomTom is a handy device to have in your car. You can purchase the latest and greatest, or perhaps, you might be one of those people who has had their TomTom navigation device for 10 years now. Regardless of what type of TomTom GPS device you have, it should be updated regularly to ensure you have the latest maps and software. And please don't worry as knowing how to update a TomTom GPS is a pretty straightforward task.
All GPS and sat-nav devices should be kept fully up to date in order to ensure that you receive the most accurate navigation. There are always new roads being built and therefore in order for you to get the beat and most appropriate directions, it's a good idea to keep everything up to date.
Why should you Update your TomTom?
Software updates –  keeping the operating system of your TomTom with the latest version ensures that any known bugs will be erased.  An up to date navigation device should continue to provide a smooth and snappy user experience.
Map updates – keeping your TomTom maps up to date will ensure that you continue to get the best navigational routes,.
This article will teach you how to update a TomTom GPS for free, ensuring that it stays up-to-date on both fronts!
How To Update Your TomTom via WiFi
If you have a WiFi-enabled TomTom then you don't need to connect to your computer with a USB cable. We recommend that you connect to your home or office WiFi network. Using a public internet network such as those found in hotels, cafes, etc will take much longer for you to download all of the required updates.
Once you have connected to your preferred WiFi network then your TomTom will remember this connection – meaning that the next time you update will be easier and quicker to complete.
TomTom Update Process (via WiFi)
In order to update your TomTom follow these steps:
Connect your TomTom to the WiFi
Log into your TomTom Account
Connect to a Power Source (i.e. plug it in!)
Download Updates
How To Update Your TomTom via USB 
If you don't have access to a WiFi network or don't have a WiFi-enabled device then you can update the GPS by connecting to the computer. In order to update using USB then you will need to sign in to your MyDrive Connect account. 
If you don't have MyDrive Connect installed on your computer then please head over here for further instructions.
TomTom Update Process (via USB)
To update your TomTom by USB follow these steps:
Connect to your MyDrive account
Plug your TomTom into your computer via USB
Go to Main Menu on your GPS
Go to Settings – Updates & New Items
Update as Required
Once the update has been completed you willl receive a notification on the screen of your TomTom. It is now safe for you to disconnect the GPS device from the computer.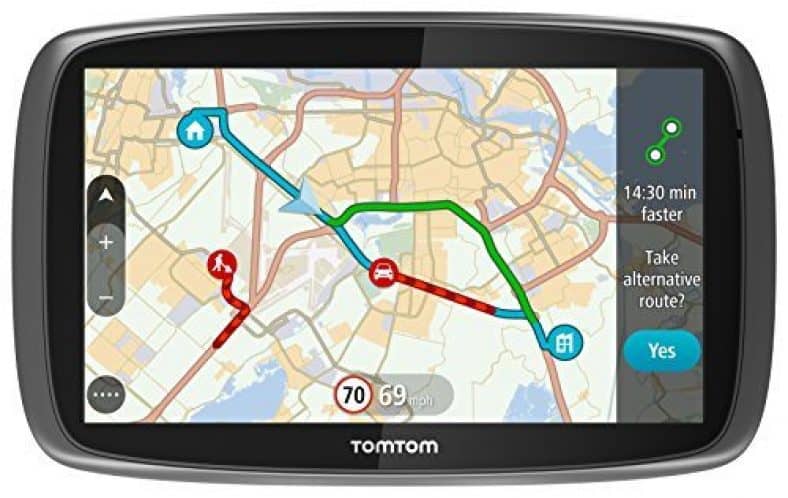 Updating Older TomTom Models
A couple of years back TomTom caused a furore with the announcement that they were ceasing support for their now obsolete TomTom models. This was despite the fact that these devices were sold with the 'lifetime updates'. This announcement in fact affected over 60 different TomTom models!
TomTom explained that the older devices were unable to use the latest map updates due to a lack of memory space. In other words they are unable to process the additional information required in order to provide the most up to date and accurate information. 
Apparently, the term 'lifetime updates' only refers to the useful life of the GPS device. In other words, it is not actually lifetime map updates and support for your sat navs. This was a disappointing announcement for a huge number of users particularly that there are still certain retailers selling these now obsolete devices. A quick search and you can find some pretty irate owners in the TomTom Community discussions.
If you are thnking of purchasing a new TomTom it's important that you choose a device that can still provide you with regular updates. These are devices that are no longer supported and therefore you should not consider purchasing:
GO 750 (W7)
XL325
XXL IQ Routes(RY/RW/RX/GL)
ONE 125/130
START (XA/XB/XC/XD/XF/XH)
EASE (XI/XJ/XK/XL)
XL 335
GO 1000 (TD/TB)
GO 1005/2050(SF/SB)
VIA 110(AG)/130/135(AV)
VIA 160/260/280/120 (AN/AU/FM)
XXL CLASSIC SERIES (GQ)
GO 700 (M5)
GO 630 (JB)
GO 720 (M9)
 
GO 730 (J4)
GO 740 (WR/WL)
GO 750 (W4)
 
START 40(GT)/50/55(GU)
ONE IQ ROUTES (P1/PS/P2/PU)
ONE 140 (PM)
 
XL 340
GO 820 (FT)
GO 825 (FY)
 
VIA 225 / All Blacks Edition(BK)
VIA 110 (AG)
GO 910 (V7)
 
VIA 160 (AI)
VIA 220 (AR)
VIA 125 (BG)
 
VIA 180 (BH)
VIA 1530 / 1535 (BM)
GO 820 (FA)
 
GO 825 (FB)
VIA 180 (FP)
GO 730 (J5)
 
GO 930 (J6)
GO 7000 (LF)
GO 9000 (LG)
 
GO 920 (M8)
XXL 540 WTE SERIES (RZ)
GO 1005 (SE)
 
GO 1005 (SI)
GO 1005/2050 (SQ/SR)
GO 2535 (SL)
 
GO 2535 (SM)
GO 2535 (SN)
GO 1050/2050 (SP)
Are you unsure of which TomTom device you might have? Then our guide on identifying your TomTom device should be useful and can be found here.
If you have one of the above devices, then you are probably in the market for a new TomTom. If that is the case, then I would recommend checking out our review of the TomTom Go Supreme here.