Ok, so you've gone out and purchased a GPS watch. Perhaps you intend to use it for running, for cycling or for hiking? No matter what sport or activity you'll be using it for the chances are that your GPS watch or fitness tracker was not cheap. 
So, seeing as you've spent some money on the device you want to look after it and make sure that it lasts a long time. How then should you care for and clean your GPS watch?
How To Care For Your Fitness GPS Watch
In this article, we're going to take a look at what you can do in order to keep your GPS watch in tip-top condition.
Battery Life Extension
It's a fact of life that having the built-in GPS function active on your smartwatch will reduce the battery life, and you will need to charge the watch sooner. For example, on the Garmin Forerunner 45, you can get over a week of battery life if the GPS function is turned off. Turn on the GPS locator and your battery life decreases substantially, to a total of around 13 hours!
I think we can all agree that is quite the drop. However, if we are doing any activity, it makes sense to have the GPS function active, so we can track progress. It is after all probably the reason why you've purchased a GPS watch.
Here are some additional tips to extend the battery life of your smartwatch….
Turn on the battery saver mode (if possible)
Turn off the GPS function until required – turn it back on before you go for your run
Turn the auto scroll functions off – choose the most important parameters for your activity, e.g. distance, time or pace
Lower the backlight intensity – it won't be noticeable in daylight
Disable any Wi-Fi connections – any software updates can be done at home
Disable any Bluetooth connections 
Turn off any unnecessary notifications with any messaging apps
Disconnect your smartphone 
Don't listen to those tunes or music collection if it's on your smartwatch
By implementing some or if possible, all of these tips then you should begin to see a big improvement in the battery life of your device. Ultimately it will mean that you won't have to keep charging your GPS watch every evening.
Cleaning Your GPS Watch
If you take part in any type of physical activity, then you are pretty likely to find yourself sweating. If you're anything like me, then going for a run turns on the sweat taps! A half hour run will have me coming back home looking like I've run through a monsoon! (Apologies for providing that beautiful image to you, dear readers!)
Given that your smartwatch or Apple Watch will accumulate plenty of grime through physical activities – sweat, dirt, mud and sometimes tears – it's very important to keep everything nice and clean. If you don't keep everything clean then you may find that you will have some skin issues – rashes, irritation and some unnecessary chaffing. Thankfully, keeping your device clean should help prevent any of these issues!
Tip – if you do find that the smartwatch is giving you some skin problems, then stop wearing the device. Clean the watch thoroughly and wait for any skin condition to clear up fully before using it again.
Here are some tips on how to clean your smartwatch…..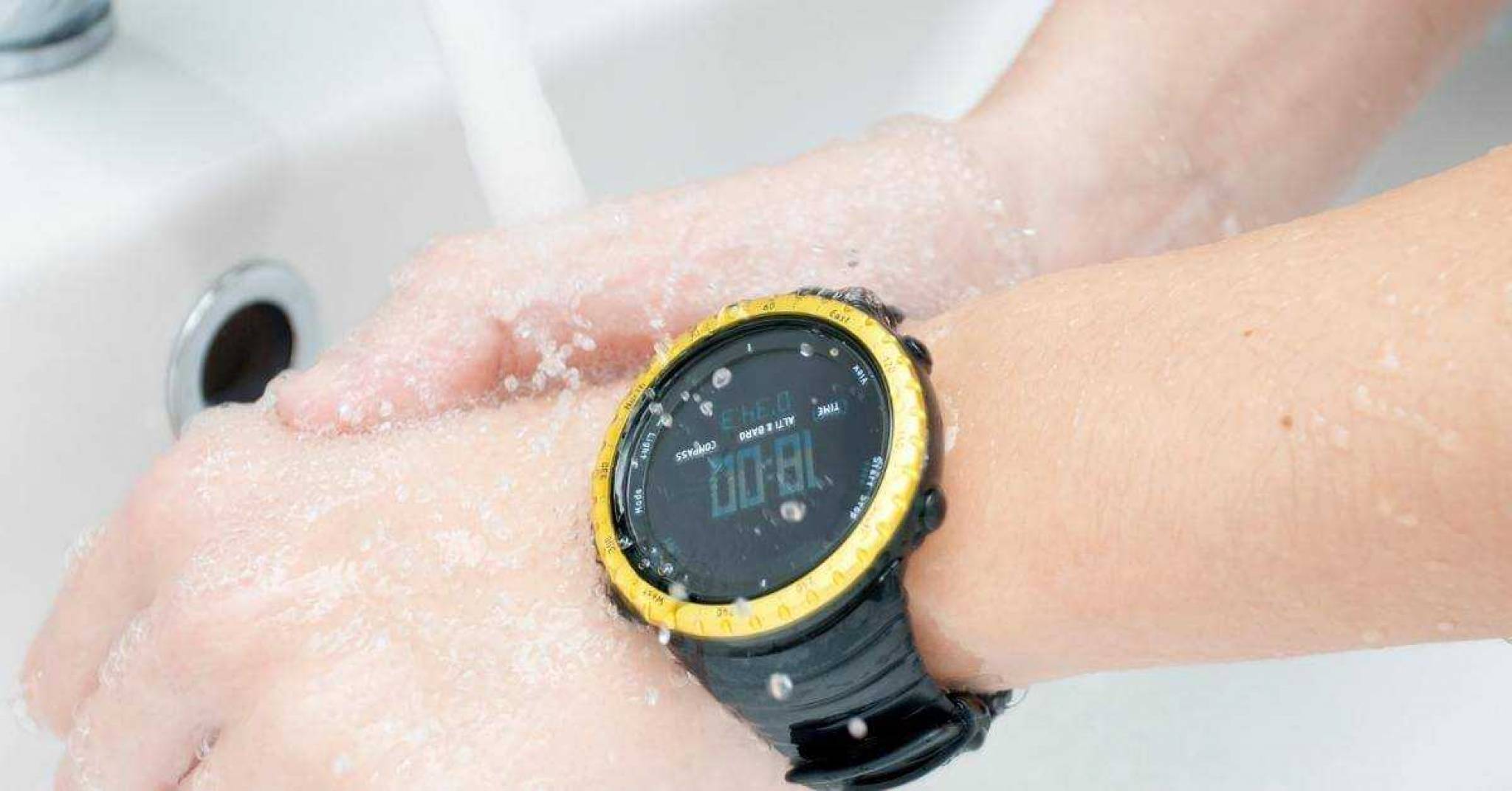 Smartwatch Cleaning Tips
In all cases it's usually worthwhile reading the instruction manual that came with your smartwatch to see if there are any rules for cleaning your device. If you don't have the documentation or it just doesn't mention cleaning then proceed with caution! 
Use a mild antibacterial wipe if possible to briefly wipe down the watch and strap.
Where possible, use only soap designed specifically for watches. If you don't have any watch specific soap (and let'e be honest, that's probably going to be most people!) then choose as mild a soap as possible. Washing up liquid is a great alternative!
Rinse a cloth with warm water, apply some soap and gently rub onto the smartwatch. Pay particular attention to the straps. The method will change depending upon the material of the strap.
Most smartwatches have a silicone strap, and these are easier to clean as you can rinse them under the tap.
Avoid rubbing the watch excessively, as this could scratch the surface of the case. Do not use abrasive cleaners such as steel wool pads or scouring powder. These will damage the surface of the smartwatch.
Pat everything dry using a soft cloth. Wait until everything is bone dry before you use the watch again.
Put the watch back on your wrist and head out for a run!
Not all of these tips are suitable for every smartwatch, so just choose the ones that are most suitable for your device.
Avoid Excessive Heat Exposure
Do not leave your watch unattended while charging. Use a stand when possible, so heat is evenly distributed around the battery compartment. Never place the watch near direct sunlight.
Fitness watch longevity
Following these tips on how to care for your fitness GPS watch should help keep your wearable device in tip-top condition. This will ensure that you get the most enjoyment and longevity from your fitness smartwatch.