Randy McNally TND 750
The Rand McNally TND 750 is a GPS that is specifically designed for use by commercial truck drivers. This Truck Navigation Device (TND) is the sixth generation that's intended to help truckers stay on the right road. It does this by providing them with powerful features such as route planning and scheduling tools that can help them navigate their way through cities, towns, and highways.
Pros:
Large & Bright Display
Truck Specific Routing
Easy to Use Interface
Fast & Snappy
Strong Mounting System
Cons:
North America & Canada Maps Only
Some Reports of Software Glitches
Hold on a second; I hear you say – doesn't this sound just like a normal GPS that's attached to your car dash? Well, yes, that is most certainly true to a degree. The TND 750 does indeed get you from A to B just like other GPS devices. Where this particular GPS excels, however, is in providing truck specific routes. In other words, you're not going to get stuck down narrow roads or under a low bridge as the Rand McNally Truck Nav 750 GPS helps you find the best routes when you're hauling freight across state lines.
Last update on 2022-06-20 / Affiliate links / Images from Amazon Product Advertising API
Rand McNally TND 750 Review
Design
The Rand McNally TND 750 looks and feels like a pretty robust gadget with it's sleek new design. One might think that it's been designed for use by truckers! You get a 7 inch display with a resolution of 800 x 1200 pixels – although this screen resolution isn't groundbreaking (there are sharper displayed trucker GPS devices available) it is more than adequate as the display is clear and bright. In fact, the refreshed and improved interface is rather fresh looking and easy to read.
The colors used on the screen – the mainly dark grey background , white text and bright blue buttons – are clear and make it easy to absorb information using a quick glance. This means that you can keep your eyes on the road as you drive. The display will also adjust the screen brightness automatically as you drive  The screen will dim at night time and the brightness will increase during daylight hours. Again, on the face of it this is only a small feature but it's something which makes the overall user experience much better.
Mounting System
Like nearly every detachable vehicular GPS this unit also connects to the windshield or your dashboard via a mounting arm and suction cup. The unit connects to the mount with a click and it should then remain in place as you drive!
Navigation 
The Rand McNally TND 750 provides truck specific routing based on the information that the driver provides. Once you provide it with your vehicle size, load types and if you're pulling any trailers then the routing will be calculated for you based on these parameters.
In other words, you won't need to worry about finding yourself on unsuitable narrow roads or finding yourself getting stuck under a low bridge. However, I'd caveat that by saying that it's obviously still a good idea to keep your eye out on the road just in case you come across anything unexpected! Further drivers assistance is provided by the sharp curvewarnings which will allow you to slow down in ample time.
You'll also find that when driving the map of your journey includes a number of buildings and the more famous landmarks in 3D on the screen. This a pretty cool feature but also rather useful in ensuring that you get your bearings correctly whilst out on the road. As well as being able to customize your routes you get enhanced lane guidance. This is super useful when your coming to an intersection or a highway exit that you aren't familiar with. It makes keeping your journey on point a cinch!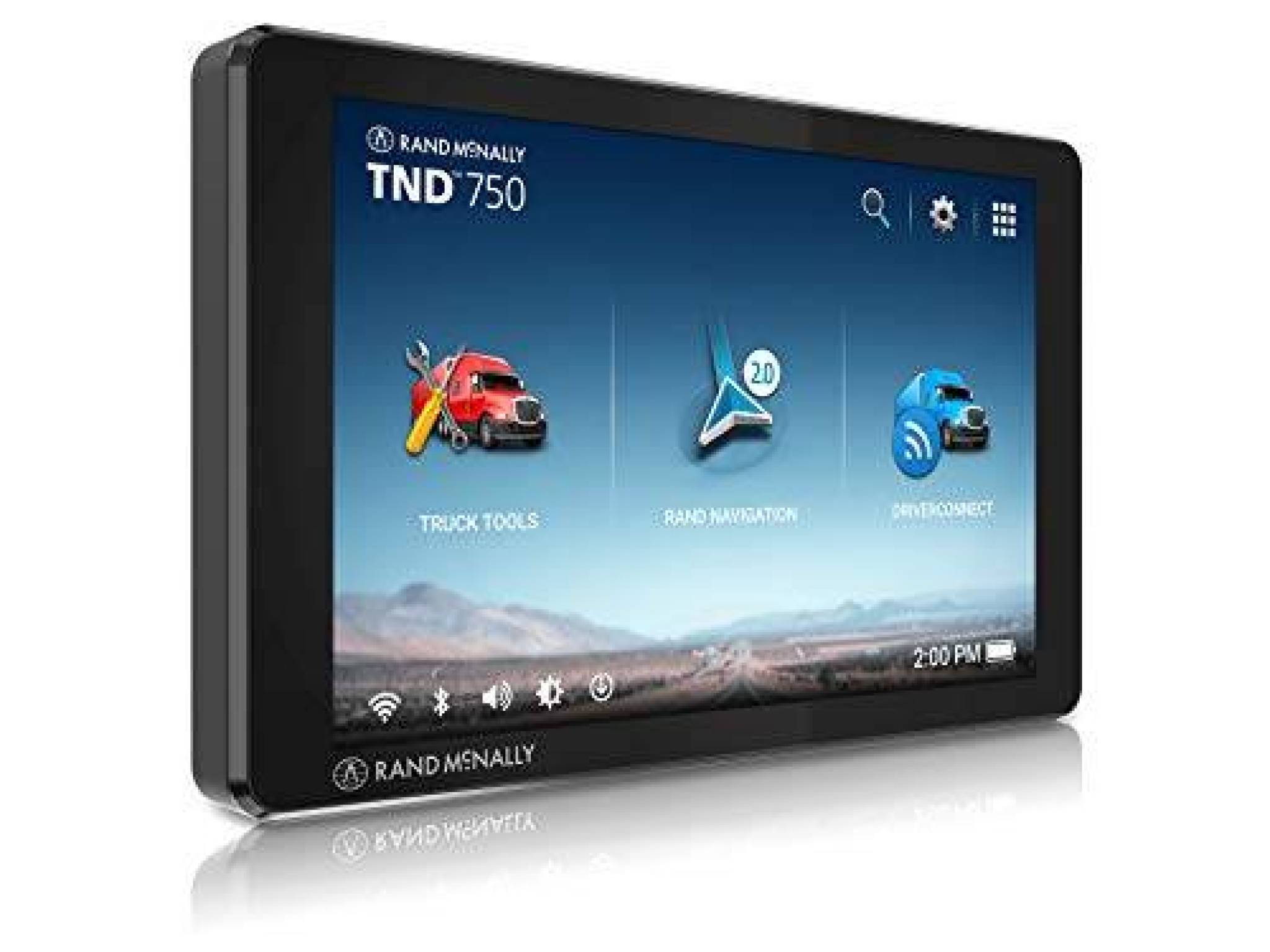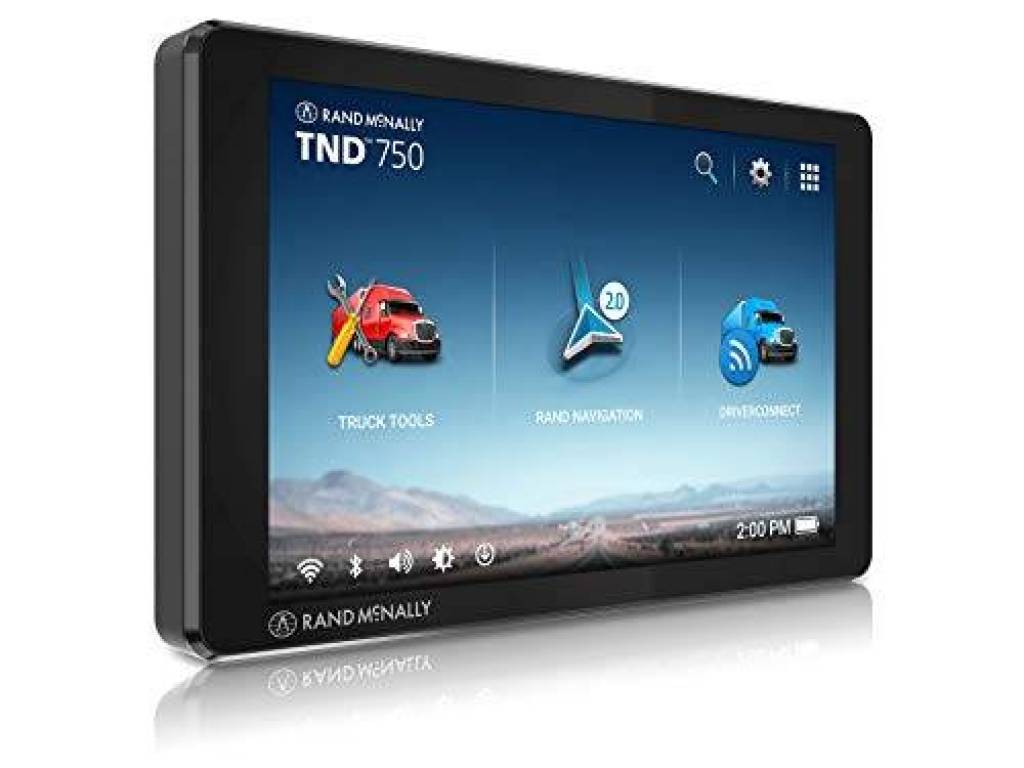 Traffic Updates
If you drive for a living and are a professional driver, then it's pretty useful to know if there are any issues on the road ahead. This GPS provides you with updates as to the traffic situation on your route. This way, you can decide to avoid any potential traffic issues that may slow down your arrival.
Connectivity
Most modern and half decent GPS devices today will allow you to connect your smartphone for some additional features. The TND 750 is no different, as once you pair your phone with the navigator, then you can see your messages and notifications on the screen.  
ELD compatibility
If you have the E-log accessory from Randy McNally then you can plug it into your J-Bus port. Once you've done this, you can then pair it with the TND 750 and the available Driver Connect app. By using these related products, you'll be able to monitor your vehicle, fuel economy, fuel logs and oil levels etc. These enhanced driver tools will also ensure your compliance and record your HOS-logging.
Conclusion
The Rand McNally TND 750 is most certainly an improvement on older models with its improved processing power and software system. It provides plenty of truck specific features and enhanced driver tools. Most importantly it's pretty accurate with the routing guidance, has faster processing and smoother graphics.
There is however, some serious competition in the trucking GPS sector coming from both Garmin and TomTom. All these companies provide GPS devices that can all do the job of navigation for a trucker. If you drive for a living it can  be pretty difficult to choose the right device for your particular needs.
In our opinion the Randy McNally 750 is an excellent unit that can most certainly do the job for a professional driver. It's probably not quite as polished as the Garmin Dezl, however, it is a good bit cheaper to purchase.
FAQs
How Can I Check the Latest Fuel Prices and Current Road Traffic Conditions?
You can view the current fuel price by tapping on the Wifi Connected Services button and enabling the Fuel Price slider. You just need to choose which tab you'd like to view. Remember that these features need an internet connection.
Does the Rand McNally provide weather updates?
Yes, it does indeed. It provides you with an overview of the weather for your entire journey. This includes temperature, wind speeds and expected precipitation levels. 
Is the TND 750 a big improvement on the TND 740?
The TND 750 is the sixth generation of devices in their trucking GPS range and it appears to be pushing the TND 740 towards obsoleteness. So, the short answer has to be yes the TND 750 is an improvement on the 740.
Hardware Improvements – Underneath the hood there has been a pretty substantial overhaul of the gadget hardware and software. The hardware upgrades include a better screen display, a more powerful hex-core processor running things and increased storage.
A less obvious improvement is that the magnet that holds the unit to the mount appears to have been strengthened. How do we know this? Well, there are very few reports of the GPS falling off the mount!
Software Improvements – this runs on the Rand Navigation 2.0 operating system which is certainly snappier than older versions. It's noticeable when moving between screens and menu options but also faster routing when a journey recalculation is required.
It's worth noting that the Randy McNally TND 740 is being phased out and therefore, if you are in the market for a truckers GPS then we'd recommend going for the TND 750. After all it makes sense to go for the latest unit that will be supported and updated longer.
Last update on 2022-06-20 / Affiliate links / Images from Amazon Product Advertising API
How Do I Update the Rand McNally TND 750 ?
When an update for the system is released, the TND 750 sat nav will notify you by displaying a small red light next to the System Update icon. Tap the button if you see the red circle appear. Then wait for the app to finish updating.
You could also choose to manually check if there's an update available by scrolling through the menu to the following:Settings > General > System Updates.
If there's an update available then all you'll need do is follow the onscreen prompts.