Are you looking for a tough and reliable watch? Something that can accompany you everywhere and anywhere? In that case, you should look at getting one of the best military watches available for explorers. 
Perhaps you're a member of the military or an adventurer that likes to go completely off grid? If so, then you need to make sure that the watch you use can withstand plenty of knocks and provide you with the relevant information to get the job done.
If you work and play in the toughest of conditions, then you need a watch that'll match your surroundings. These rugged and reliable field watches will stand up to the toughest and most extreme of conditions. 
Let's jump right in.
Editors Choice
Toughest
No Frills
Most Stylish
Premium
Breitling Avenger Hurricane
Editors Choice
Toughest
No Frills
Most Stylish
Premium
Breitling Avenger Hurricane
Last update on 2023-09-25 / Affiliate links / Images from Amazon Product Advertising API
Gone are the days when service personnel were provided with a standard issue wristwatch. Nowadays, most military personnel wear their own choice of military GPS watches.
If you're in the market looking for some of the best military watches then you might be feeling a little overwhelmed by the sheer choice of devices available. Well, fear not, we're here to help you find the best military watches that will do the job for you.
Below you will find some of the best military watches available within different price ranges. 
Garmin fenix 7X Sapphire Solar
The Garmin fenix 7X Solar is a top of the range, rugged, all-action adventure watch. It has fantastic battery life (thanks to solar power), rock solid built in GPS, easy to use mapping functions and an absolute truck load of features.
Sounds good? Well, I for one would wholeheartedly agree. It's an absolute belter of a watch that has some rather impressive key features.
This is one of those adventure / sport watches that you can bring with you everywhere. It provides you with the ability to track and record your outdoor activities, to see where you have been, what you've done, and exactly how far you've traveled.
Once you sync it with Garmin Connect then you have access to reams of performance data. 
Ok, you might be thinking that this all sounds great, but if I wanted a sports watch I'd go for something like the Foreunner 45. And you'd be right, this type of watch will track your fitness stats. However, it won't provide you with the mapping features and nor will it stand up to the rough and tumble of the adventurers life.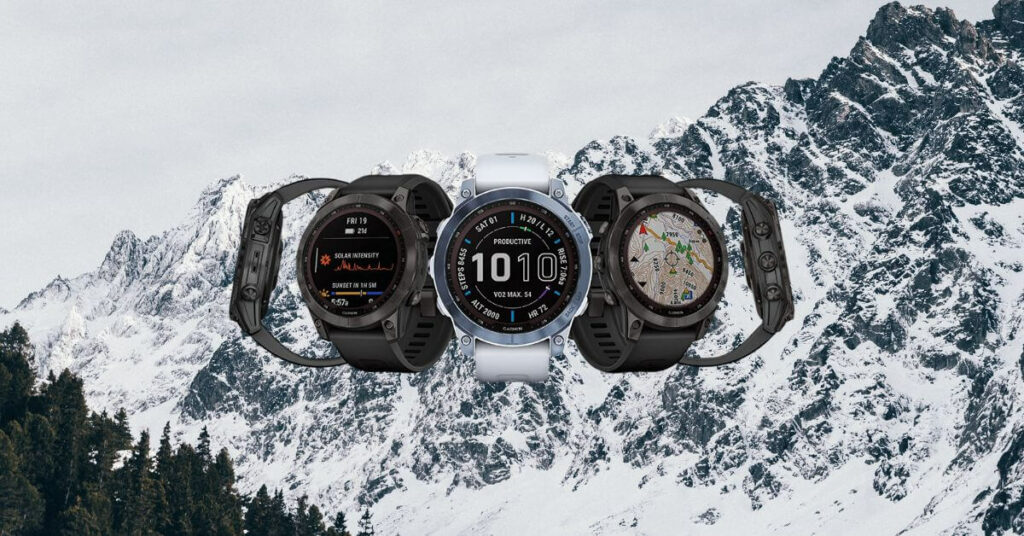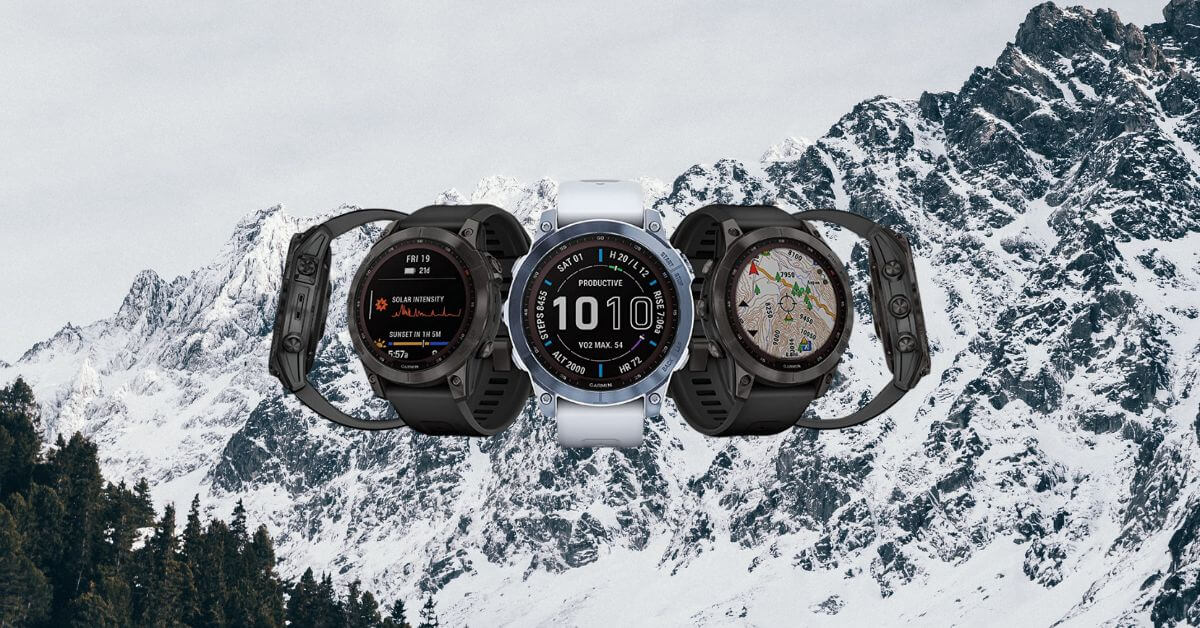 The Garmin fenix 7 x is one seriously tough timepiece. It comes with a sapphire crystal display that is scratchproof and by all accounts, virtually unbreakable. In other words, you're getting what we'd class as a military grade watch.
The sapphire lens that comes straddled with what Garmin call their Power Glass Technology. Sounds pretty impressive right? But, what exactly does it mean? Well, in practice it provides the fenix 7x with the ability to use the sun as a light source to keep the battery life topped up. 
You have the option to use this as a touchscreen enabled device or alternatively, you can turn the touchscreen off and use the buttons instead.  Anyone who has read my previous reviews will know that I'm not a huge fan of using a touchscreen. This is because they aren't always that responsive when you're wearing gloves or have some sweaty fingers from running – either way this Garmin thankfully caters for both camps.
In summary, this is a powerhouse of a watch that becomes easier to use the more you use it. It can record your activities, monitor your health, show you topographic maps, play your music and allow you to pay for stuff using Google Pay etc. This is an advanced premium device that packs a punch and believe it or not, is our top pick in the military-grade watch section.
Pros
Solar Charging GPS Smartwatch
Advanced Features and Metrics
Loaded with TopoActive Maps
24/7 Health Monitoring
WiFi Compatible
Cons
Slight Learning Curve
Pricey
---
Garmin G-Shock Mudmaster
This is one of the toughest looking G Shocks ever made.  This is one of those watches that you can imagine surviving being driven over by a car. The sapphire glass display is what properly tough watches should all use. These types of displays can withstand any amount of punishment that can be thrown towards a watch.
Honestly, you can bring this piece with you everywhere thanks to its ruggedness and the shockproof and dirt resistant ratings.
Because it's solar-powered, there's no need to worry about battery life. You'll get weeks of time keeping if you wear it on a daily basis. Getting this watch wet is no problem either as it's water-resistant up to a depth of 200 meters.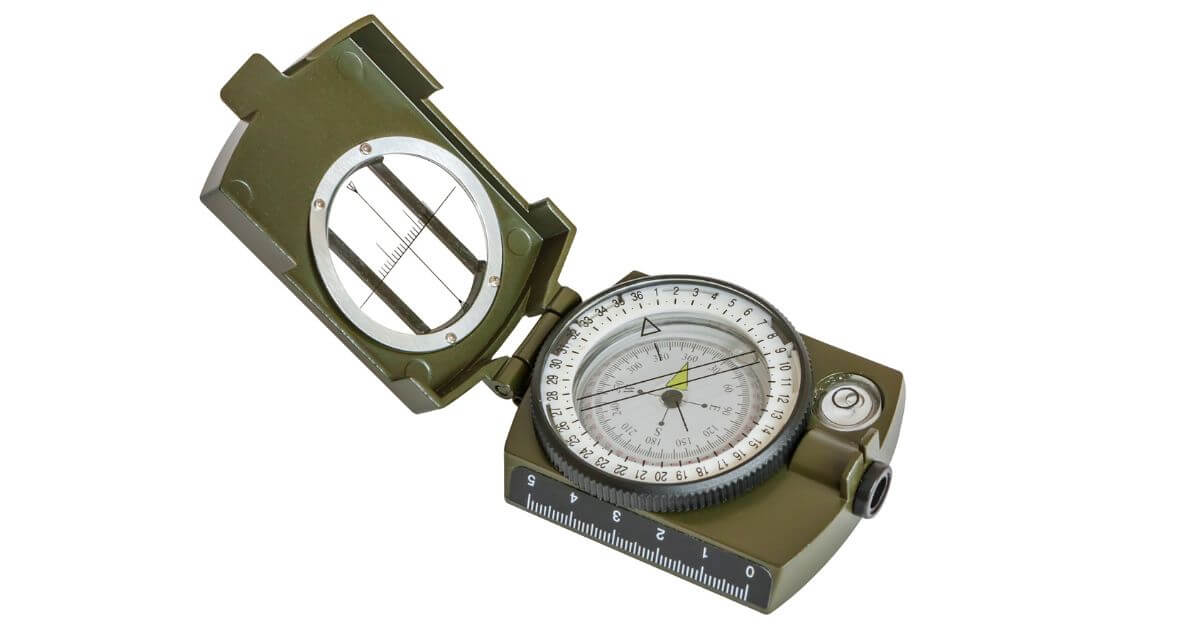 With this you won't have to worry about your time keeping being wrong. The multi-band atomic timekeeper 'checks and adjusts' the time shown by the Mudmaster. This level of accuracy can be vitally important if you're out in the field on operations. Timekeeping could literally be a matter of life and death. And don't worry if you need to know the time in a different country it has you covered with the world time clocks.
Everything about the Mudmaster is oversized, from the buttons to the moving hands. This makes it easy to read no matter where you are or what you're doing. There are 2 LED lights that can light up the lume on the hands providing excellent visibility in the dead of night. 
Are you heading on an expedition? No problem. 
This is a tough watch with full ABC capabilities. Altimeter, barometer and compass are all included and easy to use.
Are you a first responder looking for an accurate timepiece? No problem. This timepiece has you covered with its accuracy.
Are you serving in the military? Again, no problem.
This watch has you covered. It has been built with accuracy and durability in mind. You can literally take this watch with you everywhere and it will take all the knocks you can throw in its direction.
The shock resistant features mean that it's also great for construction workers. If you operate a jackhammer everyday then your arm is going to be constantly vibrating. The gel inside the Casio G-Shock will ensure that your watch won't get damaged because of your work.
Check Latest Price of the Garmin G-Shock MudMaster
Pros
A Seriously Tough and Rugged Watch
Solar Power Battery
Easy to Use
---
Suunto Core
Suunto watches may not be as well known as other brands, however they are held in very high regard by military personnel because they make tough watches.
Why do members of the armed forces like them so much? Well, because they are tough and they will last you a very long time.
A buddy of mine has had his on his arm every day for over 8 years. Yes, at this stage it may be starting to show plenty of wear, but guess what, it still works and does its job well.
The Suunto Core is a watch that's made  to accompany you on those great outdoor adventures. It comes with full ABC functionality. The altimeter displays your height in relation to sea level and will record your ascents or descent in the mountains.
The barometer and the storm alarms are useful if you know that you're going to be out in the wild for a few days. If there's a storm on the way, then the storm alarm will let you know. How does it monitor changes in the weather? Well, the Suunto measures the atmospheric pressure and records any changes that would indicate that a storm is brewing.  
If you're looking for a tough outdoor watch that does the basics well, then the Suunto Core should definitely be a strong consideration.
Pros
Rugged and Long Lasting
Full ABC functionality
Storm Alerts
---
Citizen Eco Drive
This is a great looking tactical type watch that has a tough cordura fabric strap. The analogue display is uncluttered and easy to read at a glance. At low light levels the luminous hands glow just enough to let you see the time without being a distraction.
There are three smaller additional dials set within the watch face and these are for the days of the week, the date and the hour of the day using the 24-hour clock.
The most impressive feature of this watch is that it's solar powered. You don't need to charge anything or change the battery every few months. The sun can provide it with enough power to last a long time (even if you leave it in your gym bag for a couple of weeks!)
If you purchase this watch then you'll first need to provide it with some sunshine. This will charge the watch before you use it and you can then adjust the time accordingly. 
Pros
Solar Powered
Water Resistant up to 100 meters
Analog Display
Luminous Hands
Cons
Only a Military "Inspired" Design
---
Breitling Avenger Hurricane
This is by far and away the most expensive watch on our list. It is a Breitling after all!
This is the watch that you buy if money is no object for you. It's an absolute belter.  It's also the most expensive watch on our list by some distance. But, hey, it's a Breitling and there are only 250 pieces made. This is therefore a rather rare timepiece to own.
This is a beautiful and stylish self winding chronograph piece that just exudes quality. Everything screams top-notch. From the workmanship and the care gone into the watch itself to the box that it arrives within. 
It features a 50 mm diameter case and a 20 mm wide bezel. The bezel itself features 12 sub dials with separate markings every 15 minutes. There are some additional sub dials span the 9 o'clock, 6 o'clock and 3 o'clock positions. The watch has a durable, matt black polymer unidirectional rotating bezel. This is a black dial with yellow markers and both the hour and minute hands are luminescent. No need for some night time goggles here!
The watch has a steel case and water-resistant up to 100 meters. This watch features a COSC-certified chronograph movement and a Swiss-made quartz movement. 
Ok, so we know that this is a stylish and a limited edition watch, however, it also has a rather impressive (and extremely strong) glass display. The cambered scratch resistant Sapphire Crystal glare proof, reliable and a very tough display. The watch should easily be able to withstand some seriously extreme conditions.
In short, if you want a limited edition, top quality wrist watch the look no further. Yes, it's expensive, however, it's seriously tough and all of your friends will be seriously envious.
Pros
Sapphire Crystal Glareproof Glass
Exudes Elegance and Style
Premium Timepiece
Very Limited Edition Watch
---
Best Military Watches Summary
All five of these best military watches are tough, rugged and suitable for the most demanding of environments. So whether you're a military professional, a special operator or a Bear Grylls adventure type, then any of these watches can do the job for you. 
If you only need the basics then I would recommend going for the Suunto Core. It may not have all the bells and whistles of other watches, but it's loved by many military professional personnel. It will also last you for years.
Ultimately, however, our vote for the best military watch goes to the Garmin fenix 7x as it comes jam packed with rally useful features. You get everything you might expect from a sports or an adventure watch in a tough case. This could be your companion in the mountains, in the sea, on the track or even on the golf course. Yes, I know that these functions probably aren't essential in a military type watch, however, it does make it an all round super useful device.
The Garmin fenix 7x Solar Sapphire is our current top pick as a military / adventure watch. As you can see, it looks good, is properly rugged and it comes with lots of useful outdoor features.
---
Things to Consider Before You Buy
What is a military watch?
A military grade watch is a robust timepiece that has been designed for use by either the armed forces or serious adventurers. They will have some additional tactical features beyond what is ordinarily found on a normal watch that are useful in the great outdoors. These may include GPS, better water proofing, altitude, barometric and compass functions. 
The use of the term "military" in this context refers to some of the activities that they may be asked to conduct – climbing, hiking, swimming, diving, flying or participating in some form of combat. In other words, these are the kind of extreme activities that may experienced by law enforcement officers, adventurers, military personnel or even the more extreme weekend warriors amongst us! 
Why do you need a military watch?
The first thing to consider is why you need a military or tactical watch. I'm guessing that if you're looking for a military or tactical watch then the durability and robustness of your timepiece has to be an important consideration.
These rugged and reliable watches are perfect for those looking for a watch that will stand up to tough conditions. This includes soldiers, police officers, hunters, mountain climbers, hikers, backpackers, and other tactical enthusiasts.
GPS watches now offer much better durability, functionality and battery life than they did a couple of years ago. We looked for products that had good durability and tactical/military characteristics.
Design
The design of a military watch is important. You certainly don't want anything too flashy that will draw attention to your arm. After all, being discreet could save your life in certain situations. A black dial or a matt finish can make 
It's also important no matter the type of watch you have for it to have a legible dial or an easy to read digital display. If you're in an emergency situation being able to see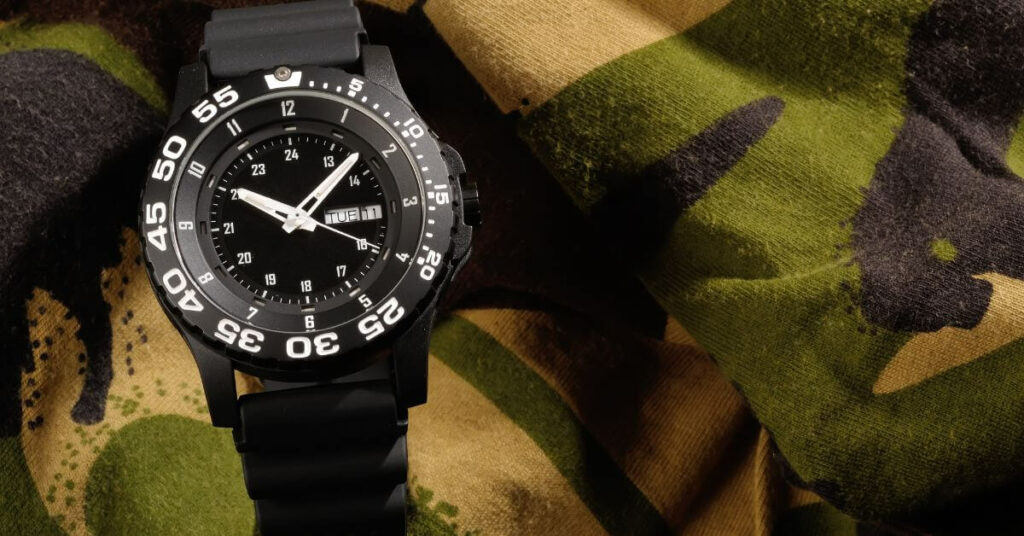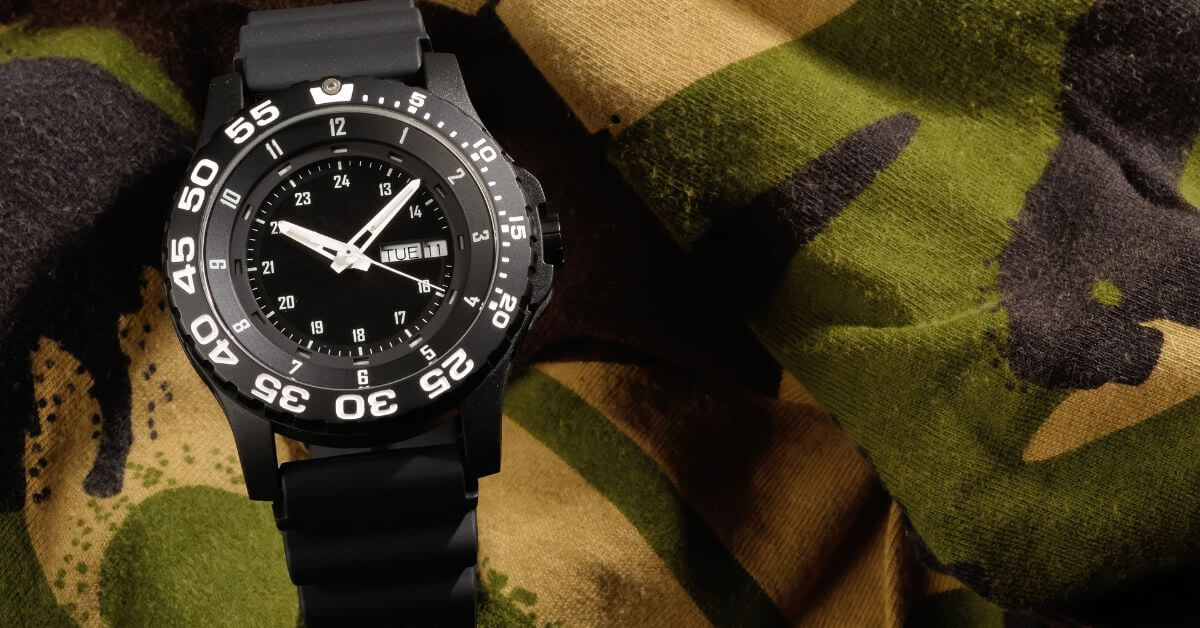 Durability
Your watch should be tough enough to withstand the rough and tumble of your adventures. It should also  be something that lasts you a very long time. After all you don't want to be splashing the cash in another few months time because you've broken the display or the watch mechanism.
Look for a shock resistance rating and specifically what material has been used n the watch face. 
Battery Life
The last thing you need is for the battery to die when your out on an expedition. A long battery life is an absolute must. Heck, I'd even go as far to say that it's non negotiable when you're making your choice. 
Solar charging smart watches are game changers when it comes to battery longevity. Using solar power these can provide you with enough hours of power reserve  even if you are unable to charge your device out in wilderness. 
Water Resistance
The level of water resistance you require depends on the types of activities you have in mind. If you're only going to be swimming periodically, then a moderate level of water resistance should suffice. If on the other hand your going to be diving, snorkeling, high-speed water sports  then you should look for an increase in the meters of water resistance. A level of 100 meters should be a minimum for this level of activity in the water. 
ABC Functionality
Altimeter
An altimeter (as the name suggests) measures your altitude. It tells you how high you are based on your distance from sea level. If you're climbing a mountain this can be useful information in determining tyour ascent or descent times.
Barometer
This will provide you with some weather predictions based upon recent atmospheric pressure. Knowing the barometric pressure can prove useful in the field and provide you with a warning should there be a storm brewing in the vicinity. After all, you're not going to detect the air pressure accurately by using an old wives tale such as looking to see of the cows in the field are sitting down! 
Compass
An electronic compass on your wrist is useful in helping you work out your direction of travel. Do you want to head north? The watch makes things easier by removing the guesswork and you can follow the digital compass needle on the display.
Additional Features
Alarm
If you're anything like m then you'll be the type of person that relies on the alarm function. Setting daily alarms enables you to get up when you had originally planned. It also means that you can set various reminders for those little tasks that you have to complete during the day. 
Stopwatch
I guess this is pretty self explanatory and is pretty much a standard feature on even the most basic of watches. If you want to know how long it takes you to do something then use the stopwatch function.
Price
If you don't decide on what it is you wan the watch to do for you, then you will almost certainly pay a lot more for the watch. Save yourself some money by only buying a watch that has the features that you're going toned. There's absolutely no need for you to buy an aviator specific watch if you're not in the Royal Air Force and you're never going to fly a plane!

Editors Choice
Toughest
No Frills
Most Stylish
Premium
Breitling Avenger Hurricane
Editors Choice
Toughest
No Frills
Most Stylish
Premium
Breitling Avenger Hurricane
Last update on 2023-09-25 / Affiliate links / Images from Amazon Product Advertising API