In this Garmin Swim 2 Review, we're going to take a look at a watch that is specifically designed swimmers. Garmin has released plenty of watches that measure swimming metrics, but they have only ever been an add on to the running or the cycling features.
 This is a dedicated swimming watch that will track your swimming performance in the pool or in the open water. But, is it worth getting if you already have a sports watch on your arm? Or is this something that's aimed at the competitive swimmer?
Without further ado, let's go and find out…..
Features
Dedicated swimming watch
Suitable for the Pool and the Open Water
Underwater Heart Rate Monitoring
Gauge your Swimming Efficiency (SWOLF)
Background
Today technology is everywhere. It's designed to make our lives easier, and if you're involved in any sport then it should help you bring your performance to the next level. Imagine how difficult it was in the past for a swimmer to measure their laps or resting times. To be anywhere near accurate they would need to have a coach pacing alongside the pool as they swim keeping tabs on them. We've all seen the movies when the coach is always looking at the stopwatch and writing down the results onto a clipboard!
Well, today things are a little easier for both the swimmers and the coaches. Technology means that tons of performance measurements and data can be obtained from a small device on the wrist.
The Garmin Swim 2 is the long overdue follow up to the original Garmin Swim. With the newest version of the Swim, you get all of the swimming features found on the most expensive adventure watches. The only difference is that you are getting them in a smaller and way cheaper format. This is purely because you are getting a swimming specific watch and not an all singing, all activities tracker.
Design
The Garmin Swim 2 looks very similar to one of the Forerunner running watches. This means that you have a light and compact wrist watch , which dare I say, looks just as good in the pool as it does outside of the water. The display is justa smidge over an inch in diameter and the green is nice and bright. This means that you can read the screen pretty easily, even if you're using swimming goggles.
There are five buttons on the circumference. A touchscreen display just wouldn't work in the water as you'd spend all ofyour time tapping an unresponsive screen in frustration!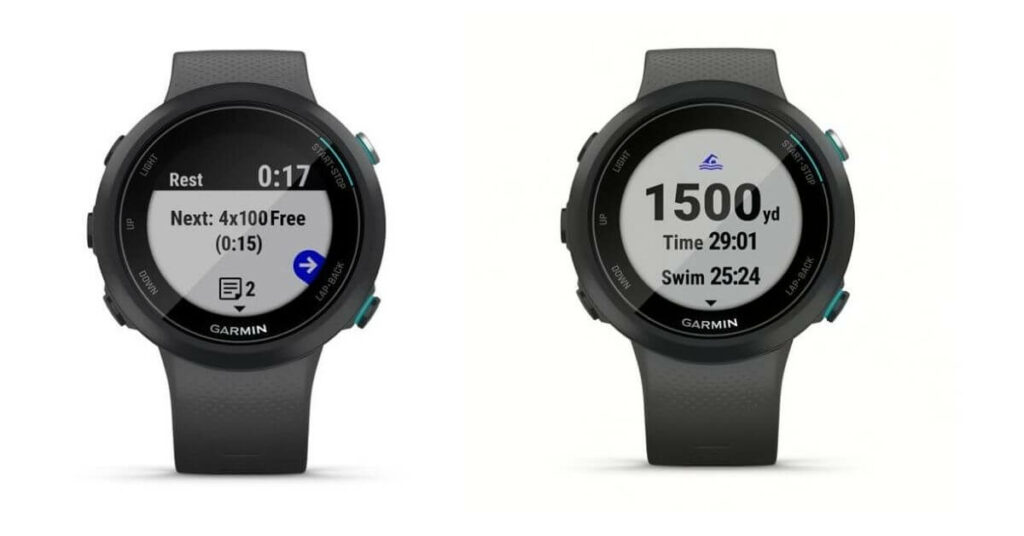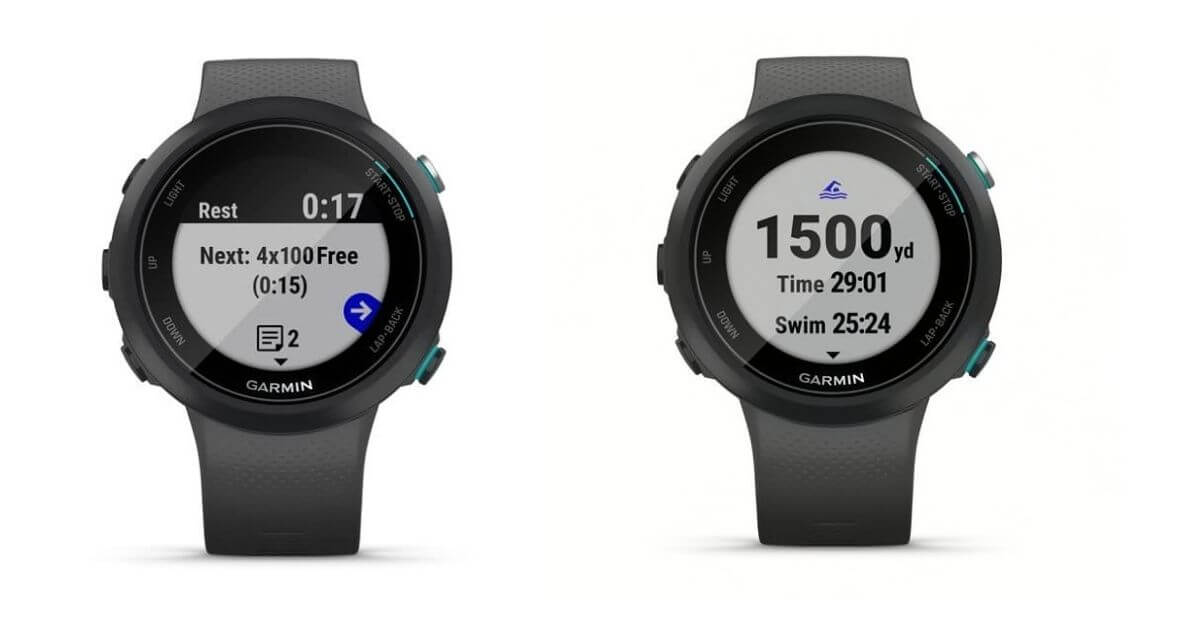 Despite the lightweight nature of the watch, the buttons feel reassuringly chunky. They are responsive and easy to press when you're in the water. There are up and down buttons on the left hand side that you useto scroll through the various available widgets (which we'll take a look at below).
Once you sync the Swim 2 with the Garmin Connect mobile app with your phone you will have access to a whole ream of data. Some of this data you may not have previously thought to make use of it. However, as a friend of mine always says, "it's better to be looking at them than looking for them!" He was talking about about electrical sockets in a house, but the same concept could apply to fitness data. If nothing else, it can be useful in figuring out if you've been overtraining or whether you need to adjust your swim workout to improve your swim training.
Swimming Features
As a dedicated GPS swimming smartwatch many of the features are (as you'd expect) geared towards your swim sessions. And in this regard, the Garmin Swim 2 does not disappoint!
There are two swim profiles available – pool swimming and open water swimming. Let's take a look at them in a little more detail.
Pool Swimming
Press the start button (top right) and by default the first activity that comes up is a pool swim. Once you set the length of the pool then you're good to go. The Swim 2 doesn't need to use the GPS function indoors as the length of the pool isn't big enough to warrant it. You would also very likely experience issues with the accuracy of using any GPS device indoors.
If you're serious about your swim training, then you can design a structured swim workouts on your home computer and sync them to the smartwatch.
For example, you can designate different lengths of the pool for each stroke, or use a few laps at various paces to simulate racing. This type of workout is not possible with the Garmin Swim, but it can help you become a better swimmer if you have a suitable computer. 
Open Water Swimming
Using the GPS this watch enables you to train properly during open water swims. It provides you with your exact location whether you're swimming in the sea, the lake or even in the river. It utilises the GPS to (nearly always) accurately track and record your distance, your swim speed and the details of your strokes.
If you want to know your average stroke count or your average pace over a certain distance then this watch has you covered. Do bear in mind, however, that the SWOLF score it provides is based on an average of your times. This is because the GPS may not always be 100% accurate at all times in the sea.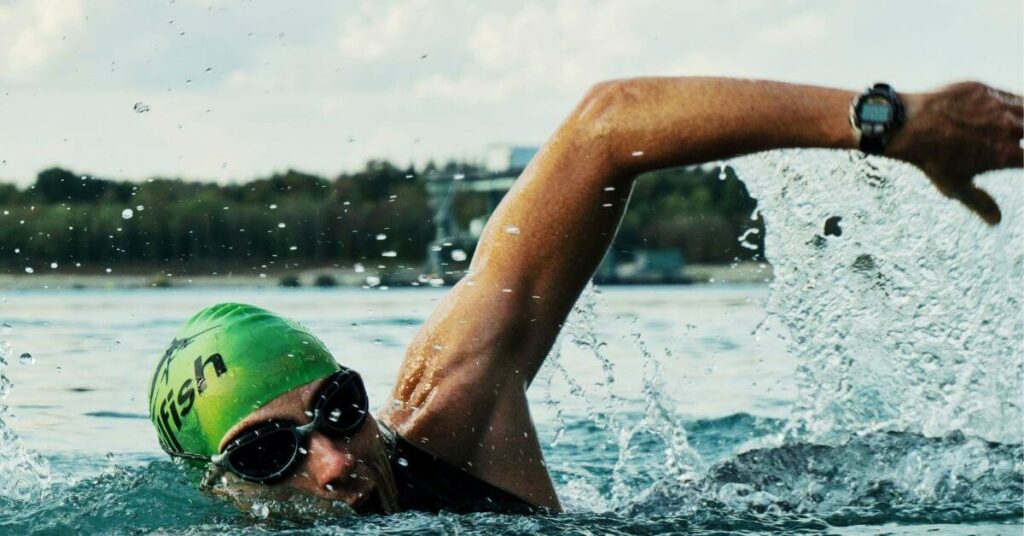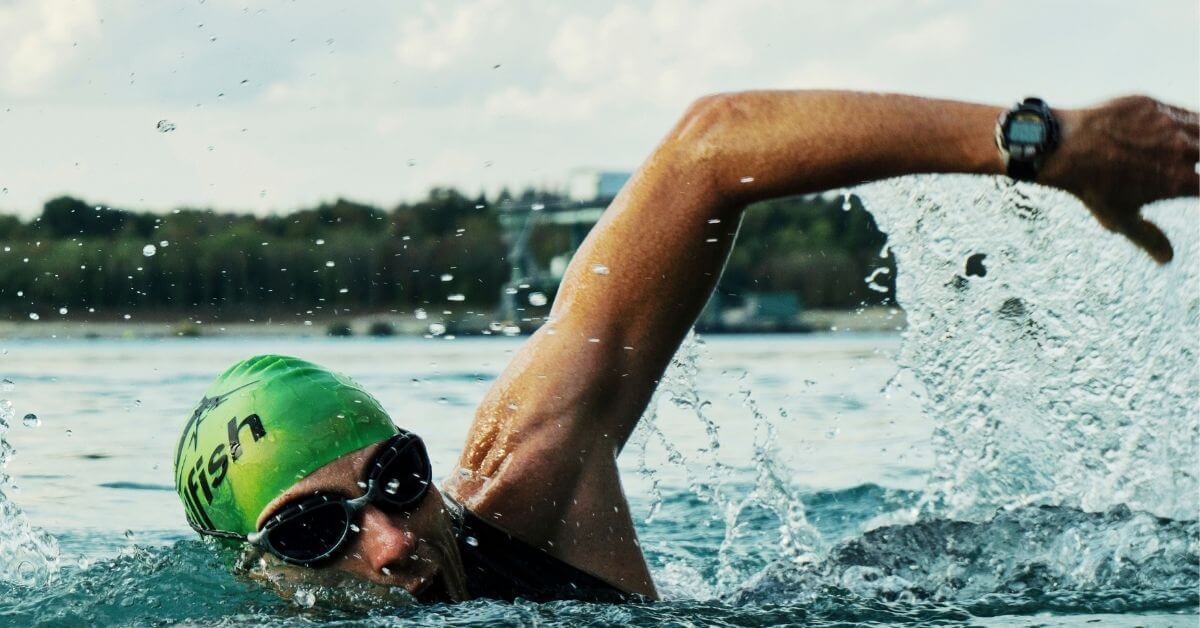 Auto Rest Feature
The addition of an auto rest feature has been met with a huge number of positive reviews with swimmers. It's only available for swimming in the pool. If you decide to take a breathe in between lengths then it will recognise that you've stopped swimming and pause your session automatically. You no longer need to remember to press the pause button on the watch. 
In all honesty, it's a pretty simple feature, but make no mistake the auto rest functionality is a very welcome addition.
Critical Swim Speed
Your Critical Swim Speed (CSS) is a swimming metric that can assist in monitoring your progress in the water. Your CSS score is in theory the speed that you can maintain in the water without getting tired. 
If you don't currently know your CSS score, then you can take the speed test using the watch. Your score will be calculated once you've swam over a 400 meter distance.  
If you're taking the CSS test then it's a good idea to warm up properly before you start so that you can perform at your optimum levels. In order to keep your scores up to date, and to monitor your progress then most swimmers retake the test every couple of months.  
Heart Rate Monitors
If you're used to runnning with your Garmin watch, then the chances are that you've been paying attention to your heart rate. It's an useful metric if you're training as you can ease up if your heart rate gets too high, or you can just train in a certain heart rate one.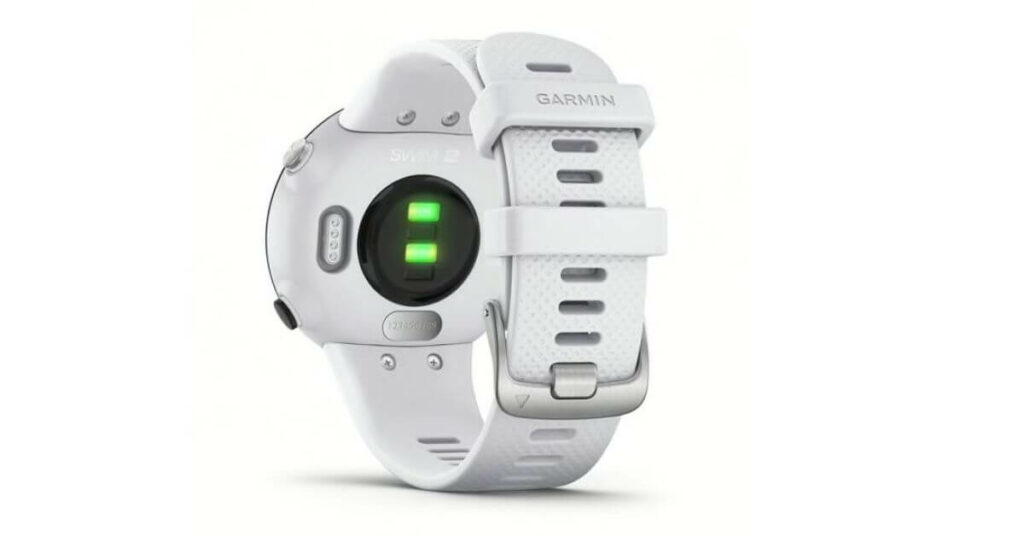 Similarly, with this watch, you can also track and mmonitor your heart rate within the water. As my swimming prowess isn't that special I'm not sure if I am getting the most out of the HR data – at least, not yet anyhow! Once you've pressed start and have begun to swim then your chosen data screen is shown along with your hear rate.
The optical heart rate sensor is located on the rear of the watch. You can see the flashing green (and sometimes red) light of the optical sensor working away. There are questions as to whether this type of HR is the best option for the water.
If, however, this metric is super important to you then you could also wear an additional heart rate strap underneath your wetsuit. Garmin produce a swimming specific herat rate strap that is non slip and easy to sync with the Swim 2.
Running & Cycling
Whilst the Swim 2 can't compete with dedicated multisport watches for activity tracking that aren't swimming, it certainly doesn't mean that it can't cover the basics. It's a little short on some of the details and functions, but it will do the job. It can easily monitor and record your runnning and cycling trips.
As this is predominantly a swimming watch the levels of detail and options for tracking your runnning or cycling aren't quite as impressive as the swim tracker functions. Once coupled with the Garmin Connect App, however, it will most certainly provide you with enough for some triathlon training or for your next half marathon.
Battery Performance
As with every fitness watch out there, if you turn off the GPS function then the battery lasts much longer. Getting the most out of the battery makes sense, however, what is the actual battery life of the Swim 2?
Garmin has provided the following details in relation to battery performance:
Smartwatch mode (with GPS turned off): Around 7 days of battery life
GPS mode turned on: Up to 13 hours
Using both Pool and OHR mode: up to 72 hours
Smartwatch Features
This is a dedicated swimming assistant that provides you with plenty of additional features that can help you become a faster and more efficient swimmer. We shouldn't forget, however, that it does also provide some basic smartwatch features. If you've paired your phone with the watch, then you'll receive your phone notifications on the display. Useful during your times outside of the pool, however, it's not going to work when you're swimming. Presumably you're not going to have a smartphone in your pocket whilst swimming!
Scrolling through the various options and you'll get details of your current heart rate levels, that also includes a stress level monitor. This provides some interesting measurements of your day as you can pinpoint the times when your heart rate and your day stress tracking levels were raised. Perhaps you were watching a game or you've just finished a particularly hard swimming session.
Another feature worthy of mention is the sleep tracking ability. Honestly, it seems to have this uncanny ability to know how good a nights sleep you've managed to get. Seriously, it just seems to know the quality of your rest and it will tell you that perhaps you should consider taking it easy to improve your rest periods! No need to tell me twice!
Garmin Swim 2 Summary
I'm not going to lie to you. I'm not the biggest fan of swimming.  And if I'm being totally honest with you, I'm just not that strong a swimmer. These past few months I have been taking weekly lessons with a view to becoming a better swimmer, but my progress has been rather slow, albeit, I am moving in the right direction.
As you probably know, I'm however, a big fan of sport and fitness watches, particularly if they can help me improve my performance. At the moment, I do believe that the Garmin Swim 2 is the best swimming watch available right now.
It's easy to use, has a plenty of swim specific features, and it's pretty accurate in the open water. If you're serious about your swimming then it's an excellent option for you to consider. The ability to create and sync structured training schedules and workouts could be a game changer in raising your performance to the next level.
If you're into swimming, want to get faster and more efficient in the pool then this smartwatch will help you achieve these goals. Check out the Garmin Swim 2 to improve your swimming.
Things to Consider Before You Buy
What Do You Need?
The first thing you need to consider is whether you want a watch that is purely for swimming or whether you want a watch that is a bit more versatile. If you want a watch that is just for swimming then you should get a dedicated swimming watch. The Garmin Swim 2 is a good choice. It has all the features that you need to improve your swimming.
If you want a watch that is more versatile, and you have a more sizeable budget, then the Fenix 7 is an excellent choice. It has all the features that you could possibly need as it serves athletes, adventurers and the weekend warriors amongst us.  activities too.
Watch Size
The second thing that you need to consider is the size of the watch. A small watch is easier to wear and if you are wearing a swimming suit then it can be hidden under the top of your suit.  We like the fact that the Garmin Swim 2 is both slim and lightweight. It is not a chunky piece like a Rolex and therefore, it won't slow you down or impede your swimming. 
Water Resistance
The third thing that you need to consider is the water resistance of the watch. This is important because if you wear a watch while you are in the water then it is more likely to get wet and damaged. It does seem pretty obvious, but a swimming watch needs to be properly water resistant. A watch that is not water resistant can be easily damaged and this can ruin the watch.
Choose a watch with a rating of at least 50 ATM (atmospheres). This means that it can withstand pressures up to a depth of around 50 meters in the water. In other words, it can happily go into the open water with you.
If on the other hand, you are a diver and you need to go deeper into the water, then you should consider the Garmin Descent MK2. This is one tough wristwatch that you can dive up to a 100 meters with it strapped to your arm.