Geocaching has been around for over a decade now, so there are plenty of resources available to help you out when you're starting out with the activity. Most of the information you'll need to get started is readily available online. And if you're struggling with something, or want to know how to approach a certain puzzle, then you can always ask your questions within one of the many online community forums.
Of course, we know geocaching is an online digital activity, but is it possible to go properly old school and learn about geocaching with books?
Well, yes, of course it is! There are lots of superb books written about geocaching.
Best How To Guide
Best for Puzzle Caches
Most Enjoyable
Best Journal
Best for Kids
Best How To Guide
Best for Puzzle Caches
Most Enjoyable
Best Journal
Best for Kids
Last update on 2023-09-25 / Affiliate links / Images from Amazon Product Advertising API
After all, if you're like me, then not everybody wants to sit in front of a screen learning how to get started with finding a geocache. It can be so much more enjoyable to sit in front of the fire with a real book! And the great thing is that we have found plenty of the best books about geocaching that can help you get started and get the most out of your geocaching adventures.
5 Best Books About Geocaching
If you're new to the world of caching, or you're just looking to increase your knowledge on the hobby, then I would recommend that you start by reading some of these awesome books:
Best Book for Geocaching Beginners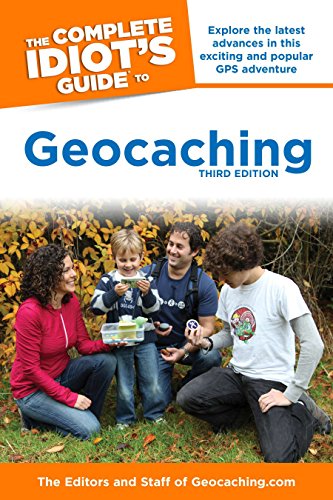 This book was first published almost 20 years ago, whilst geocaching was very much in its infancy. There have been some updates to the book since then, however the latest version is still almost 10 years old. This should not, however, take away from what is an excellent guidebook to those looking to learn about and understand how to play geocaching.
This book will cover all the basic essentials that you'll need for caching. It provides instructions on how to play, lots of tips and tricks for both finding and hiding caches and plenty of guidance in order to get you started.
Unfortunately, this book seems to no longer be available for purchase from the official geocaching store. However, it is still available to buy on Amazon.
Best Book for Geocaching Puzzle Solving
If you're new to this activity, this book will teach you everything you need to know about those cache puzzles. You'll find lots of tips and tricks to help you along the way. The great thing is that this book can also help you if you're an experienced geocacher or someone who is just starting out finding caches.
Many people find puzzle caches to be a little intimidating, as they can involve a lot of thinking! This book will show you how you to approach these caches in a simple to digest format. The step-by-step approach, coupled with some useful tips and tricks, should put some rocket boosters under the number of caches you find!
Best Book Geocaching Stories (And How To Guides)
The book has to be included in this list, as it's a little different and something of a hybrid. It's also one of the best books about geocaching. It's a book that's unsurprisingly classed as a guide to geocaching, however it's so much more than that – it involves stories of real people (such as the adventurous grandma!).
They divided the book into 4 main sections:
Preparing to Geocache
In the Field
Taming Technology
Beyond the Game
This no-nonsense guide to the game provides a refreshing take on the game by highlighting the friendships and the connections that are possible within the geocaching communities.
Best Geocaching Journal
Keeping a written record of your geocaching can be great for logging your finds. I know that you'll log your finds online. However, it's really cool to flick through a journal and remember all of your caching adventures.
This journal is small enough to carry around with you in your geocaching backpack. There are around a couple of hundred pages and it's laid out in such a way that you'll note all the important information that'll help keep those memories alive.
Best Geocaching Book for Children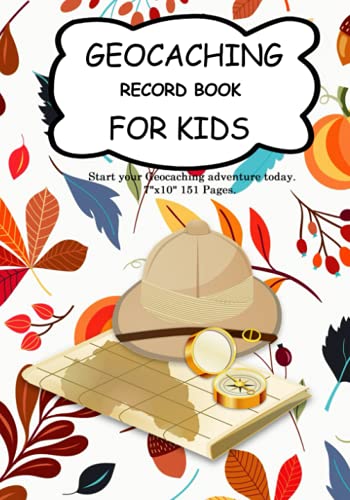 This geocaching record book for kids may seem similar at the outset to the journal above, however, it's much more interesting for kids. They can log their finds in an easy to fill log book they can bring with them on their searches.
They can note the day of the week, the weather, the location, the difficulty and the cache size on a well laid out page. What I found really cool was the kids can draw a little sketch of the location that they found the cache. In all honesty, it just makes the activity even more interesting for kids as they get to record and manage their own logbook.
Final Thoughts
Hopefully, this collection of the best books about geocaching has given you a good idea of what's available if you want to learn about geocaching. This is a great activity that's suitable for all ages and if you're ready to begin a new family activity, then you can head here to read some more tips about geocaching with kids.
Happy reading and enjoy your geocaching adventures. You never know, we may see each other on the trail!