The Go 5000 is TomTom's premium offering in their satellite navigation products. In case you were wondering the TomTom Go 6000 is exactly the same unit, the only difference being the screen size. The Go 5000 has a 5″ screen whilst the 6000 has a 6″ screen. Oh, and there's also a difference in price of around £50.
As with my other reviews, I hope this one will provide you with an overview of the device and I will share what I liked and what I didn't likes with you all.
[wpsm_column size="one-half"][wpsm_pros title="PROS:"]
Lifetime Traffic
Lifetime Maps Update
Inbuilt sim – always connected
3D Maps
Regular Updates
[/wpsm_pros][/wpsm_column][wpsm_column size="one-half" position="last"][wpsm_cons title="CONS:"]
Cost
Memory card required for updates
Only 3 months cameras provided initially
No handsfree calling
Competitors seem to have more features & options
[/wpsm_cons][/wpsm_column]
TOMTOM GO 5000 – PRODUCT FEATURES
DESIGN
The design of the unit is exactly the same as it's little brother – the Go 50. It's rectangular shape, rounded edges and grey trim are somewhat lacking in creativity. This device is part of the Premium Range and as such in my view, it should have a premium 'look and feel' to go with it. However, despite the design being somewhat conservative it wouldn't look out of place used in any type of vehicle.
The case of the device this time is different to some of the earlier TomTom models. The Go 930 for example had a rubberised surround that made it quite robust. The newer ranges from TomTom have a plastic rear. In truth, this probably won't be a problem for most people as their devices will stay in the car. However, it is worthy of note if you are planning to walk around with your sat nav. You should also be rather more careful with it when leaving the car and throwing it into the bottom of your bag.
SCREEN SIZE
As mentioned earlier there are two screen sizes available at this level. This model has the 5 inch screen whilst the Go 6000 has a 6inch screen. Like most of the options available on sat nav systems this really does come down to personal preference. In my view, the 5inch screen is ample and it's a little difficult to justify the additional cost for the larger screen.
NAVIGATION
Having travelled across the UK a couple of times on the way to France, I can happily report that I have not had any issues in getting to my destination. The software searches for the address quickly and provides the fastest route in a matter of a seconds. The pinch and zoom system works well and is an useful addition if like me you like to browse around your location via the map. As my running gps watch doesn't have mapping facilities, I use this feature when searching for an area to run. It's an useful feature for finding those little green areas on the map particularly, when you are not familiar with your surroundings.
One issue that I did find however, was that it showed my destination on the wrong side of the road.  This has only happened on a couple of occasions, neither of which caused me too much hassle so it can't be described as a deal breaker. The first time this happened was when I was looking for an address in the Staffordshire area. It was a fairly rural area and therefore not a big deal, but the property did show up on the 'wrong' side of the road. So in fairness, almost top marks for getting you to your destination.
TRAFFIC
This particular model is always connected as it has an in-built sim card. That means that without any additional cost you get the traffic updates. Traffic updates are available on the cheaper models in the Go Range however, they do require a smartphone to access the information. Depending upon your mobile data package and your location this could turn out to be an expensive exercise. Thankfully, this does not come into consideration with the Go 5000.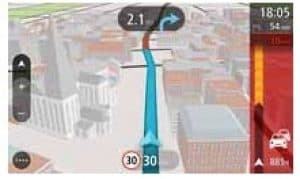 This is the area where i believe that TomTom come into their own. Their Traffic warnings and updates are an accurate portrait of the situation ahead of you on the road. When there's problems ahead your route will change colour – red means that there is a rather big traffic delay ahead. The information is given cleanly and you can see how it will affect your arrival time, if you decide to ignore it and stay on the original route. If I knew where I was and had experience of a particular traffic jam (it might be part of your daily commute) I may sit tight and see it through. However, the clever part is that you do have the option to avoid the traffic jam and to change your route.
I did however, feel frustrated at times on my commute home. The area where I currently live is notorious for traffic jams, particularly around rush hour. This is largely due to the inadequacies of the public transport system,  that leaves most people with no option but, to drive to work in the morning. Without digressing too much I would be guaranteed to hit heavy traffic around 6 p.m. The sat nav would show me the jam ahead but it would also show all the traffic jams on the other possible routes home. Now all this achieved was put a dark cloud over me as I realised there was no hope – I was stuck in traffic no matter what route the sat nav provided. In other words, the sat nav showed how congested the roads were in the city at that time – a rather depressing and bleak picture for someone just trying to get home! Not the fault of the device, which simply deals in facts but it sure didn't make me feel any better knowing how bad the roads were!
Upon the initial release of this device there was no way of recalculating your route if you ran into an obstruction. Thankfully however, TomTom do appear to be listening to their customers on their forums. They have sensibly reintroduced the 'find alternative route' through a recent update. This is such a powerful feature of a sat nav as it allows you to change your initial route depending on what issues lie ahead.
MOUNTING SYSTEM 
The mounting system for the Go 5000 differs slightly from the GO 40/50/60. The Click & Mount system it utilises sees the introduction of a cradle within which the device sits into. The cradle is attached to the windscreen in the same way as the other models. The suction cup is put against the glass and you then have to turn the disk to the locking position. This creates more suction to secure the cradle and therefore the device locks in place.
TIPS & TRICKS
As usual with my reviews I add this section to try and help you get the most out of your device. These tips are a result of me playing around with the settings and giving the device a proper trial during my frequent road trips.
[wpsm_list type="star"]
The device is always connected & works in both the UK & Europe at no additional cost
If driving in France you are not provided with the exact location of their speed cameras – only a general area warning telling you to slow down (this is because of French legislation)
Before attaching the suction cup to the windscreen make sure you clean the glass – this provides a much stronger grip
The more I drove the more I realised that a number of speed cameras were missing – the additional cost for cameras is probably not worth the annual fee
If using a Mac, download the required software from the website first – it makes connection and the updating process smoother
[/wpsm_list]
[wpsm_specification]
Battery Life – 2 hours
Always Connected – in-built sim card
Mounting System – Click & Go Mount
Memory – MicroSD slot – a card will be required for future map updates
Screen Size – 5 inch
Screen Resolution – 480 x 272
Bluetooth  – not included
CONCLUSION
There is no doubt that this is a fine navigational device. It does what it says it does rather well. The big question though is whether or not it's worth the money?
Hmm, well I suppose it depends on you. If you are someone who likes a premium product and doesn't mind paying a bit extra then, it may be for you. The Traffic updates would undoubtedly be worthwhile if you regularly travel long distances. However, some local knowledge of your surroundings and using those hidden rat runs can see you beat the sat nav on your route home.
If however, you are more like me and prefer to mind the pennies and tend to travel the same route everyday, the additional expense becomes harder to justify. A cheaper sat nav like the TomTom Go 50 may well be sufficient for your needs. Do bear in mind though that you will require a smartphone with all of the cheaper models in the Go Range.
If your thinking of purchasing the TomTom GO 5000 5-inch Sat Nav
 then check out the latest deals and various reviews here on Amazon