Are you a serious runner or triathlete? Do you need a fashionable yet rugged multi-sport watch to keep track of your sporting activities? Then the Polar Grit X might be worthy of consideration. In this Polar Grit X Review we'll take a look at whether it's a serious alternative to the various Garmin and Coros devices.
Why then might you consider buying the Polar Grit X GPS watch? 
Features
Slim and Lightweight Design
Military Grade Durability 
Excellent Battery Life
Automatic Hill Splitter – 
Navigational Features
Komoot Integration
Rock Solid GPS Sensors
Let's take a more in depth look and check out its most useful features. Hopefully, we'll be able to help you decide if you should take the plunge and buy this outdoor watch.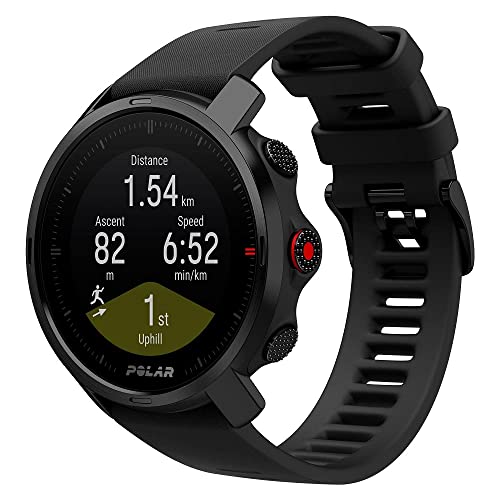 Polar Grit X Review
Design
The Polar Grit X weighs in at around 64 grams making it pretty lightweight when compared to some of its competitors. The Garmin tactix 7, for example, heftily weighs in at just under 90 grams. The fact that this is a lighter piece is explained by the design of the watch. It seems far less chunky than its rivals.
Make no mistake, this is still a robust wristwatch that has passed a number of MIL-STD-810G durability tests. In other words, it should absolutely be able to withstand a few knocks as you run or climb the trails. It also has an excellent water resistance rating of just over 300 feet, plenty for your triathlon training in the lake or swimming pool.
What is the Military Testing? 
What on earth is the MIL-STD-810G rating you may well ask? It's actually not as complicated as it sounds, as it's the result of a series of durability tests used by the US Military. These tests involve putting a device through its paces by subjecting it to extreme temperature changes, shocks, different humidity levels, water and even vibrations.
In theory, any device that obtains the thumbs up should be a pretty durable piece of equipment. Unfortunately, and as you'd probably expect, the various marketing departments of large multinationals have cottoned on to the value of these ratings.
If these companies can get one of their devices to pass the tests then you can bet you bottom dollar that they will be using it as a marketing tactic. I'm guessing the it's probably not what the military had in mind when they designed these tests, but I guess that's the commercial reality of the world that we live in today!
Display
The 1.2 inch color display is easy to read in even the brightest of sunshine. Yes, it may not be the most dazzling display with its 240 x 240 pixels, particularly when you compare it to the display on your smartphone.  The displays on Polar watches have in our experience over the years been a little dim to view indoors (particularly when compared to the Garmin etc) However, this is resolved to some extent by the backlight button that will illuminate fully the display for when you find yourself in the darkness!
Touchscreen or Buttons?
The watch face is surrounded by a stainless steel black border which makes it easier to see the time and date. There are also two buttons on the left side of the display and three on the right. In all honesty, it baffles me somewhat to see a touchscreen watch with the same number of buttons as a non-touchscreen wearable! 
Don't get me wrong, I'm much more of a fan of a button operated sports watch as the touchscreen can be problematic in very wet weather. It can also be unresponsive when you're wearing running gloves in the winter. Buttons provide me with a certain security in that I know they'll work when I need them to (they also remove the need to tap frantically at a wet screen in order to get a response!)
I suppose that the best way of looking at the pros and cons of having a touchscreen or button operated watch is a moot point here – you get the best of both worlds!
Comfortable or not?
I have small wrists and have found many sport wearables, and particularly the adventure watches, too large and too bulky to be comfortable. The Polar Grit X has a slimmer and less chunky design and this suits my smaller wrists. The silicone strap is comfortable and fits me without having that annoying additional bit of strap that flaps around as there's too much of it!
Optical Sensors
The Grit X has a wrist-based heart rate monitor  that as you'd imagine is located on the back of the watch face. The optical heart rate monitor does its job perfectly well. It will give you a pretty accurate heart rate reading and it will provide you with continuous heart rate tracking as you exercise. 
Is the optical heart rate sensor as accurate asa chest strap? No, it isn't as accurate, however, it's certainly more than adequate for most people heading out for a run. If you're a professional athlete then you'll be strapping a chest monitor onto your torso and syncing this with your watch.
Memory Capacity
If you sync your Polar device regularly with your Flowsync account then it's probably not too important to have plenty of memory space. You do however, get enough space for 90 hours of training time and GPS data, which should be more than plenty for most people.
Battery Life
If you're training for an ultra marathon then the battery life is an important consideration . With a full charge, you can apparently expect about 40 hours of training before needing to recharge. However, if you're using the watch during the day, then you might only need to top up once a week.
If you're looking for some additional battery power, then it's possible to tinker with the settings and boost it up to last around 4 days of training. Doing this however, does come with a trade off and you might need to lower the screen brightness and disable the GPS or HR monitoring at different stages.
Training Features
The chances are if you're looking at buying the Polar Grit X (or the Polar Grit X Pro) then you are probably the type of person who participates in a number of different sports. The Grit X can record your training sessions, whether you are strength training or smashing some tough cardio workouts.
This is one fitness wearable that'll monitor your hours in training, give you feedback on both your aerobic fitness and your anaerobic fitness levels. And, perhaps best of all, it will provide workout recommendations that will help you obtain better scores and ultimately improve both your fitness levels and performance.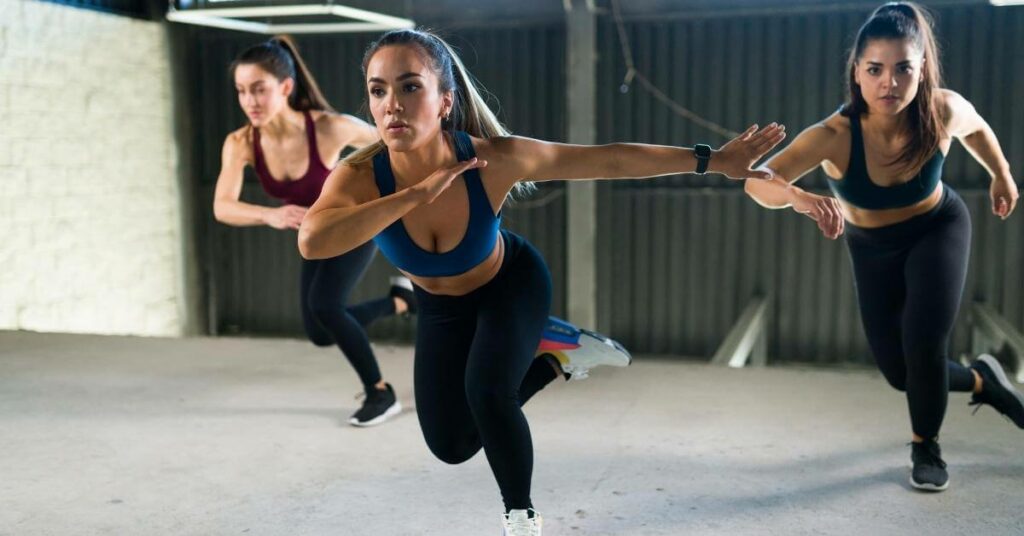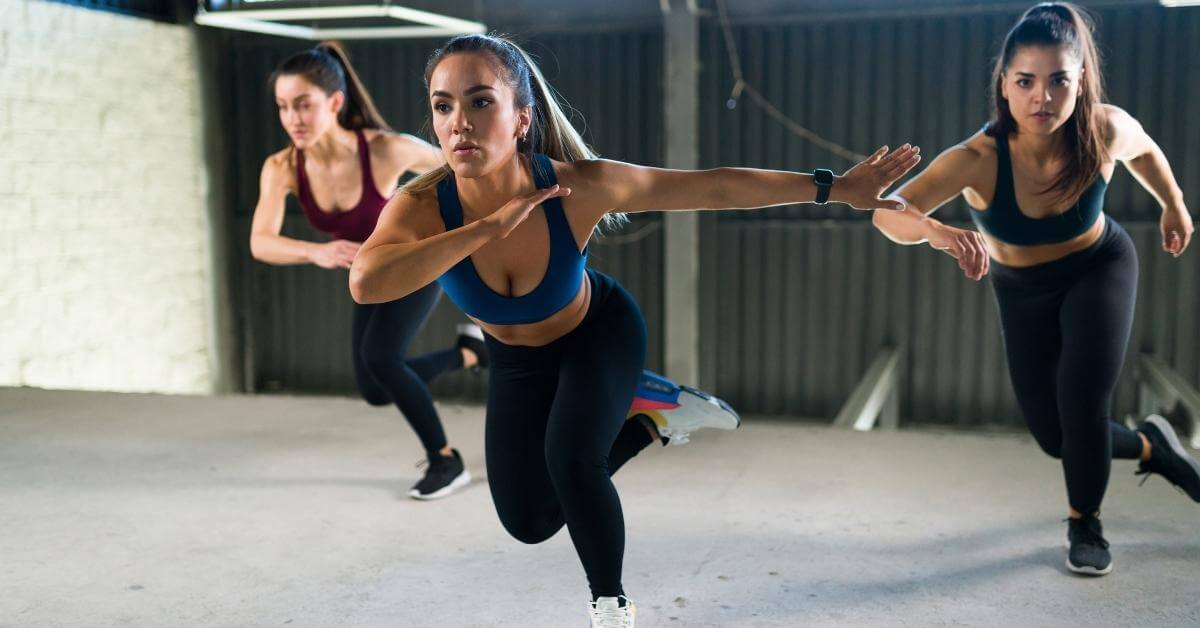 And if you're wondering whether this watch can monitor your morning HIIT class, your daily swimming session or your downhill skiing speeds; the answer is yes, it most certainly has you covered. In fact, there are dozens of different sporting activities that you can choose from in the menus.
Due to memory restrictions you can only save up to 20 different sporting activities on the watch itself. You can however, add and remove depending upon your preferences and what sports you'll be participating in and requiring some power stats from during the week.
Hill Splitter
This is a really useful feature that Polar have introduced. It automatically senses when you are doing hill repeat workouts, no matter if you're running or cycling. It'll work out by itself when your ascending or descending and tell you your distance and time each time. Super useful if you're incorporating hill repeats into your training schedule.
Reminders
Another cool feature that Polar has introduced is the Fuel Wise prompts. This will provide you with reminders as to when you should be taking on more fuel during your exertions. Nutrition reminders might tell you to take that energy gel on your long run or the drink reminders will make sure that you don't get dehydrated on a long cycle.
Oh and if you thought that you could spend the full day on the couch binge watching Netflix, you might want to think again! The Polar has an inactivity alert that will tell you to get up and move after a longer period of inactivity. If this isn't your thing on a Sunday afternoon then you can turn the notifications off until further notice.
Sleep Tracking
Do you worry about whether or not you're getting enough sleep? How about wondering about the quality of the sleep that you are actually getting? What is impressive about the Grit is that it scores your nightly sleep and lets you know how your body is recovering from your previous few days exertions.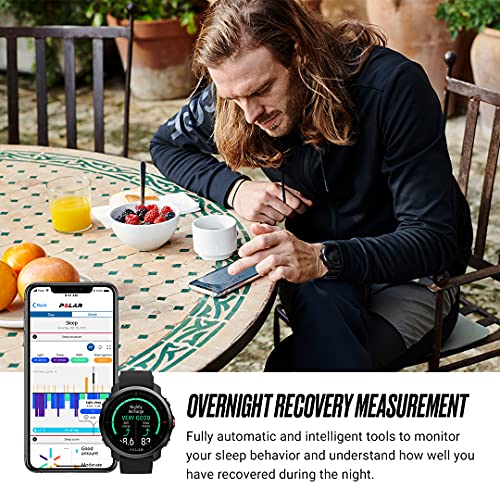 It can be very useful to validate what your body might be telling you i.e. it needs more time to rest and recover from that heavy training load or that half marathon from the other day. Some days your legs can feel heavy and the watch seems to have a sixth sense and feels your pain an will encourage you to heed leg recovery day!
Should You Buy The Polar Grit X?
As with many things in life, the short answer is it depends. 
This watch looks good. The slimmer design means that it can accompany you on the trails and into the boardroom. It's comfortable to wear and I'm delighted to say that it even fits my slim wrists!
If you're on a budget and are a trail runner or looking to compete in some ultras then this is an excellent choice. It provides you with everything you need to help with your training and the watch is robust enough to withstand any scrambling or climbing activities.
Battery life is excellent and with a few tweaks you can make it last a very long time. The automatic hill splitter feature is a welcome addition and separates it out from the competition. Couple this with the other features such as the refuelling assistant and the weather prompts and you have a pretty decent multi-sport watch. 
Track your activities and your progress in the Polar Flow app and you'll be able to plan your workouts and work towards your goals. The Polar range of sport watches has a loyal following in the trail running community, and honestly, it's pretty easy to see why they love them so much.
Oh, and by the way, if you are going to be purchasing this watch, check out the Green and Silver coloring; in my opinion, it has that military feel and let's be honest, it's way cooler than the all black version! It also has way more features than most military watches 😉