If you are looking for the best app for geocaching, then you have come to the right place. A quick scroll through the Google Play or the Apple App Store, and you'll find a ton of geocaching apps. How on earth do you pick the right one without wasting any time – after all we all just want to get out there to find some geocaches! 
Some of these apps in our list below are free to download and use. Some of them will require you to pay a one-off cost or sign up to an ongoing subscription. There's no need to worry as to a large extent, most of these apps will do a fairly similar job. In other words, they will help you find, solve and log your geocaches.
No matter which geocaching app you choose, you will need to have signed up for a geocaching account. If you haven't got one yet, then you should head over to the official geocaching site and at the very least open a free account.
Let's look at some of the best app for geocaching app that are out there to help you on your geocaching adventures……
Best App for Geocaching List
Geocaching (by Groundspeak)
This is the official geocaching app, and it therefore makes sense to put it here on top of our list. If you're relatively new to the world of geocaching, then this is the app that will get you started on your geocaching adventures.
This app is pretty cool as it makes finding caches simple and convenient. Users can search for caches near them, set notifications, and receive push alerts when a cache is found nearby. The app also lets users create lists of favorite locations and share those lists with friends.
Pros
Very easy to use
Great for finding caches
Works on both iPhones and Android
Cons
Additional features require premium
Click here to check out Geocaching
---
C:Geo (open source)
This open source app is popular within the Android using geocaching communities. It's easy to use and best of all it's free to download. It syncs and works well with your official geocaching account.
C:geo makes it a cinch to search for and create lists of interesting caches to target. You can utilize various filters to find easier caches, different sized caches or even those that are located in different terrains. 
This app also provides you with the ability to log your cache finds without an internet connection. Once you then connect your device to the internet then everything will be automatically synced to your geocaching account. 
Pros
Open source
Huge functionality
Regularly updated
Free to download and use
Cons
Android only
Steep learning curve
More complicated interface
Click here to check out C:geo
---
Cachly (by Zed Said Studio)
This is an iPhone only app that is pretty slick and looks great on the screen of your iPhone. There's a one-off purchase price of just under 5 bucks and that means that there's no ongoing subscription required. This app is produced by an authorized geocaching developer, and therefore they have access to the official API.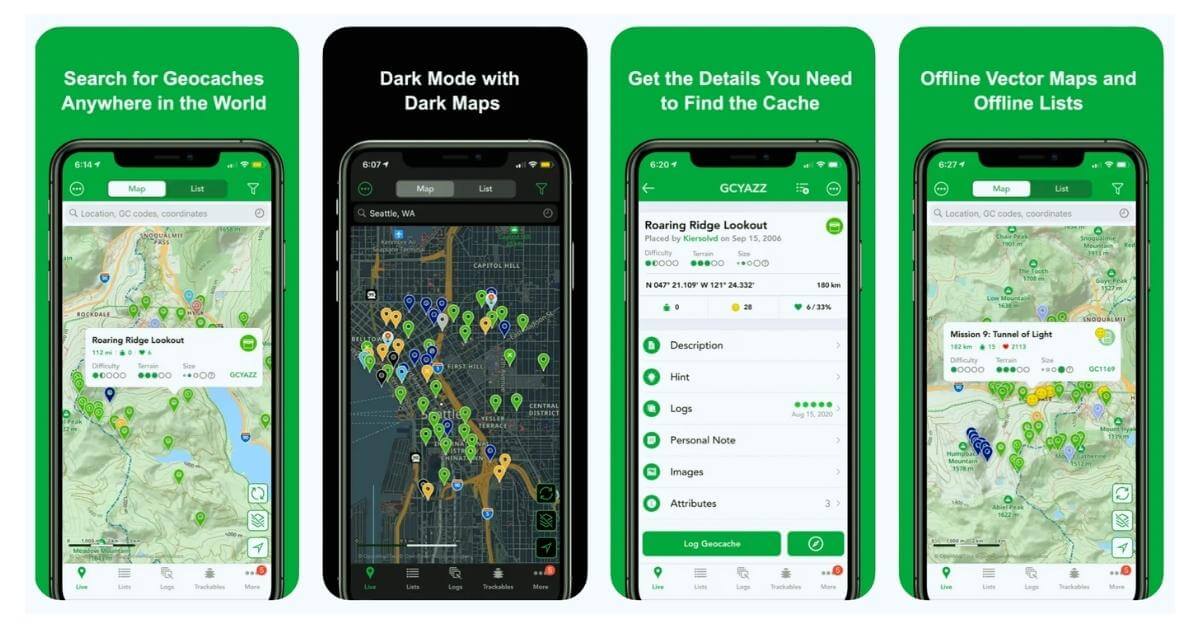 You can tailor your mapping tool to use either Google or Apple Maps, whichever format you prefer to work with.  There are also lots of different filters available to help you choose different caches for different occasions. As an example, some days you might only have time to find the more straightforward traditional caches within a 2-mile radius of your location; this app can help you narrow down the options and save you a bunch of planning time.  
There are also some other excellent features such as the ability to mark the various caches with different colors. Believe it or not, this simple feature can make it much easier and much faster to plan your searches. Once you've found a number of geocaches to target, then you can compile them into a large list and keep them offline.
Pros
Easy to use
Automatic translation of descriptions
Lots of features
Active developer
Cons
Not compatible with Android devices
Requires a paid subscription
Click here to check out Cachly
---
Geocaching Tools (by JW Rijkes)
This app is different from the others on this list in that it provides you with very different functionalities. As the name suggests, it's essentially a digital toolbox that can help you solve those cache mysteries.
This can help remove the frustrations that you can find when on the trail and have to convert roman numbers or decipher some Morse code signals. Alternatively you might want to convert Celsius to Fahrenheit readings or understand various maritime flags and signals. Whatever the puzzle, there is plenty of assistance to be had with this Swiss army of geocaching apps.
This app has also been around for almost a decade, so not only does it have longevity, but it's still going strong, and the developer is open to new tool suggestions.
All in all, this is an excellent addition to your geocaching toolbox and will make solving those various clues much easier!
Pros
Lots of decoding tools
Simplifies navigational calculations
Converting tools
Cons
Only available on iOS
Click here to check out Geocaching Tools.
Summary
As we've seen, there are a number of different geocaching apps available to help you find those caches. The essence of all of these apps is all pretty much the same – they are designed to provide you with the tools to find and log caches.
So, I hear you asking which is the best app for geocaching?
The short answer is, it depends.
It depends upon a number of factors, firstly which device you're going to be using, (i.e. Android or iOS) as some apps above are only compatible with one platform or the other.
If you're only beginning your geocaching journeys, then it might be prudent to choose an app that's straightforward and easier to use. In this instance I'd probably recommend the original geocaching app from Groundspeak. 
On the other hand, if you're looking for an app with some more functionality, then there are other apps (such as C:geo) out there that can provide you with trackable logging and better offline functionality.
And finally, cost is always a consideration and while the basic app for geocaching is free to use, other apps or some additional functionality will require a purchase. The best advice perhaps, is to go and to try out some of these apps yourself and see which best fits your needs. 
---
Frequently Asked Questions:
What's in a geocache?
No matter what size of a geocache you find, there should always be a logbook inside. This is where you will record your username and the date of your find.
Inside some caches you may also find some trinkets. You are more than welcome to take a trinket, but according to the rules of the game you should then replace it with something else. This means that the next person who finds the cache can enjoy the 'additional prize' too!
What do you need to go geocaching?
The bare minimum that you'll need to begin geocaching is a GPS-enabled device, a free geocaching account and a pen. This is enough to get you started!
If you're interested in knowing what I bring with me for a day of searching, then check out what I bring with me in my geocaching backpack.
Can you geocache without the app?
It is possible to go geocaching without any app; however, it's not really something that would be recommended. In order to do so, you'd have to download and print the details of every cache you set out to find. If you manage to find one then you can only upload the log once you get home to your computer.
In short, geocaching is a digitally based treasure hunt. You should therefore play the game properly and get an appropriate app.