Are you frustrated because you keep missing some of your smart phone notification alerts? Why is your Garmin watch not vibrating when it should be? There are probably a couple of reasons you're not getting those vibration notifications. And guess what, we've got the solutions for you!
Well, don't worry, we've got you covered with a couple of easy and straightforward fixes!
Disclaimer: The process for navigating the settings menu on most Garmin watches remains pretty similar across the different models. In case of any issues, or you happen to get stuck, you can find their database of manufacturer's instructions for your specific device here.
Garmin watch not vibrating fix
If you're not getting your smart notifications on your Garmin fitness device, here are the steps you should take in chronological order:
So, with no further ado, let's get into this!
Check the Vibration Settings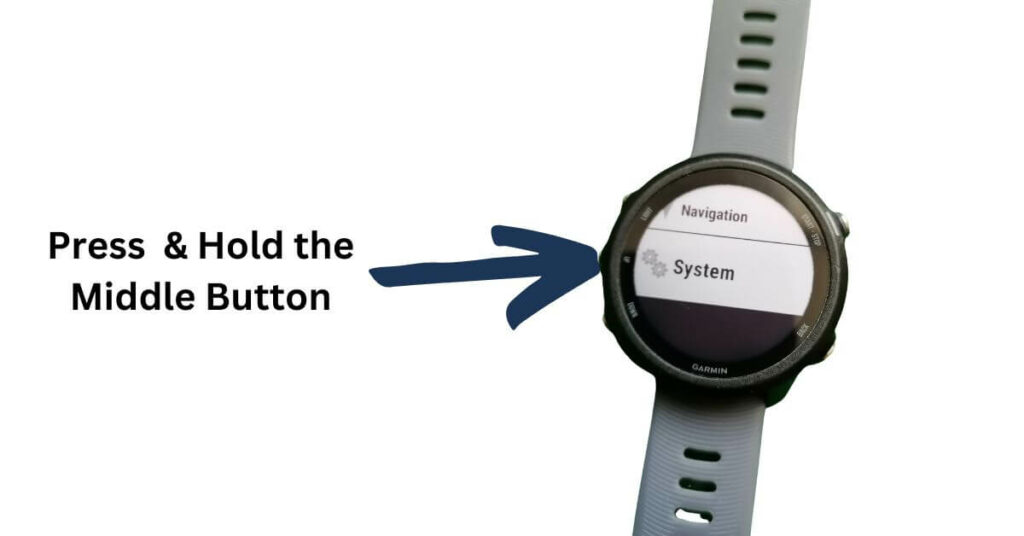 Press and hold the Menu options button to access the settings.
Scroll down to System.
Go to Sounds.
Make sure Vibration setting is turned ON.
To summarise: Menu > Settings > System > Sounds > Vibration > On
Here are some photos of me completing the process on my Garmin Forerunner 245: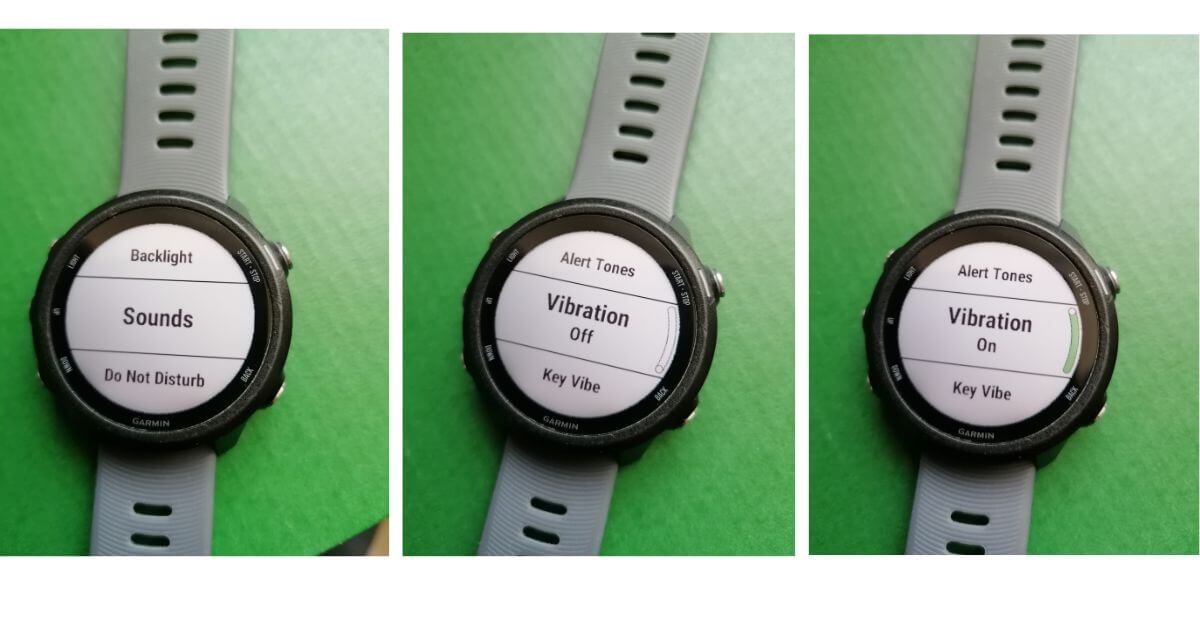 If, after doing the above, you're still not receiving any vibration alerts, then there are a couple of additional steps you can take:
---
Check the Do Not Disturb Feature
Garmin watches have the option of disabling many notifications coming from your smart phone. This is useful if you don't want to be disturbed during the night. After all, it can be extremely annoying to receive a pesky and unimportant message that wakes you up from a deep slumber.
If you have this feature always turned on, however, it might explain why your Garmin watch isn't vibrating as you receive a message.
You can check the status of this feature by following these steps:
Using the Menu button scroll:
Menu > Settings > System > Do Not Disturb > Status > Off
While you're in the Do Not Disturb menu, you can also check the times you have it activated (or turned off) during sleep. If you'd like to amend the times that the watch shouldn't disturb you with any smart notifications, then you can change these in the Garmin Connect App.
If after following this additional step you're still not getting any vibration alerts smart notification settings, then you might want to consider resetting your Garmin device.
---
How to Soft Reset a Garmin watch
A soft reset of your watch is a useful step you're having issues with your device. It enables you to (hopefully!) remove any bugs or strange happenings (such as not receiving your real time notifications). Carrying out a soft reset will remove none of your personal data, but it will reboot the system.
There are a couple of different ways of rebooting (you're essentially turning off and turning back on your watch). It's done by following these steps:
Method 1
Press and hold the light button
Scroll the circular menu to the Power Off option
Press Start/Stop button
Your watch should turn off
Turn the device back on by pressing the Start/Stop button again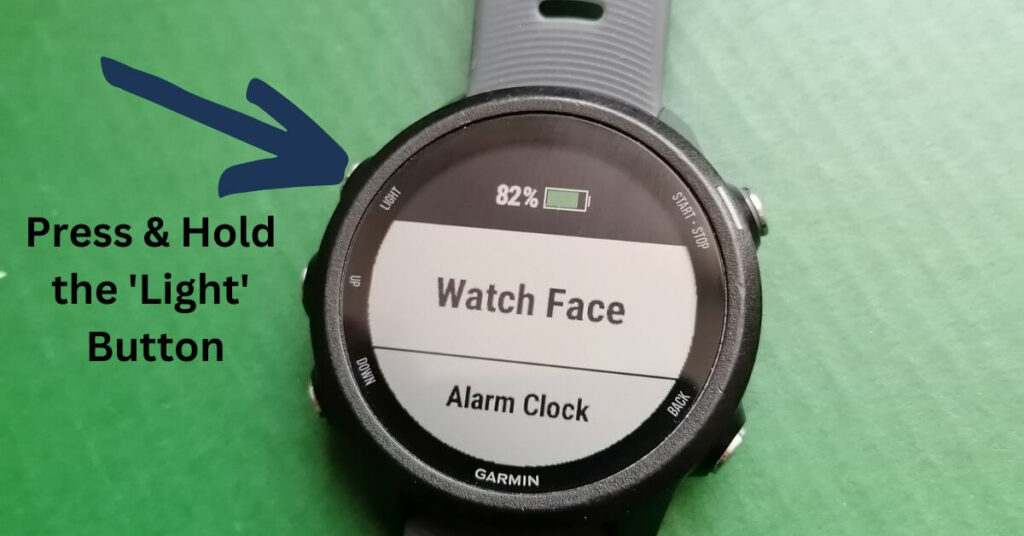 And hey presto, you've managed a soft reset of your Garmin watch!
If, however, you cannot carry out these steps because your watch is unresponsive, or the display has frozen, then follow the second method below:
Method 2
Press and hold the light/ power button. Keep it pressed for at least 20 – 30 seconds
Your watch should now turn itself off automatically
Leave the watch for a few additional seconds
Turn it back on using the light button on the top left
Hopefully, by now, the vibration alerts will work as they should and you'll have no further issues with the vibration on notifications.
If this is not the case, then it may be time to consider a hard reset.
---
How to Hard Reset a Garmin watch
In all honesty, someone should probably only do this as a last resort, as it will reset your device to its factory settings. There are, however, two available options with this method. It's also important to know that with the second method below, you will also erase all of your personal details and any customizations.
In order to carry out a hard reset and keep all of your data, do the following:
Method 1
Press & hold the Menu button
Choose the System option (this is usually the last option in the menu)
Go to the Reset function
Choose Reset Default Settings
Your watch should now be reset but will have all of your data and settings left alone. The second method below will also remove all of your date as well.
Method 2
Press the Menu button
Choose the System option
Head to the Reset function
Choose Delete Data and Reset Default Settings
Please be aware that this is the nuclear option and this form of a hard reset will remove all the following:
All of your user data – height, weight, VO2, etc
All of your workout history and that includes the details of your amazing achievements
Any customized watch faces that you may have purchased form the Garmin Connect IQ store
Your sleep data & other health metrics
Widgets and any additional apps
Any map data or GPX files that you've saved
This is a great option to choose if you're ever thinking of selling or giving away your Garmin device. After all, you don't want anybody else having access to all of your personal health and fitness data, do you?
---
How to Contact Garmin Support
Hopefully, by this stage we've resolved the question that was asked of us: why is your Garmin watch not vibrating?
If, after doing all the above, you're still not having any joy and still experiencing a vibration issue for notifications, then you're probably left with having to contact Garmin directly.
The easiest way to contact Garmin in order to resolve any issues with your choice of watch notifications is to do so online. In our experience, this is probably the fastest method of resolving any issues and getting either a repair or a replacement device.
In order to browse Garmin's various support options, click here.
---
FAQs
How do I turn off the vibration for notifications?
We should also remember not everyone will want to receive an alert for incoming notifications. They will therefore want to do the opposite of what we've been trying to do in the instructions above.
If those persistent notifications get too much, then you can turn off those display notifications by doing:
Head over to the Settings option > System > Sounds > Vibration > Off
You also have the option of turning off the Do Not Disturb function permanently or you can use it only when you are sleeping.
Is there a smart watch with vibration alerts that looks like a normal watch?
There are several Garmin watches that look and feel like what they would deem a standard-looking wristwatch. The Garmin Forerunner 45 is an excellent example of a watch that looks like a watch that displays notifications and vibrates.